Sunday, July 30, 2017
Message from the Blessed Virgin Mary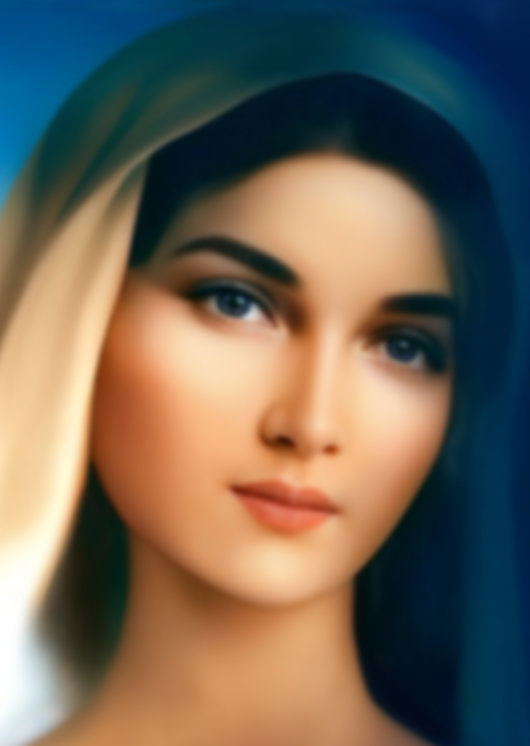 Beloved children of My Immaculate Heart:
I BLESS YOU WITH MY LOVE, I BLESS YOU WITH MY MOTHERHOOD, I BLESS YOU WITH MY HEART.
Beloved disciples of My Son, do not take My Word lightly: It is conveyed to you by Divine Will. What you know, at this instant, is that which by Divine Will, through Our Prophet, Heaven itself explains to His People before events occur. Therefore you should watch and not rest.
The Lord's elect should remain attentive, lest My Son should come and find them asleep, sleeping on what the world offers them, submerged in sin and the terrible offense of the tireless pursuit of pleasure, a consequence of the bad habits that have dragged man to his ruin.
The loss of the soul is not spoken about, precisely so that man loses his soul... The transcendence of the human soul is not explained...
CHILDREN, MY SON SUFFERS GREAT THIRST FOR SOULS, AND HIS PEOPLE DO NOT KNOW WHAT THE SOUL IS.
Some of My children do not believe in Salvation and are devoting themselves to storing up money in order to live well on Earth and to live as comfortably as possible. How wrong they are those who do not want to ascend in the spirit, but who find pleasure in living within what is material and not by what My Son asks of them!
HOW IS IT THAT YOU ARE IGNORING THE SIGNS OF THIS INSTANT, WHEN CORRUPTION HAS TAKEN
HOLD OF EVERYTHING AROUND YOU, WHEN YOU ARE BEING MANIPULATED IN EVERY RESPECT, WHEN YOU HAVE BEEN LED TO BELIEVE THAT THERE IS NO HELL AND THAT THEREFORE ALL SIN IS FORGIVEN?
Children, you have the signs before you: the climate has changed, animals have lost and altered their habits, diseases do not stop, the Sun's constant manifestations keep the Earth on alert, just as the manifestations with Oil and Blood in Images that represent Me are the Divine motive for calling man to reconciliation with the Father's House. It is not too late for My children to turn away from sin. Sin is absolutely contrary to good; with sin you offend My Son, and if you love Him, you must not lacerate Him.
MY SON WILL SHORTEN THE DAYS IN THIS INSTANT OF SPIRITUAL CRISIS, CRISIS OF REBELLION,
CRISIS OF THE FAILURE OF FAITH DUE TO HUMANITY'S SURRENDER TO ALL THAT COMES FROM THE DEVIL.
You continue being disobedient children ...
You continue rebelling against the signs of Heaven ...
The abomination has reached the disobedient children, and My Son told you: "When you see these things happen, know that everything is near" (Mk 13,29)
Children, you have put conscience aside in order to continue in individualism and still worse, thinking that each person is the center to which their brothers and sisters must adjust their lives. My Son has called you to belong to His Mission and to preach for your brother's good, because you not only preach with words but with testimony.
You are not clear about the fact that you are children of God because you do not really know Him, you do not respect Him fully, you do not acknowledge Him, because faced with this society, you keep maintaining human respect that would be affected if your peers learned that you form part of the Divine Sphere, committing yourselves to a change in your lives towards what is more spiritual and less worldly.
Humanity has drunk the poisonous nectar coming from the tree of evil, it has fed on the seed of lies; it has taken the fruits of falsehood and maintains a stock of the greatest error. You are unable to look further than your eye can seen. You are living in inertia while great elites have all the industry that exists in their hands, and at this instant they are becoming more powerful due to the submission of the leaders of the nations.
Europe is shocked at attacks and will continue to be shocked, as this is the wish of other creeds whose objective remains to dominate that continent.
CHILDREN, YOU NEED TO EVOLVE AND CHANGE DEFINITIVELY; YOU MUST SHOW SPIRITUAL MATURITY. You have to fight against evil thoughts, to put aside hatred, anger, the folly that always finds a reason to argue in everything.
I CALL YOU TO PRAYER, YET THIS IS NOT RELEVANT TO YOU, SINCE YOU ONLY SEE WHAT JUMPS OUT AT YOU; YOU LOOK FOR EVENTS WHEN I TELL YOU ABOUT WHAT IS TO COME, NOT IN ORDER TO CHANGE, BUT IN ORDER TO JUST KNOW.
Grow spiritually, be obedient, do not content yourselves with attending Holy Mass, if outside you are disobedient and cruel creatures.
You see the water of the sea and its extensions penetrating into the earth. That is why I as Mother have warned you of the change in the Earth's geography, of the Devil's dominion over Humanity, of plagues and of what will happen before the Second Coming of My Son.
I CALL, MAN DOES NOT ANSWER: THIS SOCIETY IS AN AUTOMATON OF TECHNOLOGY AND OF
ITSELF. You are constructing new towers of Babel and entrust them to My children with the aim of robbing them of their will, and the People of My Son are happy to surrender to innovations in order for them to control them.
Beloved children of My Immaculate Heart:
DO NOT PLACE ANY CHIP IN YOUR BODY: THESE ARE THE PRELUDE TO THE MICROCHIP BY WHICH THE ANTICHRIST WILL DOMINATE HUMANITY.
Do not allow them to rule your mind, emotions, thoughts, or decisions...
Do not allow yourselves to be ruled by lack of love, anger, violence, vengeance, the desire to persecute those who do not think in the same way as you...
Do not let them lead you to disavow your family members: they are not robots, children, they are God's creatures.
Beloved children, pray, pray for Ecuador, it will suffer.
Beloved children, pray, pray for Australia, it will shake.
Beloved children, pray, pray, nuclear energy will cause you to suffer.
Beloved children, pray, pray for the violence that does not stop.
Beloved children, pray, pray for Italy, it is touched by terrorism.
CHILDREN, THIS IS NOT THE INSTANT TO EXPERIMENT WITH ARTIFACTS THAT NEED TO BE PLACED
INSIDE THE BODY AND WHICH CARRY A CHIP. THIS IS NOT THE INSTANT TO ACCEPT THE SEAL OF THE DEVIL.
My children, love My Son, feed on the Eucharist, pray the Holy Rosary. Make offerings for your brothers and sisters who are oppressed by their rulers.
I am the Mother of Humanity: do not take My Words lightly. My Heart is the Ark of Covenant where the People of My Son are. I intercede for everyone so that they save their souls.
Mother Mary.
HAIL MARY MOST PURE, CONCEIVED WITHOUT SIN