Thursday, August 3, 2017
Message from Our Lord Jesus Christ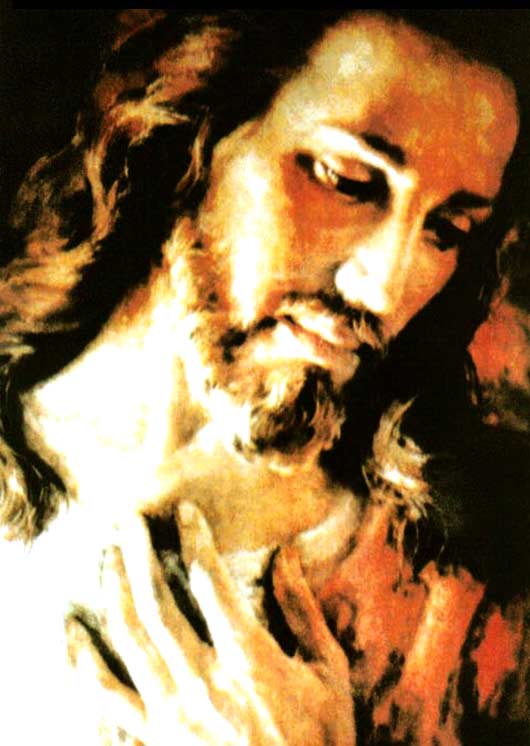 My Beloved People:
THE LOVE I RECEIVE FROM MY PEOPLE IS INCENSE THAT RISES UP TO ME AND I RETURN IT IN BLESSINGS FOR THOSE WHO ARE MINE.
I look at each person with special Love. My Mercy calls you to prompt conversion, I call on you to work and act in the Divine Will.
None of My children will be forsaken by Me: faith must prevail - I am the God of Love.
I do not forsake those who are Mine, but I ask My children not to leave My side so that, of their own free will, they ask Me not to abandon them.
I do not break in, violating My children. My Heart is torn as I see you on the way to perdition, yet even so I must wait for you to look at Me voluntarily and to call Me.
I am the God of Peace and in My Peace I want you to stay, My People.
I DO NOT WANT YOU TO BE CHILDREN OF ANGER BUT I WANT YOU TO BE FILLED WITH MY PEACE.
The soul's health is important in order for you to maintain the necessary balance in this instant of confusion. The soul becomes troubled when you allow anger to take hold and to lead you, without any control, to utter improper words against your brothers and sisters, when you join in with wrongful acts, when you transgress My Word, when you forget the Divine Law, when you kill your brothers and sisters, when you deliberately do not listen to Me, when the human ego overrides My Petitions.
My people, evil does not achieve more than My Love, but man joins in with what is wrong, and evil thus takes hold of him and instantly distances him from Me.
HOW MUCH I HAVE CALLED YOU TO KNOW ME IN ORDER THAT YOU recognize ME AND SO THAT MY
SPIRIT GIVES YOU THE DISCERNMENT NECESSARY TO DISTINGUISH WHEN EVIL DISGUISES ITSELF AS GOOD!
You do not follow My Requests and you continue as a ship adrift; this is dangerous for you. Evil is ingenious, it assumes forms, actions, works that appear good and in reality are not, and you, for lack of discernment, fall into evil's nets.
This instant is serious. This is an instant of urgency for My church, which I call to go deeply into Me. Knowledge and drawing near to me are necessary so that fears does not lead you into what would be surrendering to Satan.
MY PEOPLE, DO NOT FEAR! I WILL MAKE WHAT IS NECESSARY DESCEND FROM HEAVEN, SO THAT MY PEOPLE DO NOT PERISH BECAUSE OF EVIL THAT WILL REFUSE THEM FOOD, WATER... People of little faith! You fear those who can leave you without food, but you do not fear losing Eternal Life. YOU DO THIS BECAUSE YOU DO NOT KNOW ME - PERHAPS YOU ASK ME FOR BREAD AND I GIVE YOU STONES?
NO! I AM INFINITE LOVE...
Humanity's lack of awareness is stirring up violence against itself, and this violence is expanding like a plague from one country to another until it becomes uncontrollable. You will see how difficult it is for man under repression to survive without what is necessary, and yet at the same time if you have faith like a mustard seed, you will not lack what is necessary for you to survive, if this is My Will.
Some of My children have not been through hard times, they do not know the face of hunger, they do not know the face of repression, they do not know the face of despair at not having what is necessary to control pain. My Mother has given and will give you medicines that you can find in Nature and with them mitigate diseases and make them disappear. DO NOT SAVE THEM UNTIL YOU HAVE TO USE THEM; LOOK FOR WHERE THEY ARE, LOOK FOR WHERE YOU CAN FIND THEM NEAR YOU - DO NOT WAIT UNTIL THE LAST MINUTE.
PLAGUE IS MOVING SILENTLY, WITHOUT BEING UNVEILED BEFORE THE EYES OF HUMANITY. YOU HAVE THE MEANS AND MORE IN ORDER TO FIGHT IT. I DO NOT FORSAKE MY PEOPLE.
My people, the moon and the sun have a great influence over the Earth and therefore over you.
Do not regard the events that are happening as irrelevant; however small they may be, they have repercussions for man and the Earth itself.
Humanity sees what is happening spectacularly, but without awareness. It is necessary for My People to be more open to My Calls; you must not continue denying yourselves Salvation.
HOW IS IT THAT THIS GENERATION HAS RISEN UP AGAINST LIFE?
HOW IS IT THAT HAVE YOU COME TO REJECT THE GIFT OF LIFE?
HOW MUCH YOU HAVE COME TO DEBASE THE GREATEST GIFT MAN HAS: THE GIFT OF LIFE!
You are punishing yourselves by agreeing to offend My Holy Spirit. The blood of the innocent reaches the bowels of the earth, and the latter, as if it were swallowing gall, shakes fiercely. Man's sin is attracting celestial bodies toward the Earth that will be dangerous. Evil attracts evil, good drives evil away.
CONVERT! IT IS ETERNAL LIFE THAT I AM OFFERING YOU, AND IT IS ETERNAL LIFE THAT YOU ARE REJECTING.
My people, how many good works have you accomplished during your life? ...
Not only prayers will be counted in your favour: what have you done for your brothers and sisters? ...
How have you helped them? And how many works of mercy do you have in your hands to show before Me?
Children, to be worthy children it is not enough to listen or to receive, you have to give, you have to offer, you have to be My Teachings in action. My work and action are not static: My work and action continually give fruits for My children and in abundance. My People are a People of works that are multiplied to infinity, since they are born of My Love.
Beloved children, pray for France, its mourning has no end.
Beloved children, pray for Chile, it will shake.
Beloved children, pray for the Unites States, My children will suffer.
Beloved children, pray, powerful volcanoes are becoming active.
Beloved children, pray for Costa Rica, it will suffer.
Do not stray from My Word, go deeply into Sacred Scripture and into this explanation of My Word.
My Mother remains and will remain with My People in the most intense instants of the persecution to which they will be subjected for having accepted evil and having surrendered to licentiousness, usurping the Divine Law. My People will be persecuted by the same evil that has become entrenched in My Church. My priests must welcome prayer with devotion, calling on My Mother to protect them.
My Mother, as the Ark of the New Covenant, will guide My People, protect them and keep them under Her Mantle. Do not fear, "I AM WHO I AM" (Exodus 3:14).
MY BELOVED PEOPLE, I LOVE YOU, I BLESS YOU. DO NOT TURN AWAY, RETURN TO ME QUICKLY.
Your Jesus.
HAIL MARY MOST PURE, CONCEIVED WITHOUT SIN