Sunday, August 6, 2017
Message from Our Lord Jesus Christ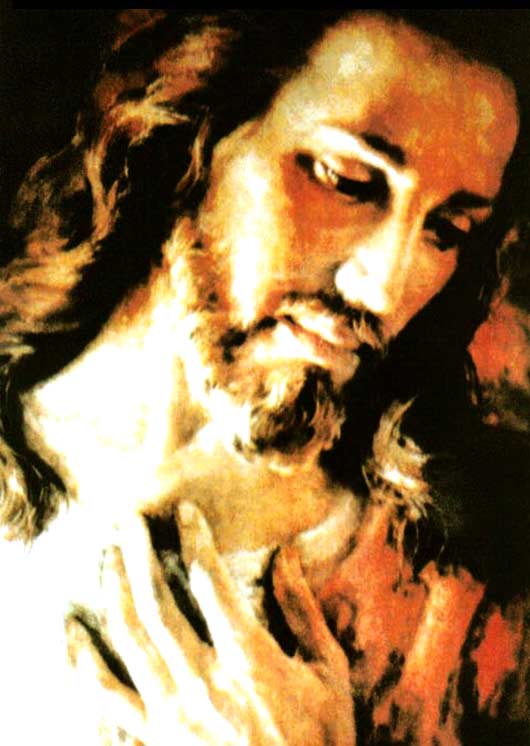 My Beloved People:
IN MY HEART I KEEP YOUR CONSTANT EFFORTS TO CONTINUE BY MY SIDE WITHOUT BEING SNATCHED AWAY BY EVIL.
I explain My Word to you at every instant, in life's various situations, so that you pay attention to every gift that the Supreme Good offers you in order that you stand firm.
My Beloved People, just as you do not recognize Me, so you do not recognize the good that comes into the life of each one of you, but are blinded by what comes from the paradigms of the program of the human ego with which you are conducting yourselves.
Whoever does not soften their human ego in order to understand their brothers and sisters will be unable to find the peace they need to live growing in the spirit. They will be unable to grow by themselves, if not in the continual sacrifice of personal whims.
My beloved, maintaining a state of anger in your character, an explosive mood, a defensive or demanding attitude, denotes the pettiness of spirit that you have and your little interest in personal growth.
Are you seeking to grow, to be different, to rid yourselves of the rags that you possess?...
CHANGE IS IMMINENT. NOT ALL RECEIVE THE VICTORY, BUT ONLY THOSE WHO MAKE AN EFFORT AND GIVE THE BEST OF THEMSELVES.
My Beloved People, you are looking for the enemy who causes you to react contrary to My Requests, you are looking for the enemy outside of yourselves, and you are very wrong, since WHAT PREVENTS YOU FROM GROWING IS THE HUMAN EGO ITSELF, THE EGO OF EACH ONE OF YOU ... THIS IS THE ENEMY THAT PREVENTS YOU FROM GROWING.
You need to be wise, astute, staunchly vigilant regarding all your personal work and action. The devil wastes no opportunity to act and to cause anger or confusion or a sensation of uncertainty in you, or the feeling that you are not in control of situations, in order to destabilize you and cause you to react with anger.
Man eagerly seeks the recognition of his brothers. This causes variable shifts in mood in him, since you seek to excel in the world and not in the spirit. You have forgotten that you are not fighting against flesh or blood, but against the powers and spirits of the world who are at the service of evil.
My Beloved Ones, DO NOT SAY THAT YOU CANNOT OVERCOME WHAT IS WORLDLY: I AM INFINITE MERCY AND IN MY MERCY EVERYTHING IS ACCOMPLISHED. I know what each of you is, what dwells in each one of you, I know what you refuse to acknowledge, what you hide inside you so that your brothers do not see you as you are.
I INVITE YOU TO CLEANSE YOUR MEMORY ANEW SO THAT, FREE FROM ALL THE REFUSE OF THE PAST, YOU ARE WILLING TO CHANGE RADICALLY.
You retain so much in your memory that you have saturated it and are confused when you cannot put it in order...
You retain sounds, images, smells, textures, flavors - and this is good; what is not right is when you associate a certain sound, smell, texture or flavor with a past fact that was retained in memory and caused you pain, and you react defensively.
This is why I am telling you that you must put your memory in order so as to discard what leads you to be creatures of anger, domineering, insensitive, blinded, impatient, and all the more so thoughts that in conjunction with what you have in your memory lead you to work and act wrongly. You must forgive yourselves and again learn to believe in yourselves.
So many of My own say to Me: "Lord, I have forgiven", yet in an instant, what was believed to be forgotten comes out and enters into memory; you take from it what you said that you had forgotten, and once again the events return to muddy the present. They are recurrent, causing a halt on the spiritual walk.
Temptation prowls constantly... Salvation is constantly calling you ... But you do not know how to keep yourselves internally silent: on the contrary, you allow the double-edged sword - the tongue -, to express what must be kept quiet and to keep quiet what must be preached, hoping for your brother's approval in order to please and to be praised. No, My children, My People do not walk along such paths, but by the narrow way and effort.
No one comes to Me except by the path of effort, of thorns, of overcoming themselves in their humanity. KNOW ME, ENTER DEEPLY INTO ME, LOVE ME IN ORDER THAT YOU KEEP THE ORDER OF MY LAW IN YOUR MEMORY AND NOT STRAY DOWN OTHER PERNICIOUS PATHS THAT GO AGAINST MY WORD.
My Beloved People, you cannot remember what you do not know, you will not find what you have not recognized as Mine and as My Truth. YOU MUST ENTER DEEPLY INTO THE KNOWLEDGE OF WHAT I POINT OUT TO YOU IN ORDER NOT TO BE PREY TO THE EVIL AFFLICTING HUMANITY.
If you are truly My children, you must subdue what makes you jump like lightning, what you retain in your human ego and what you keep entrenched that is not good.
At this instant, it is necessary for you to understand that human existence depends on the internal and the external; regarding what is internal, you have too much that you need to eradicate, and as to the external, not only what surrounds you in the world but also that which is a threat to Humanity and is coming towards the Earth from the Universe.
Man does not need Me, he creates everything he likes without thinking that in one instant man's great technology of man will be melted in a breath and man will go back to being one who did not even have electricity.
The great towers of Babel will fall. Evil will take possession of what Humanity has given to it and the sinister plan will culminate with the persecution of My Church.
My People are a People of faith and are aware that I will never abandon them.
Pray, children, pray for Venezuela, its brothers will suffer.
Pray, children, pray for Italy, its volcanoes are becoming active.
Pray, children, pray for Spain, terrorism leads to pain.
My Beloved People, "Man does not live by bread alone." (Mt 4,4) You need to be nourished by My Word; My Holy Spirit will continue giving you My Word and that of My Mother so that My People grow.
Do not abort My Law: "I Am who I Am." (Ex. 3:14)
You are waiting for what is sensational, without thinking of the signs that are present behind the sensational in order for you to prepare.
Do not preach with misused free will, preach with a heart full of My Love, My Humility, My Forgiveness, My Mercy.
WHOEVER SEES THE BEAM IN THEIR BROTHER'S EYE SHOULD FIRST LOOK AT THEIR OWN, THUS THEY WILL KNOW THAT THEY HAVE TOO MUCH TO CORRECT IN THEMSELVES, AND THIS PRACTICE WILL LEAD THEM TO BE MORE HUMBLE.
You know well that you will undergo a Great Purification: purify yourselves voluntarily so that the load that you bear be lighter.
Beloved My People, the Warning is approaching and My People must be firm in their Faith, immovable in their Faith, so that after this they might continue being My People.
I bless you with My Love.
Your Jesus.
HAIL MARY MOST PURE, CONCEIVED WITHOUT SIN