Saturday, August 12, 2017
Message from Our Lord Jesus Christ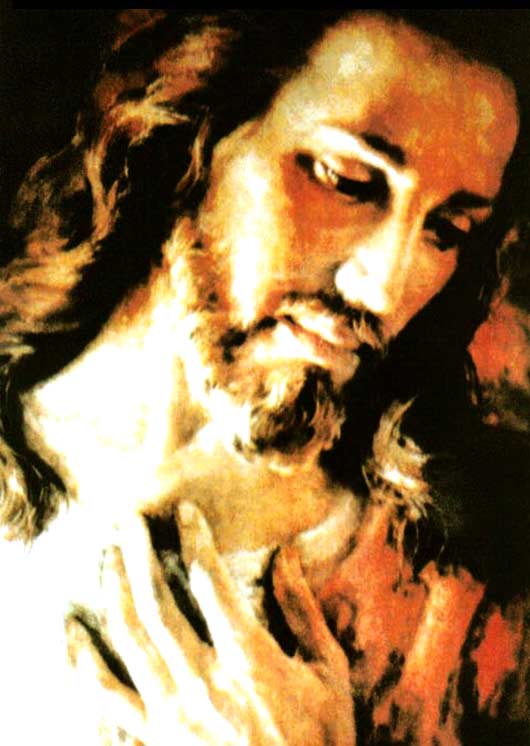 My Beloved People:
I HOLD YOU IN THE PALM OF MY HANDS TO PROTECT YOU MOST ZEALOUSLY.
You are not allowing Me to help you. You stop me by taking other paths and resorting to what you find easiest, without thinking whether it is right or not.
My people, what is easiest is not always right, nor is it what will lead you to act harnessed to My Work and Action, nor what leads you to grow in the spirit.
I CALL YOU TO STOP YOUR ACTIVITIES AND TO ENTER INTO SILENCE, WHERE NOTHING AND NO
ONE DISTURBS YOU. I CALL YOU TO HAND THE SILENCE OVER TO ME SO THAT WE BE UNITED AND SO THAT YOU BE WILLING TO STAY CLOSER TO ME.
Whoever penetrates into inner silence stops what the imagination brings to mind and prevents thoughts from flying wildly, leading them to make judgments or take measures that they believe will correct their brothers and sisters, without first taking them for themselves.
You continually judge according to your imagination and way of thinking: this denotes that wrongdoing constantly rears up within you. My Beloved People, whoever wants to be the judge of their brothers and sisters does so because evil prevails in their soul.
This is part of the ingrained ego with which you are directing all your actions and works, that ego which you do not want to displease and for that reason do not change, that ego that you have contaminated with whims and complacency, with envy and improper actions. The misguided human ego lives in the impulsive person who constantly provokes or hurts their brothers and sisters. In the egoist it moves like a serpent, hoarding everything for itself, and it does not share My blessings with its brothers and sisters, in the envious person who is constantly injecting poison and does so in the dark where no one sees him in order not to be discovered, but becomes a great danger for his brothers and sisters, whom he slanders, and causes great errors, undermining even the strongest and destroying the most solid structures, and other weaknesses - more that I would mention, children.
I HAVE CALLED YOU TO BE TRULY CHILDREN OF MY LOVE, AND YOU HAVE NOT DONE SO, SINCE IF YOU WERE MY LOVE, AT THIS INSTANT YOU WOULD NOT HAVE ANY OF THESE WRONGFUL APPETITES THAT I HAVE NAMED.
For some, their effort to change is minimal and this hurts Me, because at this instant, with a minimal effort, none of My own will attain what they need in order to come to possess true and full faith.
The evil one therefore attacks you from one angle or another, through a word or through a gesture, through a misinterpretation or unwillingness. Each person takes for themselves what they believe is good and right, and few are those who follow My Teachings to the letter, within My Love.
YOU KNOW THAT I CALL YOU TO UNITY AND THAT IN ORDER FOR YOU TO LIVE IN UNITY YOU NEED TO LOVE ONE ANOTHER IN ME; ONLY THUS WILL YOU OVERCOME DISAGREEMENTS BEFORE THEY ARRIVE.
I am speaking about daily living so that you remain alert before you have to face the intense times of purification. Whoever does not prepare at this instant will not have another one for doing so.
My Beloved People:
You are living in dangerous instants - extremely dangerous, and you will live through constant and recurring instants like these. War ceases being a specter. A small country will be the cause of Humanity's terror. Those who have not believed will fall down, asking for My Help, since around them they will not find anyone to help them. Man, without thinking, is calling for confrontation.
The earth will shake fearlessly: the powerful will make themselves felt. Man measures his power for a long while, provocations will not be entirely certain, surprise will be the reason for the powerful country's anger.
MAN TRIES TO KNOW IN ADVANCE WHAT WILL HAPPEN, AND I HAVE SHOWN THIS AGAIN AND AGAIN. DO NOT WASTE THESE INSTANTS, BE PERSEVERANT.
MY PEOPLE ARE IN AGONY IN THE SEA OF WHAT IS WORLDLY, WHERE BASE INSTINCTS PREVAIL AND AGITATION IS CAUSING MAN TO LOSE HIS REASON.
Pray, My children, pray for the United States; war is not only calling outside its territory but within it.
Pray My children, pray for North Korea, words draw attention away from the true intention.
Pray My children, pray for Italy, it will suffer and grieve, grieve and suffer.
Pray My children, the volcanoes are awakening and the earth shakes.
Do not forget to prepare your spirit. How many will regret not having confessed their errors! How many who reject Me will have to make reparation!
My People must look at themselves, so much intrigue will be punished by Me. My People are not an example but a cause for grief, My People continue to be degraded by hatred and envy against themselves.
PRAYERS ARE DAILY BUT MECHANICAL; YOU RECEIVE ME THOUGHTLESSLY, WITHOUT PROPER
PREPARATION OR REPARATION. I AM MISTREATED BY THOSE I LOVE, BUT MY LOVE DOES NOT DECREASE.
My Beloved People, how many walk the earth without paying attention to the signs of this instant! You will be surprised at a great unexpected event coming from above.
Prepare yourselves, examine yourselves deeply: do not forget that everyone will examine themselves in their work and action.
HOW MUCH MY MOTHER HAS ASKED FROM YOU IN HER REVELATIONS AND YOU HAVE TAKEN THEM WITH NO AWARENESS! ...
Humanity suffers because of disobedience; because of disobedience grief is approaching.
You, My people, do not lose heart, persevere, strengthen one another and be tenacious in the praxis of My Word.
What you have is for you to manage, thus your own square meter must give fruits of Eternal Life.
MY ANGEL OF PEACE WILL COME TO BE THE LIGHT OF MY PEOPLE WHO, PERSECUTED BY THE
ANTICHRIST, WILL FALTER IN FAITH. HE BEARS MY WORD IN HIS MOUTH AND MY LOVE IS NESTED IN HIS HEART. HE WILL SHARE HIS BREAD WITH THE HUNGRY AND WILL GIVE DRINK TO THE THIRSTY, BUT THE HEART MUST BE WILLING IN ORDER TO RECOGNIZE HIM.
My Beloved People, do not despair because of the god of the world. "I Am who I Am" (Ex. 3:14) and My children are fed like the birds of the field. My Word should be daily food for you.
DO NOT FEAR, I CARRY YOU IN THE PALM OF MY HANDS.
MY BELOVED PEOPLE, I CALL YOU TO PRAY THE HOLY ROSARY THROUGHOUT THE WORLD, AT 6 PM IN EVERY COUNTRY, FOR THE PEACE OF THE WORLD.
DO NOT FEAR, I AM WITH YOU.
DO NOT FEAR, I LOVE YOU AND BLESS YOU.
Your Jesus.
HAIL MARY MOST PURE, CONCEIVED WITHOUT SIN