Sunday, August 20, 2017
Message of Our Lord Jesus Christ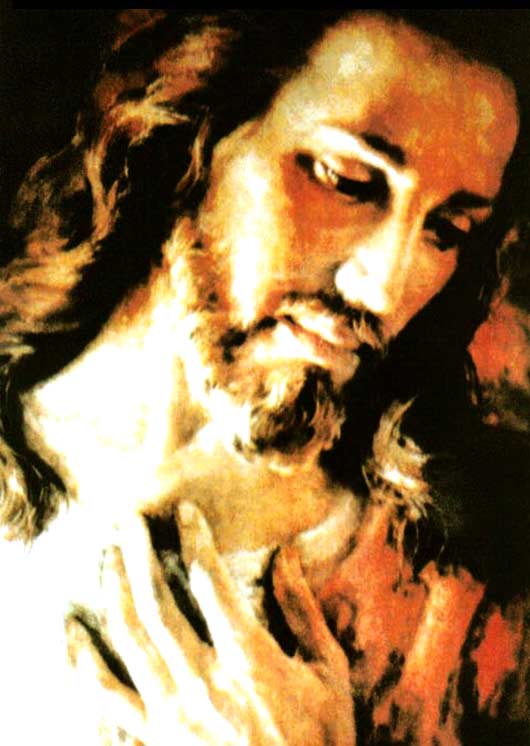 My Beloved People:
I BLESS YOU AT EVERY INSTANT, WITHOUT HOLDING BACK MY LOVE FOR MY PEOPLE.
I look at you with Eternal Love in the midst of the humanity that captures the heart of those who are Mine and constantly hardens it, causing you to descend in the spirit. You have allowed what is worldly to cause you to fall into baseness, corrupting you so that you love what is material and not even think about what is spiritual because to you it seems to be something fictitious.
How hard My People are! just like their pagan ancestors ; some suppose that, staying by My Side, they will not pass through trials, or they misinterpret My Word and are sure that I will protect their material goods. To the extent that you think this way, you go further away from Me and denote a lack of Faith. "If Faith were like a mustard seed, you would tell a mountain to move and it would move" (Mt. 17:20), but the Faith you have is weak and you grant great power to evil, knowing that Our Will has the Final Triumph.
How many come to this explanation of My Word out of curiosity! ... And this is not how it should be, since the one who seeks Me out of curiosity will then seek Me out of necessity.
I EVEN SEE SOME OF YOU WHO ARE STAYING BETWEEN "ALREADY" AND "NOT YET". HOW MUCH YOU WILL REGRET NOT HAVING BELIEVED IN THIS PRECISE INSTANT!Our Will has declared to you all that is happening and will happen, not in order to frighten you by the events that are approaching for Humanity, but so that you prepare.
How much I grieve for those who neither want to listen, read nor believe and who live without being aware of what is happening in the world, who live without being aware of the pain of their brothers and sisters who are persecuted for following me!
I SEE YOU BELIEVING AND TRUSTING MORE IN SCIENCE THAN IN OUR DIVINE WILL, WHICH DOES KNOW WHAT WILL HAPPEN.
I SEE YOU LISTENING ATTENTIVELY TO CLIMATE REPORTS, LISTENING ATTENTIVELY TO ECONOMIC EXPERTS, LISTENING TO ANALYSTS OF POLITICS, WAR OR RELIGIOUS AFFAIRS...
BUT ME YOU IGNORE, YOU DISDAIN ME, PUT ME OFF AND DO NOT BELIEVE.
Our Will warns you about the changes to which you will be subjected and which you will suffer due to Nature, and you continue to ignore Our Word. And when men warn you about an upcoming event, you take precautions in order not to suffer.
Man does not attend to Our Divine Will, and because of this evil takes advantage of unbelief in order to lead you to extremes where denial is the result of the lack of knowledge and spirituality in man.
I LOVE MY CHILDREN, BUT EVERYONE WILL RECEIVE THE FRUIT OF THEIR WORK AND ACTION:
of their faith and of their commitment ... of their spiritual growth and their struggles against evil ... of their love for neighbor ... of how much you love My Father ... of the measure with which you have measured your brothers and sisters ... of judgments made without a basis or with a basis that you should have kept in the secret of your heart ... of the defamation by which you have tarnished a brother or sister... of the calumnies by which you have affected the reputation of a brother or sister... of the occasions when, using My Word, you mistreated one of your brothers and sisters and kicked them when they were down…
How many of you serve in My Temples in some ministry and are creatures who do not even deserve to stand at the Altar, because you take My Law into your own hands!
YOU WILL COME TO SEE ME AND WILL BE ASHAMED BECAUSE I WILL MAKE YOU SEE THE
OCCASIONS WHEN YOU TURNED MY CHILDREN AWAY FROM MY HOUSE, BEING MORE SINFUL THAN THOSE YOU WERE SINGLING OUT.
Every human creature, if they do not love their neighbor, if they are not truly humble, if they do lower themselves so as to be the last, runs the risk of not tasting Eternal Life, since misuse of free will lead them to their own condemnation, were they not to repent properly.
At this instant, fools, scattered all over the Earth, are discussing My Word and all think that they have the truth. Hypocrites! If they were so interested in Our Will, they would use the instant to alert My People of how much they will suffer and would open their eyes so that their mind activate knowledge and knowledge make them reason, as what is to come is certain and is close.
My beloved People, the Earth is undergoing transformations in every cosmic event of great magnitude that happens near Her and you go towards the phenomenon and see no further than what is a spectacular phenomenon or attraction. Earth is suffering from events that affect Her and man does not think about it, he does not take seriously the fact that Earth does not have the same magnetic field as in the past.
Children, you do not believe in My Word, you do not believe that such a great degree of sin is involved in attracting disasters to the Earth and accelerating them. YOU PAY NO HEED WHEN I CALL TO YOU TO BE ATTENTIVE TO THE CONTINUAL AND GROWING WAVE OF VIOLENCE IN HUMANITY AND TO THE FACT THAT THE EARTH ITSELF IS VOMITING OUT MAN'S SIN.
Earth's magnetism has weakened and you are not reinforcing prayer, nor requests for your protection, but on the contrary, you are reinforcing sin. I do not only call you to verbal prayer but to construct prayers with actions and works united to Our Will.
My Beloved People, the Earth's core is in the process of changing, the Earth itself is in the process of changing, and you need to be more spiritual creatures in order to advance and ascend towards Our Most Holy Trinity.
Pray children, pray for Humanity that is not aware of what is happening to it, of what is approaching, and it will suffer.
Pray children, pray for Colombia, it will shake strongly.
Pray children, pray for Chile, that people will weep at the power of Nature.
Pray children, pray for New Zealand, it will be shaken.
Pray children, pray, anger is taking hold of man with greater force. Humanity will live in constant terror.
MY PEOPLE, I AM GOD AND THEREFORE CALL YOU TO WAKE UP, TO REACT SO THAT YOU TURN
TO OUR TRINITY AND TO THE MOTHER OF MANKIND, TO YOUR BROTHERS ON THE WAY AND YOUR INTERCESSORS ; IT IS URGENT FOR HUMANITY TO RETURN TO SPIRITUALITY.
Evil has taken power and it is man's duty to stop it, and for this, man must become spiritual. Great changes are coming for Humanity and it will only be the man of faith who will understand in his spirit what is happening, in order not to be deceived and not to join with evil.
My Beloved People:
I BLESS YOU, I LOVE YOU, BUT THE FORCES OF EVIL ARE CATCHING MY CHILDREN UNAWARE AND RULING THEM, INDUCING THEM TO DUPLICATE EVIL. This is the cause of the constant wave of man's acts of terror against man himself. Thus the Antichrist is making known his giant steps towards Humanity, not hiding the power that man has given to him. Those who work for him long for the destruction of much of Humanity, so they seek war.
Make haste, My people! Be faithful to My Law, do not interpret The Commandments, they are what they are.
BY DIVINE WILL, OUR ANGEL OF PEACE WILL COME AFTER THE APPEARANCE OF THE ANTICHRIST
SO THAT YOU DO NOT CONFUSE HIM WITH EVIL. He will be a comfort to My People, and will minister the Divine Word to you so that you do not forget the strength of Our Love and do not surrender to evil out of desperation. Like a Precious Pearl, Our Angel of Peace stays in Our House in order to go to My People at the precise instant. (1)
My Beloved People:
THE EARTH IS SHAKING STRONGLY, THE PURIFICATION OF THIS GENERATION IS APPROACHING.
OUR TRINITY DOES NOT ABANDON YOU: MAINTAIN FAITH IN OUR PROTECTION, BE OBEDIENT AND DO NOT BE ATTACHED TO EARTHLY GODS. With My Help and living in faith and obedience, continue to be beacons of faith that bear witness to My Love present in Humanity.
Come to My Call, it is not instant for refusal but for the unity of My People.
I bless you with My Love.
Your Jesus.
HAIL MARY MOST PURE, CONCEIVED WITHOUT SIN