Saturday, August 26, 2017
Message from Our Lord Jesus Christ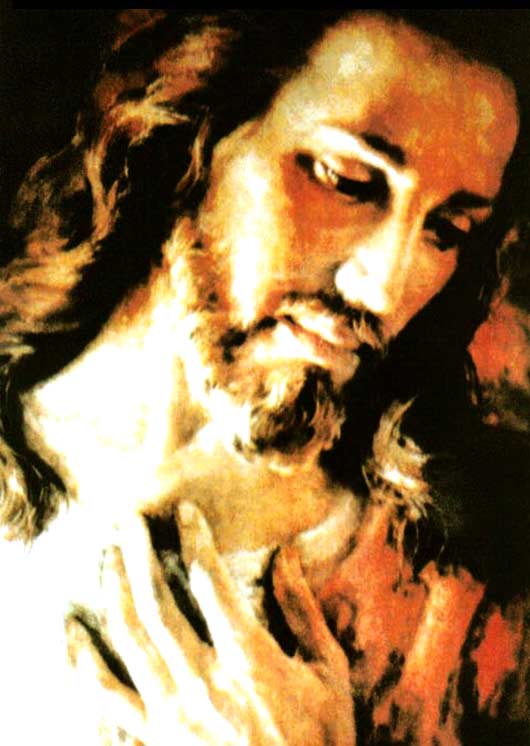 My Beloved People:
YOU ARE MY PEOPLE AND I LOVE YOU...
YOU ARE MY CHILDREN, THOSE WHOM I LOVE AND FOR WHOM I GAVE MYSELF ON THE CROSS.
My Beloved People, I see you following heretics, I see you following those who do not love Me and who say that I have chosen them as My Instruments.
Do not forget that "not every one that says, Lord, Lord, shall enter into the Kingdom of heaven" (Mt. 7, 21).
You are in the midst of great confusion; My Church finds itself in the prelude to the Schism, you have left the Commandments up to the free interpretation of My people, who as in the time of Moses have grown tired of waiting and have surrendered to the worship of false idols. My Church is repeating the same mistakes because of not being obedient to Our Divine Will and disobeying My Mother in what She has asked you to fulfill in Her repeated Revelations.
My Mother has made the Divine Will known to you, Her children, but you have closed your ears and hardened your hearts for fear of offending those whom My Mother has ordered to consecrate to Her Immaculate Heart. Because of disobedience, My Church has not consecrated Russia to the Immaculate Heart of My Mother, and Humanity will suffer for it. If obedience had been greater than fear, humanity would not be facing war.
THE IMMACULATE HEART OF MY MOTHER WILL TRIUMPH, IT WILL TRIUMPH, BUT FOR THIS MY PEOPLE WILL UNDERGO WHAT COULD HAVE BEEN AVOIDED: THEY WILL BE PURIFIED.
The devil is usurping souls everywhere and My children, what are you doing to avoid this loss of souls?
My Church is immersed in neglect of the salvation of souls. My Priests largely do not catechize My People, but the preaching is as light as foam, permissive with regard to sin so that the community does not walk away.
But what is the state of My People's inner temple? Plagued with snakes, invaded by the darkness and the nauseous smell of sin, which takes hold of everything because the human being keeps forgetting me.
I NEED MY PEOPLE TO FOCUS ON THEIR INNER TEMPLE, IN CONTINUING TO ASPIRE TO A LIFE
CLOSER TO MINE, MORE DEVOTED TO SILENCE AND MORE FOCUSED ON THE FULFILMENT OF THE SIGNS OF THIS INSTANT, IN ORDER NOT TO BE IGNORANT OF WHAT IS HAPPENING.
Do not be creatures of appearances or masks to use on every occasion, be creatures of Divine Love who travel the road taking My Word wherever they go, and who when they are not well received do not hide, but shake their feet and then look for other brothers and sisters, other places in which to evangelize.
My People do not speak, they do not preach...
My People have been victims of the theft of words and concepts proper to Me and at this instant they are shaken on hearing various words or concepts used by new ideologies or sects and therefore stop using them.
This is to surrender to those who enter into My Church to steal what is Mine in order to appropriate it for themselves and encircle My children in order to weaken them.
CHILDREN, DO NOT FALL INTO IGNORANCE, SECTS AND MOVEMENTS BASED ON ALIEN PHILOSOPHIES HAVE USUSPED MY WORD AND WHAT IS OF MY HOUSE IN ORDER TO CREATE CONFUSION.
Man is the wonder of My Father, he has the best and largest system of engineering, and science was unable to discover it easily. My Father endowed man with an exemplary and perfect system of circulation, so that blood would be distributed throughout the organism, and the same goes for the other systems that the human body possesses. Is it not a laboratory of the most excellent quality?
My people have seen how esoteric movements use words such as "energy" in order to take possession of them and so that Catholics who use them feel that they belong to these sects, or be pointed at by their own brothers.
No, children! The human body is constantly in motion, it does not stop and this movement produces energy and energy produces vibration, and vibration is a form of communication that the body emits outwards in order to bless your brothers and sisters or to contaminate your brothers with negativity.
OUR TRINITY IS NOT A NOUN, IT IS A VERB...
OUR TRINITY IS CONSTANTLY IN A PROCESS OF CREATING AND FORGIVING, OF LOVING AND GIVING GOOD TO MAN.
The static person is the one who does nothing and expects to receive everything without the slightest effort, and this is not correct. My Children must work for their salvation and for the salvation of souls.
My Beloved People, baseness and lack of respect for one another cause Me great pain, because disrespect is a means by which the enemy penetrates souls, causing disunity, separation and division.
So many are the Signs that I am making patent for you that My Heart is drowning in the indifference of Humanity, which looks with scorn and total indifference at what is happening in the world. This generation is showing itself to be totally ignorant and this causes Me pain, with so many advances man yet closes his eyes and becomes spiritually ignorant and totally ignorant of what is occurring in the world.
You do not cultivate the spirit, you live feeding the human ego; if you are well, you are not interested by anything that your brothers and sisters are suffering. But shaking and agitation will come upon the whole Earth, Nature will awaken those ignorant ones who live solely by their "ego" and their comfort.
MY BELOVED PEOPLE, THE NUMBER OF SOULS THAT REMAIN ATTENTIVE TO GROWING AND FEEDING ON MY LOVE IS DECREASING. Sin and continuous offenses to Me are the sign of Satan's dominion over Humanity, Freemasonry has settled within My Church and exalts the human being as a god, with his debauchery and his whims, with his rebellion and arrogance against our Divine Will.
Other sects are settling within Rome aided by Freemasonry so that My People be confused and be indifferent to the events that I announce to them, and thus the Antichrist will find a Humanity that is faltering and ignorant.
My Beloved People, you must maintain certitude in My Warnings and the Revelations of My Mother, which are but an excess of Our Will's Love for you.
KNOW THE HISTORY OF HUMANITY, MY PEOPLE'S STORY, IN ORDER TO BE AWARE THAT WITHOUT SPIRITUALITY, YOU WILL NOT GO FAR, BUT WILL DESTROY ONE ANOTHER.
Man carries rebellion within himself, inserted by the media, not only those of communication but through the invention of cinema and of video games with which the present youth has grown up. Reacting beside oneself is common in the man who imitates the "winners" created by misused technology.
My Beloved People, you must know, you must go deeply into what is happening in the world. Do not be like the fools who, looking towards the Sky, say that it is the Earth. The stubbornness of man distresses Me, saddens me...
Pray My children, pray for Rome, it will be invaded and the Vatican shaken by forces contrary to My Church.
Pray My children, pray for Portugal, hatred is coming to invade this people of My Mother.
Pray for My children, pray for Venezuela, the blood of My children continues being shed.
Pray My children, pray for England, it suffers from terrorism.
Pray My children, pray for North Korea, it is exciting the powers' senses.
Pray My children, pray, the Warning is near.
Beloved My People, I call you to be true. I will not be indulgent with those who commit injustices and do not repent. Otherwise I would not be a Just Judge.
My Beloved People:
Do not be like the hypocrites who scourge My true Instruments.
Do not be the tormentors of those who serve Me without fear.
Do not be among those who cry, "Crucify the one who serves Christ."
My Beloved People, you must recover the Love that I offer you, you must strive to overcome the "ego" that governs you. As long as you do not master the "ego" and make it become spiritual, you run the risk of being instruments of evil and being those who prevent My Word from spreading in peace.
These are instants in which good and evil are arguing over souls: you cannot see this with the eyes of the body, but some of you perceive it in the spirit. And you perceive it in the spirit because you have drawn near to Me.
I HAVE CALLED YOU TO PREPARE TO RECEIVE THE BLESSING OF MY ANGEL OF PEACE, BUT YOU
ARE NOT MAKING AN EFFORT; MY PEOPLE'S CHANGE IS NOT CONSTANT AND MY SPIRIT DOES NOT DWELL WHERE LIGHT AND DARKNESS LIVE TOGETHER IN TOTAL LUKEWARMNESS. IT IS ALREADY THE INSTANT FOR THE LIGHT OF MY SPIRIT TO RULE IN YOU COMPLETELY.
Our Trinity blesses you; be worthy of this Blessing - I love you.
Your Jesus.
HAIL MARY MOST PURE, CONCEIVED WITHOUT SIN