Wednesday, August 30, 2017
Message from the Blessed Virgin Mary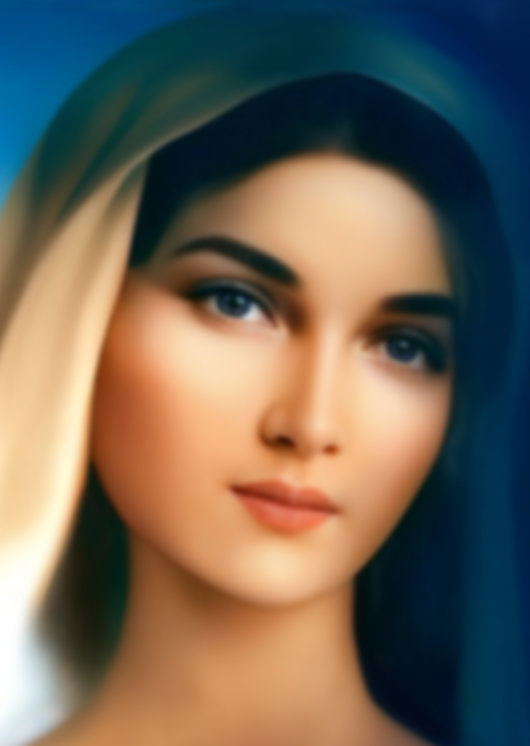 Beloved children of My Immaculate Heart:
I BLESS EACH ONE OF THOSE WHO TREASURE THIS WORD THAT COMES TO YOU BY DIVINE WILL.
I BLESS THE HEARTS OF EACH OF MY CHILDREN.
I BLESS WITH MY LOVE ALL THOSE WHO RECEIVE THIS WORD AND PUT IT INTO PRACTICE.
Beloved children, I call you to be aware of the urgency of conversion; this is not the instant to cause evil among brothers and sisters, nor to seek opposition, nor to utter slander, nor to insult; you already have enough of this on the part of those who do not love My Son, on the part of those who have allied with evil.
The People of My Son are accustomed to rising up against each other because you lack true Love and live in lukewarm commitment. LUKEWARMNESS IS EXTREMELY DANGEROUS FOR THOSE WHO LIVE IN THIS WAY: at one instant appearing to be of My Son and at another, when they are not being watched, they pounce like wolves to destroy what is not to their liking.
This is the way how evil acts, leading you to feel that you are useful through discord. You do not understand that evil keeps testing you in order that you renounce My Son. Therefore, be aware that you need to be strong so as not to allow evil to accomplish its purpose. EACH ONE OF THE FAITHFUL OF MY SON'S PEOPLE IS A THREAT TO EVIL AND THEREFORE IT HAS THE INTENTION OF MAKING YOUR FAITH COLD, OF DISTURBING YOU WITH THE SLIGHTEST THING YOU CAN THINK OF, BECAUSE IT WANTS TO TAKE YOU AWAY FROM THE PATH TO ETERNAL LIFE.
Beloved children of My Immaculate Heart, there continue to be constant ambushes in order to steal the world's peace. War is advancing towards Humanity, little by little, step by step. The provocations are constant until an act of madness will unleash what will inevitably be the greatest act of folly. Beloved, pain will break out from war, peoples will be left as if deserted, and at that instant all Humanity will be touched by the product of the scourge of war in one way or another.
BELOVED, EVERYTHING THAT MAN HAS NOT WISHED TO SEE AND EXPERIENCE, MAN WILL SEE AND WILL EXPERIENCE AT THE HAND OF THE HEROD OF THIS GENERATION.
Humanity grows with the desire for freedom; and the devil has taken it in order to make it into licentiousness, and man in turn has taken that licentiousness in order to present My Son as an opponent of freedom.
These are the acts of the devil to keep My children from the true Way.
At this instant man has greater means for going away from My Son through misused technology and the little search for spirituality in which most of Humanity is living. LACK OF PRAYER HAS ALLOWED EVIL TO PENETRATE THIS GENERATION MORE QUICKLY.
It is urgent that you be creatures of prayer and action.
It is urgent that you draw near to My Son not only in confession, but also with true repentance of wrongdoing and firm purpose of amendment.
It is urgent that you come to receive My Son in the Eucharist. It is urgent that you be more Heavenly.
I invite you to pray for all Humanity in order to defend one another spiritually, and you will not achieve this without prayer and action.
My children, I invite you to be truer, loving in the Love of My Son and not seeing yourselves as rivals on this Path. The spiritual creature's walk must be born of Love for My Son so that in this way you are not touched by envy, nor by resentment, nor covetousness, nor pride, nor arrogance, nor lack of charity, nor rivalry, nor the desire for the first places.
THE ONE WHO LOVES IN DIVINE LOVE WILL NEVER RISE UP AGAINST THEIR BROTHER OR SISTER
THUS WILL THE PERSON WHO IS SPIRITUALLY GROWN UP BE DISTINGUISHED FROM THE ONE WHO LIVES BEING LUKEWARM.
Beloved People of My Son, the trials for Humanity continue. The sin that abounds in man and remains on Earth is a point of attraction for Celestial Bodies to approach Earth more frequently. In an instant you will see the moon take on the color of blood, as a notice to Humanity of the proximity of the Warning, about which I have already warned you.
Man's foolishness in denying a place of punishment for souls who do not repent or amend their lives has led more souls to fall into the clutches of the devil. Do not be among those who cooperate so that Humanity falls into the power of the devil.
HELL EXISTS, JUST AS DIVINE JUSTICE EXISTS, JUST AS THERE IS THE DAY AND NIGHT, THE EARTH AND THE FIRMAMENT.
YOU KNOW THAT AS HUMANITY DRAWS NEAR TO THE COMPLETE FULFILLMENT OF MY
REVELATIONS, THERE WILL BE MORE WHO DENY MY SON, DENY HIS REAL PRESENCE IN THE EUCHARIST, DENY THE IMPORTANCE OF REPENTANCE, AND DENY MY MATERNITY.
Beloved People of My Son:
When you deny sin, when you deny the Divine Law, when man ceases to be man and woman ceases being woman, when children are stripped of their innocence and Humanity ignores the Love of My Son and prohibits the children of My Son from carrying visible Sacramentals, and when priestly duties are taken lightly... MY CHILDREN, EVIL WILL BE INSTANTS AWAY FROM PROCLAIMING ITSELF THE FALSE "CHRIST". AND YOU KNOW THAT THIS IS WHAT THE IMPOSTOR WILL DO, WHO WILL SCOURGE HUMANITY AS NEVER BEFORE.
The instant is one of darkness, error, the lack of love, which is penetrating man with greater insistence.
ANGER AND NONCONFORMITY ARE INCREASING UNCONTROLLABLY; MAN REBELS AT
EVERYTHING, UNTIL THE ALLIES OF EVIL ATTAIN THEIR OBJECTIVE: CREATING CHAOS
THROUGHOUT THE EARTH. In the face of instability, the peoples will rise up and that will be when brother will rise up against brother, disavowing blood ties, and BECAUSE OF THIS GRAVE SIN, THE THREE DAYS OF DARKNESS WILL BEFALL THE EARTH.
The epidemic goes like the wind over all the Earth: be aware of it. The instant you are warned, do not expose yourself, it will not look, it will have no compassion.
Beloved children, pray for the United States, the scourge is galloping over that land without a truce.
Beloved children, pray for France and Italy, they suffer because of terrorism and nature.
Beloved children, pray for Mexico, it shakes forcefully.
Beloved children, pray for Guatemala, its soil suffers and it shakes. My children suffer.
Beloved children, pray for Argentina, pain looms. Commend it to Our Sacred Hearts.
Beloved children, pray for the Church of My Son, pray.
My children are peaceful, they do not take part in the anger that evil is spreading over men in order that disorder and instability reign on Earth.
THE ANGEL OF PEACE WILL BE SENT TO LEAD THEM ON THE RIGHT PATH THOSE WHO FEEL ALONE AND ABANDONED BY THE FATHER'S HOUSE; He will be the great opponent of the antichrist and will be a lamp that gives light to My Son's faithful.
THE ANGEL OF PEACE IS THE GREAT OBSTACLE TO THE ANTICHRIST and will be the one who will call sin: sin and good: good.
Beloved children of My Immaculate Heart, you are not abandoned by God the Father, He watches over His children.
Evil passes over Humanity, but it will never be Humanity's conqueror. When you believe that evil has taken all power and believe that you as the People of My Son have been exterminated, do not stop, do not lose faith. THIS WILL BE THE INSTANT OF THE TRIUMPH OF MY IMMACULATE HEART BY DIVINE MANDATE AND DESIRE.
I continue shedding My Tears throughout the Earth, as a sign of My Presence and the suffering of My children, as a prelude to the instants prior to a tribulation for Humanity.
Beloved children of My Immaculate Heart, what this Mother asks of Her children you must fulfill.
I CALL YOU IN THE DIVINE WILL, I WARN YOU OUT OF LOVE, NOT IN ORDER TO FRIGHTEN YOU, I WARN YOU BECAUSE I LOVE YOU AND WILL NEVER ABANDON YOU BUT LEAD YOU TO MY SON.
Do not lose faith in the protection that the Father's House maintains over His children.
Do not lose Faith, maintain it at all instants.
I love you, I bless you.
Mother Mary
HAIL MARY MOST PURE, CONCEIVED WITHOUT SIN
(1) According to the previous Revelations given to Luz de Maria by Our Lord Jesus Christ and our Most Holy Mother, Nuclear Energy has been called the Herod of this generation. Read…