Tuesday, September 5, 2017
Message from the Blessed Virgin Mary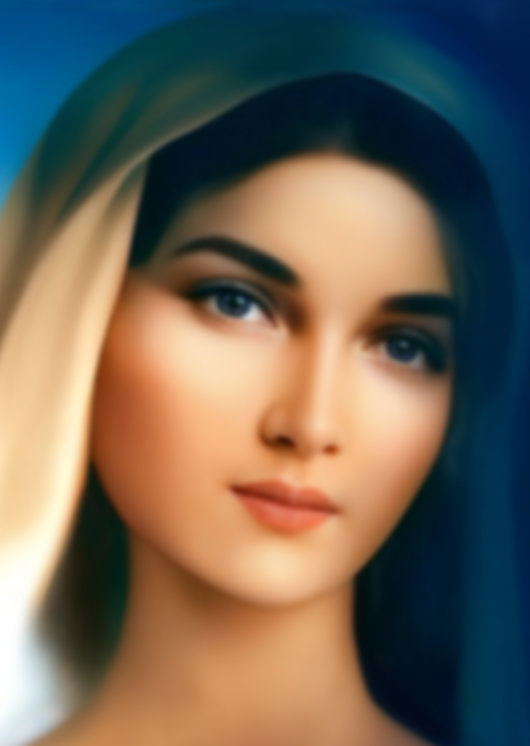 Beloved children of My Immaculate Heart:
I AM IN FRONT OF EACH ONE OF MY CHILDREN TO GUIDE YOU IN THE DIVINE WILL, in instants when evil is continually lurking and you are not properly prepared to resist and reject that force of evil, because of not thinking about your personal work and action.
I see that you carry on being the same, above all in the unexpected and continuous awakening of the human ego, full of that great intelligence that has grown up upon the emotions of each of you at life's various unforeseen instants.
YOU CONTINUALLY REFUSE OBEDIENCE ; WHEN I CALL YOU TO REMAIN MORE ALERT IS WHEN YOU SHOW YOURSELVES TO BE MORE NEGATIVE AND MORE REBELLIOUS.
It is the human ego that rebels against orders, it is the human ego that wishes to continue in its own free will, and for this reason you do not manage to advance.
Beloved children of My Immaculate Heart, you know full well that evil is lying in wait in order to bring you down and to lead you to bad and improper works and to bad and improper acts. What is most painful for My Heart is to see you falling continually because of your repeated emotional changes, because you continually change your mind, and due to this, to see you going away among the great masses who live in lukewarmness.
My Son does not need great sages or great scholars among you, but needs men and women of humble heart, living the Love of God in their hearts in order to give it to their neighbors. My Son needs true children, not in appearance but sincere, upright and determined, with firm intention to change at every instant. YOU HAVE TO GIVE TESTIMONY ; IF YOU DO NOT GIVE A GOOD TESTIMONY, YOU ARE HYPOCRITES APPARENTLY DRESSED IN WHITE.
Humanity is stuck in the chaos and blindness caused by vices. Man does not set pride aside, but on the contrary, he glories in his pride in order to oppress the humble. The devil rejoices in man's impiety and greed, in the lack of charity, in the coldness and misery of the human heart.
Beloved children of My Immaculate Heart, we have guided you so that you leave the darkness, yet everyone voluntarily plunges into the darkness all the more in response to Heaven's Requests so that you be saved.
YOU WILL NOT BE CREATURES STRENGTHENED IN FAITH IF YOU DO NOT FIRST GROW INTERNALLY.
I WANT TRUE CHILDREN WHO RISE ABOVE THEIR MISFORTUNES, AND NOT THAT MISFORTUNES WOULD MAKE YOU MORE MISERABLE.
You cannot call yourselves creatures of faith if you are not prepared for inner change. You will not be true Christians if you do not resemble My Son. Who turns the other cheek? Who sees their own errors, who forgives, who forgets, who ...?
WHAT YOU HAVE TO DO, MY CHILDREN, IS TO RENEW YOURSELVES COMPLETELY: AS LONG AS YOU DO NOT MANAGE TO DO THIS, YOU CANNOT ADVANCE.
Children, Nature is advancing with great force over the earth ; this is the response to the one who has invaded it, and Nature no longer recognizes him. It is nature that is calling Humanity to turn its gaze back to God. Man is estranged from his responsibility within purification.
Beloved Children of My Immaculate Heart:
THERE ARE SO MANY WHO FEEL THAT THEY ARE ACTING WELL, AND SO FEW ARE THE HUMBLE WHO RECOGNIZE THEMSELVES AS SINNERS!
Do not go on waiting, be sincere towards yourselves, be aware of the instant in which you are living and of the great interference that Satan is maintaining within Humanity, bending hearts and taking hold of brilliant minds to debate the Commandments of the Eternal Father.
This is the time for you to see yourselves internally, so that you reconsider and draw near to My Son. He awaits you in order to welcome you, but for this the great inner change that I have mentioned must occur within each one of you.
Pray children, pray for the United States, Nature scourges it, the earth shakes.
Pray children, pray for Colombia, this land will suffer until it is purified. Nature will purify you. I invite you to consecrate this land to My Immaculate Heart promptly.
Pray My children, pray for Argentina, it will experience instants of tragedy. I invite you to consecrate this land to My Immaculate Heart promptly.
Pray My children, pray for South Korea in order that prudence might be a weapon for disarming evil.
The volcanoes will roar, awakening man from his sleep, in one place and another, they will cause man to invoke the Creator.
Beloved children of My Immaculate Heart, Our Angel of Peace will bring you peace. It will be welcomed by those who live in peace. For the one who does not know peace it will be doubly difficult to awaken this virtue. You who read this Maternal Word out of love and conviction and not out of obligation or in order to scoff, you My children, be honest with yourselves. How will you recognize peace if you do not live it, if you do not practise it?
OUR ANGEL OF PEACE KEEPS HIS EYES ON THE EARTH; YOU ARE NOT UNKNOWN TO HIM. OUR
ANGEL OF PEACE SHEDS TEARS BECAUSE AWAY FROM THE LACK OF COMMITMENT, LOYALTY,
DEVOTION AND FAITH IN WHICH MY SON'S PEOPLE ARE WALKING.
My Son suffered, suffers and will suffer for each one of you, but what result will My Words have in hearts of stone? Even so, I will not leave you at any instant, I will even go to Purgatory to help you.
THOSE WHO REPENT AND WHO WITH A CONTRITE HEART DESIRE TO DRAW NEAR TO MY SON, LET THEM DO SO AT THIS INSTANT, DO NOT WAIT FOR ANOTHER. Every instant that you live is an instant of greater spiritual demands; and in order for you to manage to survive in the midst of the battle, you must increase your faith and be creatures who are nourished by Divine Love.
The Earth continues to be despondent.
This Mother wants all to be saved, but with great pain I know that not everyone wants to be saved. My Son cries out for each one individually, but you reject him because of the influence of evil.
Beloved children of My Immaculate Heart:
MY HEART KEEPS WAITING FOR YOU TO CALL ME. MY SON KEEPS ME AMONG YOU IN ORDER TO
STRENGTHEN YOU AND TO HELP YOU. DO NOT FORGET THAT I LOVE YOU AND WILL NOT ABANDON YOU.
After the great purification of Humanity, My Son will return in His Second Coming and you, His faithful People, will walk towards Him and together with the whole Creation will render all honor and all glory to the Most Holy Trinity.
I love you, I bless you.
Mother Mary
HAIL MARY MOST PURE, CONCEIVED WITHOUT SIN