Sunday, September 10, 2017
Message of Our Lord Jesus Christ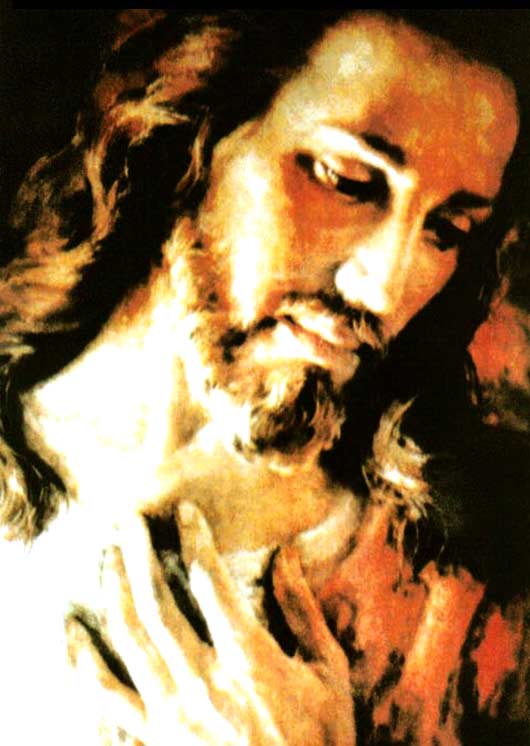 My Beloved People:
I BLESS YOU, CHILDREN OF MY MOST SACRED HEART.
I see My People in great confusion, fearful, not because of disrespecting me but facing what represents danger for them.
Some feel that they are totally true to Me and that their work and action are sufficiently pure and devoted to make reparation for all Humanity. This, children, is pride. I will not rest until the majority of My children come to Me. As a Beggar of Love I untiringly seek souls, I do not want any of My children to be lost.
YOU ARE MY FOLLOWERS AND HAVE TO BE FULFILLERS OF MY TRUTH, BUT YOU ARE NOT THE TRUTH.
I call you again and again because man quickly becomes accustomed to forgetting, and it is not My Desire that you forget what I ask of you and what you must fulfill in order to remain in My Way.
MY PEOPLE, PRAY IN AND OUT OF SEASON, BEING CONSCIOUS OF EVERY WORD SO THAT THIS AWARENESS PREVAILS EVEN WHEN YOU FINISH PRAYING, AND THUS CONTINUE PRAYING WITH YOUR ACTIONS AND WORKS. All that emerges from you must be the product of this continual prayer in spirit and truth so that you do good and spread it everywhere.
Humanity suffers from a thirst for love, a thirst for faith, thirst for hope, thirst for charity.
Humanity at this instant is living by the excesses of a free will that is misused and given over to what offends Me.
Faith does not exist, you doubt the explanation of My Word and that of My Mother and of what comes from My
Father's House. You doubt with great ignorance, from which you do not want to escape. SOME OF MY CHILDREN HAVE APPROPRIATED MY TRUTH FOR THEMSELVES, BUT THESE ARE THE PRIDEFUL, SINCE THEY BELIEVE THEY POSSESS DIVINE THINKING AND JUDGE CONSTANTLY.
IGNORANT IS THE PERSON WHO, KNOWING THAT THEY ARE LIMITED, UTTERS JUDGMENTS AGAINST OUR WILL.
My people, this instant of calamity for this generation is generated in that stubbornness, in that human foolishness which makes you feel that you are above Our Will. Interests prevail in you and even your words are expressed with that personal touch implying that what you think is the best for you.
You have laid aside Our Will without measuring your works and actions; for this reason you find yourselves facing the disastrous result of how much you have generated.
Every event about which we have warned you will be fulfilled. Nothing will remain unfulfilled at one instant or another, but will be fulfilled in this generation of such perversity.
You are heading towards the Great Purification and the succession of events that you already know full well, in such a sequence that it will be difficult for you to help one another.
The actions of some towards others will lead you into great conflicts in the countries least thought about.
Humanity ignores the fact that the elements have been altered and that these are altering man's normal behavior, being reflected in riots, protests, threats, terrorism, the use of nuclear weapons ... Man acts, he does not think.
My People, the Sun is emitting dangerous emanations towards the Earth; do not expose yourselves to the Sun, unknown diseases produced by the Sun are appearing.
My people, the devastation without measure that man has caused Nature is man's lament at this instant.
"I AM WHO I AM" (EX. 3:14); MY PEOPLE DISRESPECT ME, YOU IGNORE MY OMNIPOTENCE AND
RELEGATE ME RELATIVE TO THE FALSEHOOD OF IDEOLOGIES THAT YOU VERY QUICKLY EMBRACE.
The attacks of Nature, combined with difficulties among the great nations, will cause the unexpected collapse of the economy and will be man's lament which will make him despair at the downfall of his god.
Beloved children, stay alert, Earth's orbit will change, the Earth will continue shaking in one place and another.
Pray My children, pray for Russia, it will suffer because of Nature.
Pray My children, pray for the United States, it suffers again.
Pray My children, pray for Chile, it shakes with great force.
Pray for Central America, the earth trembles, and Colombia shakes forcefully.
My Beloved People:
CONTINUE CONSECRATING YOURSELVES TO THE IMMACULATE HEART OF MY MOTHER AND TO MY MOST SACRED HEART. Each consecration is a spiritual rebirth for you, it is a repeated renunciation of evil and a repeated adhesion to the Truth.
Beloved My people, pray for Italy, it will be shaken and attacked.
MY ANGEL OF PEACE IS THE FRUIT OF DIVINE LOVE FOR EACH ONE OF YOU.
HE WILL GIVE YOU PEACE AND SPIRITUAL HEALTH. IN THE SILENCE OF MY DIVINE LOVE, IN MY
NAME, HE WILL GRANT HEALTH TO THOSE WHO NEED IT AND BE IT FOR THE GOOD OF THEIR SOUL.
The antichrist will summon multitudes in order to make great spectacles so as to be applauded by men. That is why I have called you to spiritual growth and discernment, to be reconciled with Me, to be bearers of My Love, to make reparation and to see Me in your brother and sister.
Children, pay attention: at this instant some people are proclaiming themselves as My very Spirit; these are used by evil to confuse you. "I AM WHO I AM"(Ex. 3:14).
Be bearers of My Truth, not that of men but of My Truth...
Make up your mind and eliminate what keeps you highly attached to what is worldly...
Entrust yourselves to Our Divine Will, be clay in Our Hands, concern yourselves with being creatures of good and rid yourselves of what is holding you back, of what you still have within your human ego and which is preventing you from growing. You need to change your work and action for a better work and action tied to Our Will. You must crush the evil that remains in the human ego, so you are docile and allow Me to mold you.
THOSE OF MY CHILDREN WHO DO NOT BEND THEMSELVES AND CHANGE WHAT THEY NEED TO
CHANGE, SUCH CHILDREN OF MINE WILL TRAVEL A LONGER ROAD THAN THOSE WHO DECIDE TO BEND THEIR HUMAN SELF IN THE AREAS IN WHICH IT NEEDS TO BE TRANSFORMED.
My Holy Spirit is ready to help you, but for this you must be willing and have firm purpose of amendment.
My people, I love you, I call you to treasure this explanation of My Word. My blessing is with you.
Your Jesus
HAIL MARY MOST PURE, CONCEIVED WITHOUT SIN