Wednesday, September 13, 2017
Message from the Blessed Virgin Mary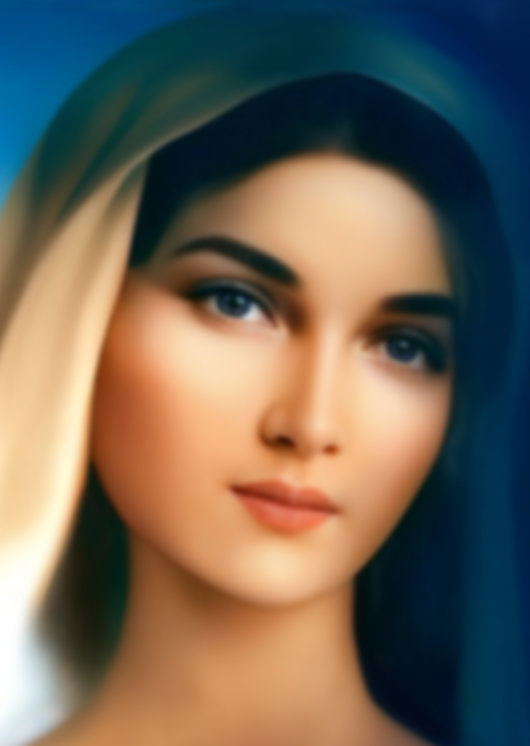 Beloved children of My Immaculate Heart:
MY LOVE HAS NO LIMITS, I KEEP ALL MY CHILDREN IN MY HEART.
Children, not everyone loves My Son, and I come pleading before you so that you return to the true Way and so no more souls are lost.
Humanity has created a generation without God, without constraints or obedience, without faith and without charity. Man views himself as his own enemy, and due to all the influences you continually receive from all that surrounds you, you fall again and again, these falls being deeper and more difficult for the human creature to overcome.
Faced with the condescension of My Son's Church, men go astray when they find freedom to adhere to sin. The denial of hell as a place of punishment for those who do not leave sin, has been propitious for humanity to degenerate even more. Consenting to what is contrary to the Divine Law has made sin one more thing, without any transcendence, and Satan is continually stealing souls.
MAN DOES NOT KNOW HIMSELF, HE LIVES DECEIVED BY HIS HUMAN EGO THAT WHISPERS TO HIM: "YOU ARE DOING EVERYTHING RIGHT, CARRY ON THIS WAY."
This generation is not aware, it stops at nothing, it does not see, it is not afraid in the face of the Signs of the Times because it does not know them, it has not heard about them. It has been living immersed in technology and has had no time for God.
Man does not allow himself to be corrected nor for any suggestion of becoming better to be made to him, from where stems so much evil, so many families destroyed, so much wrongdoing ... Therefore, this generation suffers the Great Tribulation, it is experiencing the Great Tribulation which becomes stronger by the instant. Man's suffering is sharply accentuated. That is why My Son, within His Mercy, is disciplining His People, His rebellious, unbelieving, disobedient and unfaithful children, and calls them to Obedience. The person who did not know of affliction will have it before him/her, since no place will be exempt from being purified.
Do not mock or rejoice over the ills of your brothers and sisters, purification gallops from one place to another, at one instant or another people suffer.
Do not wait for tribulation; you are living within it, following which will be the culmination of the Great Tribulation.
Man's rebellion and offenses towards God, worship of the devil and the repudiation of the One Triune God is what keeps this generation as the one that will suffer the Great Tribulation and the scourge of the Antichrist. 'For then there will be great tribulation, such as has not been from the beginning of the world until now, and never shall be.' (Mt 24:21)
So it is that you live from disaster to disaster; Creation tells man not to offend My Son any more, but man solves everything by giving scientific explanations. Only those who are experiencing the Tribulation know that what they suffer is not something that can be called normal.
Man claims that he has lived through instants of anguish, yet he will not have experienced anguish equal to that during the Purification. It is the instant of the great trial for My Son's People, when natural disasters and science misused by man will turn against him and contaminate all that has been given to man by the Eternal Father.
The anguish that My children who have suffered because of Nature are experiencing will be experienced by all people; the four elements have been released to carry out their action on Humanity which they disavow, since Humanity is not living out, is not enacting, does not obey the Divine Will.
Beloved children, this does not mean you are going to be abandoned by the Divine Hand. That is why in this explanation of the Divine Word you are called to save your souls, to take spiritual strength, to not decrease in faith, to fortify yourselves so that when the antichrist comes, you will not give in to his wicked lies.
You will witness grave and terrible phenomena of all kinds. The earth is roaring from within its core because of the friction in its depths. The earth is alerting man not to contaminate it any more. This generation will know the power of Nature facing man who is wounding it.
You will witness invasions of great nations, cruel invaders without mercy. Europe will be prey to invasions and will be enslaved by the slaves of evil. Rome will be invaded and My faithful children will help My Son's Church, which will have to be transferred to another nation.
Beloved People of My Son, pray in season and out of season, repent, be righteous.
Do not feel that you are wise, the wise person does not offend his/her Lord, and this generation will be the creator of greater offenses towards the Divine Will.
YOU MINIMIZE EVERYTHING CONCERNING WORSHIP AND PRAISE, THANKING AND PAYING HOMAGE TO THE ONE WHO IS GOD, WHOSE NAME IS HOLY AND WHOSE CHILDREN SHOULD BE
HOLY; THEREFORE YOU ARE BEING PURIFIED. As Mother, I call you not to falter before this great Truth, given that far from frightening you, I want to draw you to the Truth and for you to recognize that you are not acting well but outside God's Law.
I protect you, I free you from evil, but for this you have to be creatures of good.
Love can do everything, therefore seek and be experts in Divine Love, and the rest will be given unto you.
Pray My children, pray for San Francisco, it will suffer to the core.
Pray My children, pray for England, it suffers due to terrorism and Nature.
Pray My children, pray for the Philippines, it will be shaken by its volcanoes.
Pray My children, pray for Mexico, the sin that overflows in this nation causes it to suffer.
Pray, People of My Son, pray.
I bless you.
Mother Mary.
HAIL MARY MOST PURE, CONCEIVED WITHOUT SIN