Monday, September 18, 2017
Message from Our Lord Jesus Christ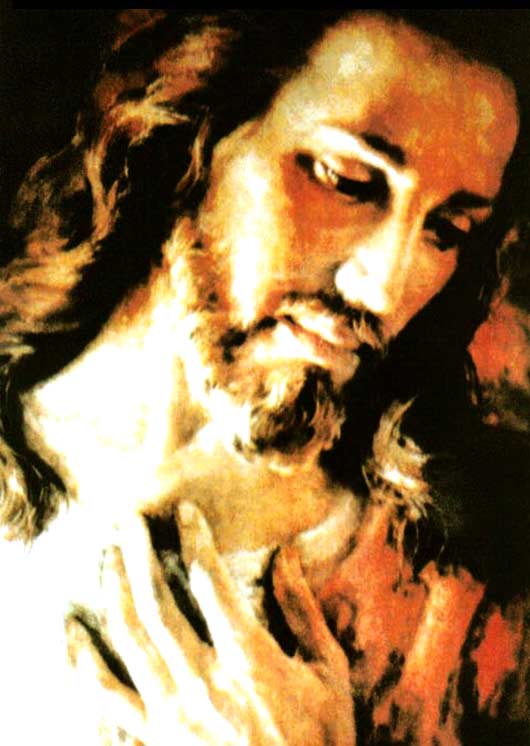 My Beloved People:
CHILDREN OF MY MOST SACRED HEART, I BLESS YOU.
I look at you with infinite Love, as infinite as My Mercy is for each one of you.
IN THE DARK NIGHT IN WHICH THE HUMANITY THAT I REDEEMED IS MOVING, THE CONVULSION AND THE CONFUSION IN WHICH YOU ARE LIVING CAUSE ME PAIN.
The origin of Humanity's evils occurred through the lack of love in man towards himself. No one who does not love himself can love their brothers and sisters.
Each creature has its own concept of what love is. As long as that is the reality, it will be very difficult for you to succeed in loving me and giving me the proper adoration, just it is very difficult for you to love your brother without putting your own concept before love for neighbor.
YOU ARE UNABLE TO DETACH YOURSELVES FROM THE MISUSED HUMAN EGO IN YOUR LIVES, YOU
HAVE CHANGED FREE WILL INTO LICENTIOUSNESS AND LICENTIOUSNESS INTO A GREAT LACK OF LOVE TOWARDS YOURSELVES.
You have forgotten that you are temples of the Holy Spirit and have become temples of idolatry, selfishness and confrontations that are leading you to shocking dehumanization.
My beloved People, I have to tell you that if each person, individually, does not propose an inner transformation in what they must change, it will be difficult for them to accept with My Love the brother who is not and does not think like you. In the face of the constant clashes of personal human desire there are the actions and reactions of a selfish man, which leads this generation to find itself in the instant of instants.
The Schism that is gradually confronting My Church will find My children immature, lacking in faith and potentially selfish. The little spirituality in which My people are living reveals the scant training of My Church, which will fall into the clutches of evil, which is why My Angelic Legions will remain alert in defense of those who repent of their behavior and ask for Their Help.
My Beloved People:
I HAVE ALREADY DECLARED TO YOU THE URGENCY OF PREPARATION FACING THE PROXIMITY OF THE WARNING, IN WHICH EVERYONE WILL BE ALONE FACING THEIR OWN CONSCIENCE; THE ACTS AND WORKS OF YOUR LIFE WILL BE REVEALED, EVEN THOSE THAT YOU CANNOT REMEMBER. This personal purification is necessary for you to properly face the future development of Humanity. Not everyone will believe in Me after the Warning, although this will be My Great Act of Mercy for all Humanity.
My Beloved People:
DAYS PRIOR TO THE WARNING AND BEFORE YOU SEE MY CROSS IN THE SKY, YOU WILL SEE FOR
ONE DAY THROUGHOUT THE PLANET A GREAT SIGN THAT WILL TELL YOU THAT THE WARNING IS
ALREADY UPON YOU. YOU WILL SEE A CIRCLE IN THE SKY AND FROM THE CIRCLE A RAY OF LIGHT WILL DESCEND THAT WILL NOT TOUCH ANYONE, AND THAT NO ONE WILL BE ABLE TO TOUCH.
THIS SIGN IS ONE MORE GRACE FOR YOU THROUGH THE INTERCESSION OF MY MOST HOLY MOTHER.
My Beloved People, humanity finds itself in instants of purification and this will continue coming from Space, just as Nature will not tire of warning you to sin no more.
Pray My children, pray for Jamaica, it will be greatly purified.
Pray My children, pray, total war is a reality.
Pray My children, pray, the earth continues to shake throughout the planet, pray for Germany.
Pray My children, pray, the East will remain in a state of alert.
My Beloved People, Humanity in general will feel threatened. The lack of fear on the part of those who believe they have power over Humanity will lead them to issue the order so that My People be lacerated with chemical weapons.
"I AM WHO I AM."(EX. 3,14) I DO NOT WANT MY PEOPLE TO SUFFER ANY MORE FROM THE MAN WHO USES SCIENCE FOR EVIL.
I WILL LET MY HAND FALL AT THE INSTANT WILLED BY US.
Do not forget that you have to put aside the human ego that leads you to cause harm to your brothers and sisters. You must be creatures of good, of peace and of My Love so that you might be able to ascend in the spirit.
I BLESS YOU CONSTANTLY, BUT IT DEPENDS ON YOU WHETHER THAT BLESSING IS RECEIVED IN ITS ENTIRETY BY EACH PERSON.
I bless you, know me in order not to be confused.
Your Jesus
HAIL MARY MOST PURE, CONCEIVED WITHOUT SIN