Wednesday, September 20, 2017
Message from the Blessed Virgin Mary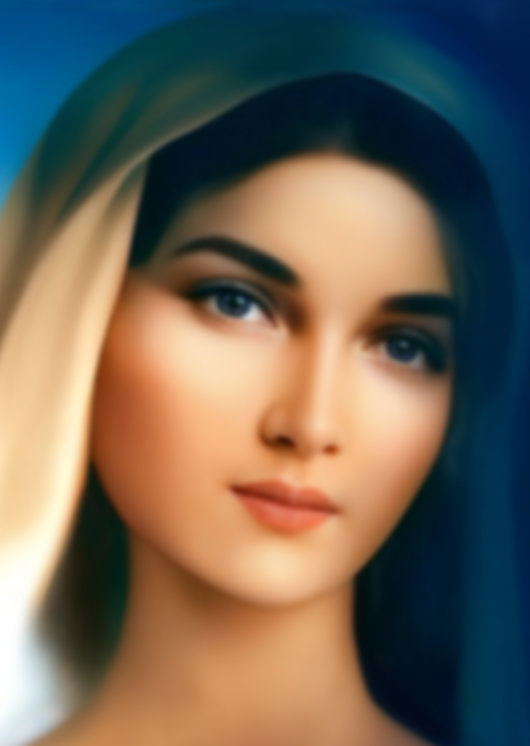 Beloved Children of My Immaculate Heart:
BE GOOD CHILDREN SO THAT YOU DO NOT CAUSE SUFFERING TO MY SON, WHO LOVES YOU INFINITELY.
Man speaks of what he does not know, mentioning what I have revealed to Humanity in My Apparitions on Earth. You compare My Revelations with science and when that happens, bewilderment arises with the realization that there is no scientific explanation, no matter how much you may look for it.
Man, making poor use of free will, transforms it into licentiousness, deciding to distance himself from everything that means an effort of the heart, the mind, thought, in reason, in good concepts, in obedience and in patience. This because man is very afraid to set aside his poorly employed human ego.
Transformation causes man to fear because he does not know what is going to be asked of him for that transformation, and the expectation of a greater Divine demand causes him fear and dread of goodness, of being a better child of God: that is what man dreads. Sin does not cause him dread, but goodness.
Beloved children of My Immaculate Heart:
Man is living in the midst of the world's convulsion. This keeps him in constant expectation. The repeated events to which man has been subjected will increase, with an intensity that man has never seen or experienced.
It is necessary for humanity to be purified from so much sin with which it has joined the hordes of satan and united with those who reject My Son and their brothers and sisters. This generation is offended by signs and symbols that represent Divinity. Therefore, My children, within the Church of My Son, the center must continue to be My Son in the Blessed Sacrament. TRANSUBSTANTIATION AT THE MOMENT OF CONSECRATION IS REAL AND TRUE, EVEN IF SOME OF MY PRIESTS HAVE LOST FAITH IN THIS MOMENT AND TREAT MY SON ROUGHLY, WITHOUT RESPECT, WITHOUT LOVE, WITH GREAT UNBELIEF, FORGETTING THAT MY SON MAKES HIMSELF PRESENT AT THE WORDS OF THE CONSECRATION OF THE PRIEST AND THE CLAMOR OF HIS FAITHFUL PEOPLE.
You My children need to prepare yourselves properly in order to receive My Son in the Eucharist, you must repent of your sins and you must endeavor not to make the same mistakes. Do not receive My Son in the Eucharist if you are not properly prepared.
I WATCH WITH PAIN HOW YOU PASS MY SON FROM HAND TO HAND AS IF DEALING WITH SOMETHING EDIBLE THAT YOU HAVE BOUGHT SOMEWHERE IN ORDER TO DISTRIBUTE IT, INSULTING WHAT IS MOST SACRED.
Some of My Priests are not zealous in the treatment they give to the Eucharist and with their bad example the people repeat the same thing and do not give the Eucharist its true value.
AT THE MOMENT OF THE EUCHARISTIC CONSECRATION THE ALTAR IS THE TABLE OF SACRIFICE AND LOVE WHERE MY SON SEES THE FAITH OF HIS PEOPLE AND DESCENDS TO HIS OWN OUT OF LOVE.
My Priests must be sons of prayer, sons of Love, sons of charity, sons of constancy, sons of hope, sons of compassion and witnesses to the humility of their Lord and their God.
My Priests must warn the People of My Son in order for them not to be confused by those who deny evil, who deny dogmas of faith that contain a great foundation; they must not be among those who deny a God who is the Just Judge. Every human creature decides of its free will where it is heading: in love and forgiveness or in the denial of Divine Love, and thus suffers the consequences sin itself, just as the place of punishment: hell, if there is no repentance. "And the sea gave up the dead that were in it, Death and Hades gave up the dead that were in them, and all were judged according to what they had done. Then Death and Hades were thrown into the lake of fire. This is the second death, the lake of fire. (Rev. 20: 13-14)
Beloved children of My Immaculate Heart
You are experiencing instants of great danger to the soul. They are instants when the devil is distracting My children from all that is good, with the objective that they be lost. IT IS URGENT, MY CHILDREN, THAT THIS DANGER IN WHICH YOU ARE LIVING IS NOT AUGMENTED BY TOLERANCE TOWARDS EVIL. YOU MUST CALL SIN SIN.
BELOVED, HEAVEN, PURGATORY, AND HELL EXIST.
Humanity, immersed in what is worldly, thinks that God is not real and therefore lives in the madness of the world, without thinking about the future of their soul, since it is living blindfolded by sin. Man's will is permissive and even so he thinks that it is impossible for a chastisement to come to his life because of his bad deeds.
I KNOW AS A MOTHER THAT YOU WILL MOCK MY WORDS AND BLAME MY INSTRUMENT ON
ACCOUNT OF SUCH A STATEMENT, BECAUSE WHOEVER IS WORLDLY DOES NOT UNDERSTAND OR WISH TO ACCEPT THE CONSEQUENCES OF THE MISUSE OF ITS FREE WILL. Therefore, My Priests must be firm and remain attached to Sacred Scripture and God's Law.
Beloved children, the earth finds itself struck by the consequences of sin. Humanity will become more violent, it will be totally disrespectful, it will invade the Temples and will destroy them. This is the product of man without God, of the man who has been given a new opportunity to continue sinning, of the man to whom it has been denied that God can judge, of the man who has been told that sin is forgiven even without sorrow being felt for sin, and that God is love.
The product of man without God is the destruction of the Great Work of the Father, of the Sacrifice of My Son, and the denial of the existence of the Holy Spirit.
BELOVED CHILDREN, GO BACK TO THE DIVINE WORD, DO NOT DEPART FROM THE TRUTH, STAY TIED TO THE HOLY SCRIPTURE. GOD IS MERCY AND AT THE SAME TIME THE JUST JUDGE.
Walk with Love and with a sure step: be the product of the Love of My Son for you and My Love as the Mother of Humanity.
Pray for My children, pray for the United States, it suffers severely because of Nature that shakes it.
Pray My children, pray for Mexico, it is purified again.
Pray My children, pray for the Middle East, it suffers at the hand of man and the volcanoes will not delay.
Pray My children, pray for Italy, it is purified without expecting it.
Pray My children, pray for Peru, it is shaken.
Beloved children of My Immaculate Heart, Humanity is a witness to what Nature has reserved for this instant. Great and amazing effects of Nature will be seen on earth, there where they are not expected.
Be cautious, offer up every instant for the salvation of souls.
Take the decision to transform your lives on the path of personal salvation and that of your brothers and sisters. Do not wait, convert, this is the right instant.
I protect you so that you walk with My Son, I extend My Hand to you so that you are able to rise up in temptations.
I am your Mother and I love you.
Pray, practise Love towards My Son.
I bless you,
Mother Mary
HAIL MARY MOST PURE, CONCEIVED WITHOUT SIN