Monday, September 25, 2017
Message from Our Lord Jesus Christ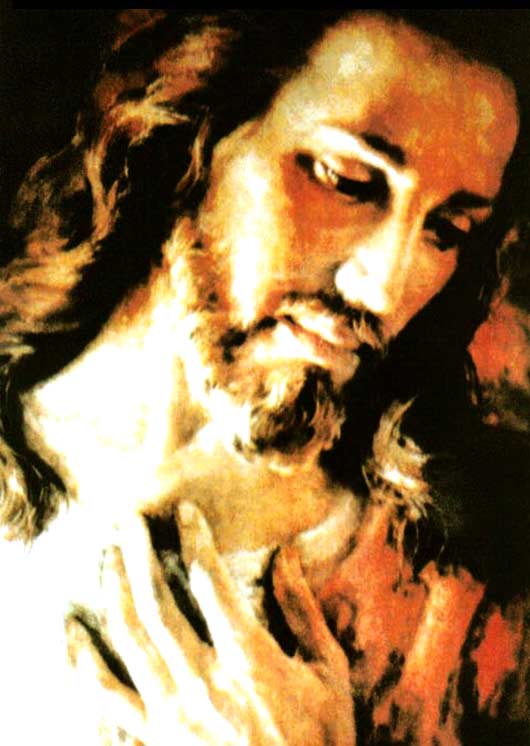 My Beloved People:
IN MY INFINITE LOVE I HAVE ALLOWED MAN TO APPROACH ME AND THUS GROW IN THE SPIRIT, AND TO BE MORE OF MY HOUSE THAN OF THE WORLD.
At every instant in the History of the generations I have manifested My Mercy towards My children.
In the same way Humanity - stubborn, blind and disobedient -, has rebelled and suffered for its sins. The man of this instant debates whether My Mercy punishes or does not punish, not wanting to see himself as the cause of his own suffering.
My beloved People, when the human creature shows itself to be outside Our Divine Will by its works or actions, opposing the Divine Law written directly by My Father's Hand on the Tablets of the Law, it rebels and interprets everything that is Ours by human free will.
The Commandments are to be kept applicable at all times and for all people. Man, acting contrary to the Divine Law and disobeying it, has defiled the Word of My Father. In the face of such an act, I must express once more that the man who acts well receives good by generating good. The man who acts badly receives evil as a product of his bad behavior, when he does not repent, neither recognizes nor confesses and has no firm intention of amendment.
THIS GENERATION HAS REGRESSED AND HAS COME TO PROFANE OUR DIVINE WILL, GIVING FREE INTERPRETATION TO THE DIVINE LAW, THIS BEING AN ACT THAT GENERATES THE GREATEST MISFORTUNES, AS A CONSEQUENCE OF A FREE INTERPRETATION OF WHAT IS SACRED.
Humanity lives in liberalism and has taken the Word and Divine Law in order to interpret them irresponsibly, in this way giving freedom to the devil so that he grows at every instant and so that new forms of sin appear.
YOU HAVE NOT UNDERSTOOD THAT WITH EVERY SIN EVIL INCREASES, EXPANDS, TAKES POWER WITHIN HUMANITY AND SUCCEEDS IN MANIFESTING ITSELF IN ALL ASPECTS OF SOCIETY.
It is My People themselves who at this instant are handing over their work and action to evil so that the latter continues contaminating everything in its path and injecting its venom of modernism and errors, disrespect and rebellion, its affronts and heresies against Our Will.
HOW MANY OF YOU CRY OUT "OUR FATHER", YET ARE GREAT REBELS WHO DO NOT FULFILL THE COMMANDMENTS AND MOCK THE REQUESTS OF MY MOTHER!
Humanity, living in evil, causing constant offenses to Our Most Holy Trinity, is receiving the product of its works and actions. Therefore, out of My great love, I do not continually punish My children, but My Justice is true. I allow misused human freedom to be man's own executioner.
My Beloved People:
THIS INSTANT OF PURIFICATION MUST AT THE SAME TIME BE ONE OF AMENDMENT. I am Love and every act of reparation is welcomed by Me, only that you forget that reparation must remain accompanied by the intention to continue in that reparation, which cannot be momentary, but permanent. Man shows compunction when he suffers and cries out to Me to help him, and I listen to him and help him, but after the instant of pain, of testing, of fear has passed, he goes back to being lukewarm and nestles in what is human, and he continues offending me and clinging to evil.
My Love, in which man must be constantly living, is the norm for life that I have left you. But instead you launch into the search for what you feel you lack, and you reason along your own lines, not in My Way. Goals are set along personal lines, not My Way. Thus you continue to act without balance, even knowing what good and evil are.
MAN LIMITS HIMSELF TO ACTING AND WORKING WITHIN WHAT HE KNOWS, HE DOES NOT ALLOW HIMSELF TO EXPAND HIS KNOWLEDGE AND TO BE MORE SPIRITUAL. When he does not enter into Me
spiritually, he finds nothing new and throws himself into what leads him to find newness in the sin that the devil offers him.
Beloved children, evil has penetrated to the roots of My Church itself, grafting evil into Her, and therefore the newcomers show themselves to be contrary to My Word, since they carry within their teachings a theology that is far from Our Will.
At this instant Divine Love does not reign over Humanity, but pleasure, contempt, impurity, abuse, corruption, falsehood, heresies, offenses against Our House and My Mother. Man's rebellion is launched against the Churches, hatred for the Sacramentals grows inordinately, My faithful priests are separated from My People, convenience and the desire for possession increase in all areas.
YOU HAVE MADE ME A KING WITHOUT A KINGDOM, A BEGGAR FOR THE LOVE OF MY OWN CHILDREN ...
There instant of lamentation will come, in the hell on Earth that those who follow the devil as their god will bring forth.
My Beloved People, Purification continues on Earth, there will be no place that will not be purified, some sooner, others later, but all peoples will be purified to the point where Earth's geography will change.
UNITE WITH ME, BE TRUE SONS OF MY MOTHER, ATTEND TO HER CALLS, AS SHE CONSTANTLY INTERCEDES FOR YOU.
My Mother has asked Our Trinity that the impact of the meteorite, when falling into the sea, be less so that the coastal areas do not suffer to the uttermost. In the light of this Petition Humanity must pray, and that prayer must not only be verbal, but prayer by acting and working in Our Love. Only and only thus will you minimize this impact.
Pray, My children, pray for Mexico, land of My Mother, where She is alive and palpitating, where at Her feet men of peace and good must grow.
My Mother, in the invocation of Guadalupe, is the Woman Clothed with the Sun, She is the Mother of these last days. She contains the balm for the culmination of humanity's purification. THE TILMA, ON WHICH MY MOTHER IS TO BE FOUND, WILL BE A SIGN FOR HUMANITY, WITH A GREAT MANIFESTATION THAT MY PEOPLE ARE NOT EXPECTING AND WHICH WILL SURPRISE THE WHOLE OF HUMANITY. IT WILL BE VISIBLE TO ALL AND CORROBORATED BY SCIENCE.
THEREFORE, THE MEXICAN PEOPLE ARE BEING PURIFIED BY THE FORCE OF NATURE DUE TO THE LAWS THAT THEY HAVE APPROVED, LAWS OF SIN CONTRARY TO OUR WILL AND THAT MAKE THE IMMACULATE HEART OF MY MOTHER SUFFER. The death they have allowed offends Our Trinity with the sin of the free permission of abortion. Life is not valued: man, Temple of Our Holy Spirit, has become a creature that is used by evil, displaying increasing homosexuality and lesbianism.
GREAT HERESIES ARE RUNNING THROUGH MY TEMPLES; FACED WITH SO MUCH SIN, MY MOTHER
BESEECHES HER PEOPLE TO MAKE REPARATION, NOT ONLY WITH ACTS IN MY TEMPLES, BUT BY
ACTING AS GOD'S CREATURES AND MAKING REPARATION FOR CRIMES AGAINST SO MANY
INNOCENTS, WITH ALL ACCEPTING THE FAULTS THEY HAVE COMMITTED AND DECIDING TO NOT
GO BACK TO COMMITTING THE SAME CRIMES, DEDICATING THEMSELVES TO A LIFE OF LOVE FOR GOD AND NEIGHBOR, AND SHOWING TRUE REPENTANCE FOR SINS COMMITTED.
You must preach My Love, each person being a testimony of truth, not falsehood. Satan has made himself present on this Earth; he knows that My Mother will defeat him and overthrow him. Therefore My People must eradicate so much sin and so much heresy - now! - and not wait.
Pray, pray for Mexico, its soil will again be forcefully shaken ...
Pray, My children, pray for Chile, it will suffer the wrath of Nature with great force and the neighboring countries will suffer at the same time thereby.
Pray, children for Indonesia, it will be shaken and Humanity will suffer through its volcanoes.
Pray, children, Colombia will be purified, terrorism acts and Nature will shake all its inhabitants.
Pray, children, for Spain, it will be surprised by terrorism and Nature.
Pray, children, for Italy, it will suffer.
Pray for the United States, it shakes and water purifies it.
My Beloved People, you are not astonished at the power shown by Nature: it is the force of man's sin. Humanity continues to be scourged, being purified from one end to the other.
My Love remains current within each person, but it depends on you whether you embrace it or rebel.
I love you all although not all love Me. My People suffer and I do not abandon them. I bless you.
Your Jesus
HAIL MARY MOST PURE, CONCEIVED WITHOUT SIN