Thursday, September 28, 2017
Message from Our Lord Jesus Christ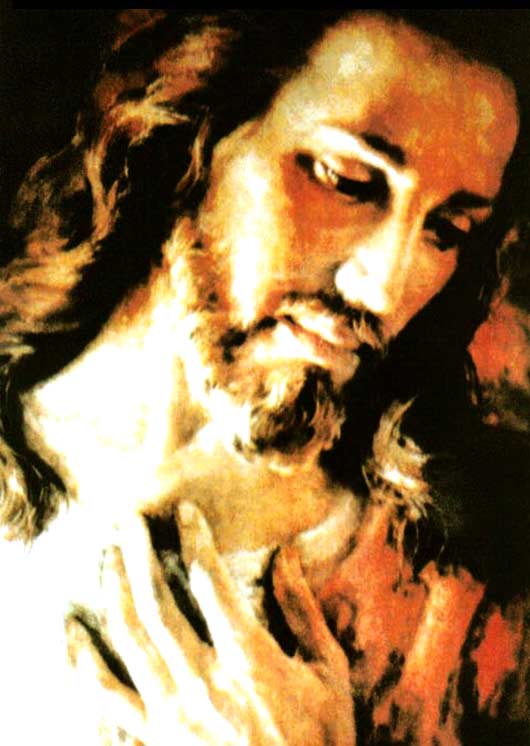 My Beloved People:
My Blessing is upon you at all instants; it is like the sun - even if you do not want to receive it, My Love reaches all. It gives fruits to those who welcome it and remains motionless in those who do not allow My Love to fertilize them, fill them and fulfill them so that they do not seek other paths.
They refuse to receive My Love because it is unknown to those who are lukewarm and who want to settle for a reflection or an idea of what My Love is.
Some of My children ask for miracles and when they do not see them realized in the area where their human will wants them, they become displeased and put Me out of their lives. Some of My children do not understand that My Love goes beyond what man desires, since everything I allow in life is for the good of his soul.
YOU DEMAND MIRACLES FROM ME AND I AM GRANTING THEM TO YOU IN ACCORDANCE WITH OUR
WILL SO THAT YOU MIGHT BE PURIFIED BY ONE MEANS OR ANOTHER, SO THAT YOU MIGHT SAVE YOUR SOUL!
I promise to help you, but to help My children is not to grant them everything they wish, but what is good for the salvation of the soul. Some people exclaim, "Lord, look at me, grant me what I ask of you" and ask Me for things of a material, economic nature, or that I remove diseases, without thinking that perhaps a disease may be the means through which the human creature returns to Me.
I promise to protect you and some of My children, making a great mistake, expect to deserve to be treated differently from their brothers and sisters. It is precisely My children who are mature and therefore ought to know that for Me the most important thing is that they should save their souls so that they are not lost, and that they might possess FAITH.
Thus I have explained to you that Humanity revolves about itself and gives Me the last place. You do not fulfill the Commandments, giving them free interpretations with which you cause great pain to Our Holy Trinity. You are creatures who focus on yourselves, without suffering for your brothers and sisters, being neither charitable nor merciful. Humanity is inside its "ego" and outside of it finds nothing else. You are a Humanity that does not want to abide by Divine Laws; you are sinking into lovelessness, firstly towards yourselves - and if you do not love yourselves, what love are you going to offer?
This generation will come to witness the schism of My Church, everyone generating this schism by not heeding the explanation of My Word and contributing by supporting innovations outside of Our Will.
My Beloved People, My Throne on Earth will be taken out of Rome in order to safeguard it, MY SHEEP SHALL DISPERSE, FEELING ALONE AND ISOLATED, THEY WILL OBEY ORDERS THAT DO NOT COME FROM ME AND WILL BE LOST FOR NOT HAVING ALLOWED THEMSELVES TO REPENT.
MY BELOVED PEOPLE, HUMANITY EXPECTS A GOD OF LOVE, OF MERCY, OF COMPASSION, AND THAT I AM. BUT AT THE SAME TIME I AM A GOD OF TRUTH, OF JUSTICE, OF SURE AND TRUTHFUL WORD. I AM THE JUST JUDGE.
The smoke of Satan has infiltrated My Church, not now, but previously. Man has been eliminating everything that was keeping Satan away, entering into agreements with the evil one and all his allies.
MY CHURCH HAS BEEN CONTAMINATED AND MY CHILDREN WHO HAVE NOT MADE AN EFFORT TO KNOW ME TRULY ARE EASY PREY FOR WHATEVER IDEOLOGY OR FALSE DOCTRINE ARISES. Hell is
full of creatures who have omitted the truth and have embraced false ideologies, surrendering to Satan and all that evil represents for them. The youth, principally, have become fanatical about evil and its different diabolical forms of modernism, accepting the base instincts with which evil scourges man, awakening base instincts in order to rebel against Me.
THE WARNING, MY PEOPLE, OUGHT TO FIND YOU HAVING REPENTED OF EVIL COMMITTED, YET I
SEE SO MANY WHO ARE WAITING FOR THE WARNING OR THE SIGNS PRIOR TO IT IN ORDER TO CONVERT...
THIS IS THE INSTANT, CONVERSION MUST BE NOW! REPENTANCE MUST NOT WAIT.
DURING THE WARNING, EVERY HUMAN CREATURE WILL CONFRONT THEIR SINS, THEY WILL SEE
THEIR WHOLE LIFE, WITH ITS STRENGTHS AND FAILURES, BEING UNABLE TO ESCAPE THIS ACT OF
OUR WILL. THE WARNING WILL LAST FOR INSTANTS, YET FOR EACH ONE OF YOU IT WILL SEEM TO
BE AN ENDLESS TIME BECAUSE OF THE GREAT SUFFERING THAT YOU WILL EXPERIENCE. THE
WARNING IS NOT TO ALERT YOU, BUT SO THAT YOU SEE YOURSELVES AND SO THAT THE SOUL
AND THE SPIRIT UNDERTAKE THE RETURN TO LIFE IN OUR WILL. EVEN ONCE THE WARNING HAS PASSED, I WILL FIND HUMAN CREATURES WHO WILL REBEL MORE FORCEFULLY AGAINST ME, BLAMING ME FOR THE PAIN THEY HAVE UNDERGONE.
THE WARNING IS MERCY FROM MY HOUSE, BUT ONCE IT HAS PASSED, FREE WILL SHALL DECIDE WHETHER TO CONTINUE IN DISOBEDIENCE TO DIVINE LOVE OR TO ADHERE TO OUR WILL.
You do not believe that you are standing in front of evil and its legions, you do not believe in Me because of the weakness and complacency with which those in charge with giving true testimony treat My affairs.
Therefore you, insolent generation, will try to use the earth to sow and the earth will no longer be available to you. It will be impossible for it to serve the man who has contaminated it with nuclear energy.
Know, My People, that a comet is so, so close to the Earth that it will change its magnetism and man will feel himself dying of terror because of the ignorance of what Our Mercy has been warning you beforehand.
MY ANGEL OF PEACE IS SOON TO COME TO EARTH AFTER THE PUBLIC APPEARANCE OF THE ANTICHRIST.
Pray, My children, NATURE IS CREATING SHOCKING EVENTS IN FRONT OF MAN.
Pray, My children, focus on spiritual growth.
Pray My children, Japan will suffer to the uttermost.
Pray My children, the United States continues to be purified, San Francisco will be scourged.
Pray My children, the volcanoes are purification for the nations.
Pray My children, Peru will shake and suffer, the sleeping bridegroom will awaken other volcanoes.
Beloved People of mine, be promotors of peace and wisdom for your brothers and sisters.
My Love is constantly poured out, without stopping. My Love desires souls. My Love wants to be your King.
Come to the company and guidance of your brothers of journey: your Guardian Angels.
MY BLESSING IS FOR YOU TO BE RESTORED.
I LOVE YOU, BLESS YOU.
Your Jesus
HAIL MARY MOST PURE, CONCEIVED WITHOUT SIN