Friday, October 6, 2017
Message from Our Lord Jesus Christ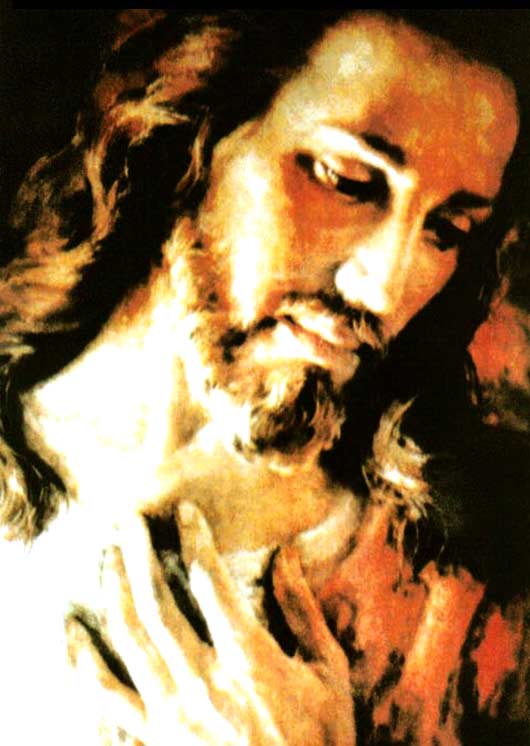 My Beloved People:
I BLESS YOU WITH MY LOVE, I BLESS YOU WITH MY PEACE.
My People: what have you done? Where are you?
I DO NOT SEE MY CHILDREN STRIVING TO STAY NEAR TO ME, BUT I SEE THEM WITHIN THE WORLD'S MADNESS, CARESSING SIN WITH PLEASURE.
Beloved children, this is not the instant to continue in what offends Me and is contrary to My Love. Each one of My children is responsible for their actions and how much they add to good or evil for the rest of Humanity.
False interpretations of the Divine Law contained in the Decalogue are leading My children into a fatal encounter with evil. THE DIVINE LAW IS NOT SUBJECT TO MAN'S CONVENIENCE; IT IS WRITTEN IN ORDER THAT ALL OBEY IT AND BE FULFILLERS OF THE TEN COMMANDMENTS.
My People have raised up false gods that have destroyed their desire to continue in My Love. At this instant My Love is something that is not considered convenient for the people of this generation, therefore they join the ranks of evil and allow evil to take them and help them to forget modesty, decorum, morality...
The path of My People is convulsed: Humanity strives to protest, but the background of all disorder, all protest, acts of vandalism and anger is summed up in what is the cause of the true origin of man's actions: internal struggle, the disease of envy and greed. The devil has made use of this to cover up his evil and so that man sees his brothers and sisters as enemies.
My People, you are persecuted at this instant, not by the antichrist, but by those who do not love Me and do not want My Peace to radiate in the hearts of My children.
My Temples are destroyed and will be so more frequently, thus instilling fear in My children so that they do not draw near to Me.
My beloved People, the relics that My Church possesses are going to be seized in order to desecrate them; because of this I have already requested that relics be rescued and treasured from this instant onwards; otherwise you will have no trace of them.
Those who prefer to save the body and lose the soul will suffer the horrors of this choice, when, forced by evil, they will have to be the hand that rises up against their own relatives.
YOU HAVE NOT RESPONDED TO THE REQUESTS OF MY MOTHER, WITH WHICH YOU COULD HAVE
HELD BACK THE HAND OF EVIL OVER HUMANITY. That evil of which My Mother has warned you will spread throughout the Earth, scourging man again. The wolf is dressed in sheep's clothing, and it will be when you least expect it that communism will manage to terrorize Humanity with its deadly weapons.
You have disobeyed by allowing evil to infiltrate My Church and My Mother to be minimized at this instant, in order to open the way to the evil one and the latter distorts My Word with his venom and confuses My People.
My Beloved People, the Sun will be the cause of fear, lament and agony for man. Solar emanations will cast down what man has placed in space and through which man feels invincible.
From the firmament you will see coming that which will purify this generation. Be love, accompanying the suffering of others, since all Humanity will be scourged in one way or another.
THERE IS NO PLACE IN WHICH I AM NOT GRAVELY OFFENDED...
My beloved People, I recall you to prayer in serenity, in confidence, in peace and hope, without personal interests.
The misused will of man will lead Humanity to suffer hunger; you will thirst and it will not be assuaged, you will be pierced by plagues that you think you have eradicated and by other unknown ones. It is not an easy path that you have to travel, only keep in mind that "I AM WHO I AM" (Ex. 3, 14) AND I COME TO THE ASSISTANCE OF MY OWN. MY ASSISTANCE IS NOT TO SEPARATE YOU FROM TRIALS, BUT SO THAT YOU MIGHT OVERCOME THE TRIALS WITH FAITHFULNESS AND A HOLY REJOICING.
The water of the sea will enter coastal areas, into continents. Be prepared, children! I am not speaking to you so that you are afraid, but so that you obey My Word and remain alert.
YOU ARE NOT LIVING IN THE DIVINE LAW ... MAN'S PRIDE IS GREATER AND MAN HAS SURRENDERED TO THE CONSTANT SNARES OF EVIL.
Pray My children, pray for the United States, this nation's purification continues through Nature and man himself. A powerful volcano will roar in this nation and all of Humanity will be threatened.
Pray children, pray for Russia, it is shaken, terrorism looms in this nation.
Pray children for Germany, its people are divided.
Pray children, pray for Nicaragua, its soil shakes.
Pray for My children, pray for Italy, it shakes, terrorism causes these children of Mine to suffer.
My Beloved People:
"DO NOT HARDEN YOUR HEARTS" (Heb 3: 8).
MAINTAIN A CONSTANT PURPOSE OF AMENDMENT.
MY ANGEL OF PEACE SEES YOU…
MY PEOPLE MUST PREPARE TO RECEIVE HIM BY GOING INTO MY WORD.
I do not want fanatics, I want children filled with love for neighbor and fulfillers of the Commandments, true children without insincerity, children of Faith.
Pray in season and out of season, pray together with My Mother.
My beloved People, the San Andreas fault lets out its force and from nation to nation, My children will feel fear.
You are not alone; it is you, children, who have abandoned Me and loving sin, have thrown Me out.
I protect you if you repent of the offenses with which you are wounding My Heart...
I protect you if you allow Me...
I protect you so that you save your soul ...
My beloved People, My Love does not fail, it is constantly approaching you in order to draw you towards Me.
MY CHILDREN DO NOT LIVE IN CONFLICT BUT IN MY LOVE.
I call you to renew your Consecration to Our Sacred Hearts. I bless you, you are within My open Side.
Your Jesus
HAIL MARY MOST PURE, CONCEIVED WITHOUT SIN