Monday, October 16, 2017
Message from the Blessed Virgin Mary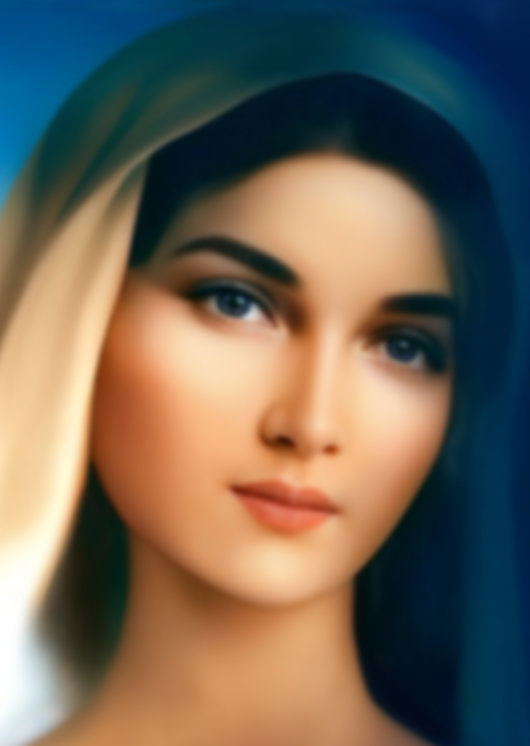 Beloved Children of My Immaculate Heart:
My Blessing is the essence of My Motherly Love for each one of you...
I EXHORT YOU TO TOTAL AND DEFINITIVE CONVERSION SO THAT YOU SAVE YOUR SOULS AND HAVE THE NECESSARY STRENGTH FOR OVERCOMING THE OBSTACLES OF THESE INSTANTS AND THOSE TO COME.
Daily examination of conscience is necessary.
It is necessary that each day you renew your Consecration to the Sacred Heart of My Son and to Mine.
Is not every instant a new struggle against evil? The hordes of satan do not rest.
Why is it that My children think that consecrating themselves once to Our Sacred Hearts is enough? No children, it is never enough ...
You disobey because of not becoming aware of the need to stay on a single Path. You constantly fluctuate between what is wordly and sinful and the Call for you to walk towards Eternal Glory.
THE PEOPLE OF MY SON ARE NOT A PEOPLE THAT GO DEEPLY INTO WHAT IS REVEALED TO THEM. You have become accustomed to receiving and not going deeper, so you have no idea of the spiritual consequences to which you are surrendering if you continue to be supporters of the shameful states to which you surrender, led by evil. You repeat without thinking, you memorize and do not feel, you accede to sin together with the others, acting out of inertia, you acquiesce to that to which the majority acquiesces, and you do not think before acting.
MY CHILDREN REMAIN CONFORMIST, LIVING ACCORDING TO THE LAW OF LEAST EFFORT IN EVERY
RESPECT. The mediocrity in Humanity is like a gigantic wave that drags you along without you managing to escape. That is why I come to give you My Love and to call you to become aware that you underestimate the spiritual warfare in which this generation finds itself. You justify sin by the devil whom you blame for everything that happens to you. YOU MUST FIGHT AGAINST THE SIN YOU ACCEPT; TEMPTATION IS TEMPTATION, IT IS WITHIN EVERYONE TO CONQUER IT OR LET THEMSELVES FALL INTO IT. THE CHILDREN OF MY SON KNOW THAT THEY MUST LIVE ON A CONSTANT ALERT.
Humanity wishes to overcome spiritual attacks without invoking and keeping in mind the Name that is above every Name. You do not preach in the Name of My Son and you vacillate in keeping human respect in order not to lose the acceptance of men.
Man's detachment from what the Eternal Father has established in the Divine Law and the comfortable attitude of man with regard to sin have brought forward the Purification of this generation, in which Humanity participates, as has man himself with his evil action in the face of the Divine Supplications. You live following dates that you receive from some of your brothers about the end of this generation or instead about the total purification of this generation.
YOU EASILY FORGET THAT GOD ALONE KNOWS THE DAY AND THE HOUR.
Foolish children! ... who offend the Divine Will with this hasty conduct in which you are living and which Nature itself will make you stop.
This generation has not kept its dignity as children of God, but live in prisons of sin which you do not want to leave. You do not believe that sin turns against man himself. You have forgotten past times, previous generations that were buried under water or punished with fire for having lived according to vices against human nature.
MY BELOVED ONES, IT IS THIS GENERATION TO WHICH I AM REFERRING, IT IS YOU WHOM I WISH TO AWAKEN SO THAT YOU DO NOT DIE FOREVER.
Beloved children of My Immaculate Heart, I have been warning you so much for years and are seeing it being fulfilled at this instant so that you are witnesses to the Divine Omnipotence, to God's Love for His children.
WITH SORROW I MENTION THAT WHAT YOU ARE READING NOW IS DUE TO THE FACT THAT IT IS EACH ONE OF YOU WHO WILL SUFFER, EXPERIENCE, SEE AND BE PART OF THE GREAT PURIFICATION OF HUMANITY.
From the Father's House will come the Angel of Peace to give encouragement to Humanity immersed in hopelessness because today's man places his hopes in advances of all kinds and not in drawing near spiritually to the Creator.
A machine will not give man Eternal life...
An expensive suit will not give man Eternal Life...
A luxury car will not give man Eternal Life...
A high position will not give man Eternal Life...
You must ask yourselves: what really exists within you?
Do you give conscience the opportunity to stop you before you let yourselves be carried away by human tastes or in order to make yourselves relevant?
Our Angel of Peace will lead the person who so desires to see themselves inwardly and not to live in fantasies. He will explain Divine Truth, even that which has been hidden from Humanity. But how many of you will see the great deception within which you have been living and the one who has led you to turn away from My Son!
BELOVED, MY SON CALLS YOU TO LIVE MORE BY THE SPIRIT THAN THE FLESH, MORE BY THE SPIRIT THAN BY LUXURIES, MORE BY THE SPIRIT, MORE BY THE SPIRIT... AND OUR ANGEL OF PEACE WILL GUIDE YOU TO THIS.
Stay alert to sin and do not succumb to temptation.
Do not throw stones at the sinner, but keep him in a constant catechesis; otherwise, if you judge your brothers and sisters as sinners, throw stones at yourselves before you cast them against your brothers and sisters. Not all those who say, ""LORD, LORD!" SHALL ENTER THE KINGDOM OF HEAVEN" (Mt 7:21).
Pray, children of My Heart, pray for England, it will suffer through man himself.
Pray, children of My Heart, pray for Ireland, it will be strongly shaken and water will rise up against it.
Pray, My children, pray for Japan, it shakes so hard that the sea will submerge a great part of it underwater.
Pray My children, pray, the inversion of the Poles is near and man, unprepared to live with a climate different from the one in which he is living, will be taken by surprise.
Beloved children of My Immaculate Heart, New York accepts sin like Las Vegas, it takes it in like water, and where sin reigns, destruction looms.
Be cautious with the false and benevolent aspect of a ruler of a world power, the bear is not what it seems: I already announced this in Fatima.
The dragon will awaken and attack other countries.
My beloved ones, the volcanoes are awakening and bringing Humanity to a state of alertness.
Do not be blind, are these not the Signs of the Times? WAKE UP, CHILDREN! Make every effort so that a new man be reborn within you with the Divine Blessing, and so that you could be Apostles of Love.
I CALL YOU TO A NEW DAY OF PRAYER OF THE HOLY ROSARY FOR THE SALVATION OF THE SOULS
FOR SUNDAY, NOVEMBER 26. I SAY SO IN ADVANCE SO THAT HUMANITY UNITES IN RECOGNITION OF MY SON, KING OF THE UNIVERSE.
All children, "renew yourself within with a generous spirit" (Ps 50,14). Be wise, give your all for My Son and entrust yourselves to The Most Holy Trinity.
I bless you with the Love that reigns in My Heart.
Mother Mary
HAIL MARY MOST PURE, CONCEIVED WITHOUT SIN