Friday, October 20, 2017
Message from Our Lord Jesus Christ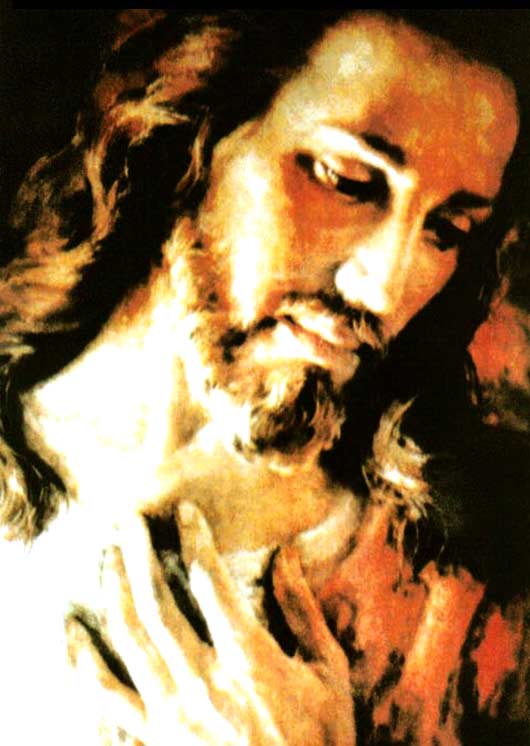 My Beloved People:
IN MY HEART ALL MEN DWELL AND IN IT I AWAIT THEM.
My People, My Mercy does not turn away any of My children, but on the contrary, it welcomes the one who approaches truly having repented and who takes being My child seriously, and with seriousness and conscience decides to correct their life, work and action.
Humanity is in great confusion and My Church is accepting paths that take them away from Me.
KEEP IN MIND THAT WITHOUT THE CONSENT OF THE HUMAN WILL, SIN WOULD NOT BE CARRIED
OUT...
Children, whoever persists in sinning again and again without due repentance and timely amendment, neither deciding to eliminate sin, condemns themselves. Sin exists, it is not something unreal. If sin did not exist, none of My children would be rebuked by Me and called to conversion.
I have mentioned to you that the soul retains its free will exercised by the human will but:
I do not want children who follow Me by force...
I do not want slaves, but free children, yet truly free to love Me.
FOLLOW ME AS FREE CHILDREN, DISAVOW PRIDE AND MAKE YOURSELVES THE SMALLEST OF ALL IN ORDER THAT YOU ARE ABLE TO TRUST IN ME AND NOT IN YOURSELVES.
Man knows the consequences of sin, and these consequences do not change for this generation: I WILL
RATHER BE MORE SEVERE WITH THIS HUMAN RACE THAT DOES NOT SEE SIN AS SIN AND WANTS TO FORCE ME TO FORGIVE WHAT I AM NOT GOING TO FORGIVE IF YOU DO NOT CORRECT YOUR WORK AND ACTION WITHIN WHAT IS SINFUL AND TAKE A DEFINITIVE DECISION TO MAKE AMENDS.
Every human creature has the assistance of My Holy Spirit to whom it may have recourse so that He assists with the process of amendment and in order to turn away completely from the vices that kill the soul. You strive to live in misery, I see you prostrate on the ground, muddying yourselves repeatedly in sin and with great weakness you relapse again and again without reconsidering what you are doing.
IF YOU DO NOT KNOW ME, YOU WILL NOT MANAGE TO GRASP THE STRATEGIES OF SATAN FOR INVOLVING YOU IN SIN AND KEEPING YOU ON THE PATH OF UNREPENTANCE THAT WILL LEAD YOU TO THE SECOND DEATH. Persistence in sin and unrepentance are the means that evil uses so that you do not wake up, nor look at Me, nor change.
Saying "everything is good" ..., "sin does not offend God because God is Mercy and forgives everything" ...,
"man is saved because Christ paid for the sins of man and man does not have to repent"…"purgatory does not exist" ..., "hell does not exist" ... IS THE MASTER KEY OF SATAN SO THAT YOU REMAIN LIKE HIM, FALLEN BECAUSE OF SIN, AND SO THAT YOU ARE CONDEMNED. For some it is hard to imagine that demons are on Earth continually tempting man and providing you with every assistance so that you sin.
THE MAN OF THIS INSTANT MUST SEEK UNION WITH THE DIVINE WILL BY ALL MEANS, SINCE HE
HAS LOST THE SENSE OF WHAT DISPLEASES ME AND WHAT OUR WILL HAS COMMANDED YOU TO FULFILL AND TO OBEY IN THE TEN COMMANDMENTS. You have lost love, and from that derive all the consequences of what you are suffering at this instant.
Misused free will impedes the flow of communication with Our Divine Will. Therefore, to make amends and to leave the state of sin, you need to go to Our Holy Spirit and ask Him to pour upon you the grace to act and work correctly, thus being united with Our Trinity, with My Church as Mystical Body, with the Sacraments and My Mother, Mother of Humanity.
My People, you have habits of conduct, food, studies and others. Similarly, the person who sins continually allows that sin to change into a habit, without thinking that this habit can become what turns them definitively into a sinner without repentance.
Sin acquires strength in man until it becomes impossible to act according to the good. You ignore the fact that acting and working within the good and in fulfilling the good will lead you to find greater fluency in approaching Me, it will be more pleasing to you to fulfill the Commandments and approach the Sacraments, Wisdom will make its nest in you, brotherhood will be a necessity, freedom will be felt and enjoyed by the creature and the Powers of the Soul will rise, this way you will enter with joy into being part of My Mystical Body.
I have come to say: "no to sin!" and to point this out so that you are clear on what is sin and what is not sin, and the scope of sin when the human creature does not repent.
Come to know Me! so that you are not told to accept what is sin ...
Come to know Me! so that you say "No!" to what appears to be good, and to what at this instant, under the weight of modernism and libertinism, is presented as something natural and not contrary to Our Will ...
THIS INSTANT OF GREAT CONFUSION FOR MY PEOPLE IS THE INSTANT IN WHICH EACH ONE OF MY
CHILDREN HAS THE OBLIGATION OF KNOWING ME DEEPLY IN ORDER NOT TO FALL INTO WHAT IS IMPROPER.
You find yourselves in the Purification because you have been allowed to disobey Me and to accept ideologies that are not Our Will.
All are My children, but not all fulfill the Divine Will. Man soon forgets what it does not suit him to remember and welcomes with great joy that which allows him to live as he wants, even if this means losing Eternal Life.
This instant of purification is an instant of My Mercy in which I remain attentive to a word of repentance, looking at every heart, every conscience, every human creature in order to draw near and draw it towards Me.
HUMANITY IS BEING PURIFIED BY NATURE, ALTHOUGH MY CHILDREN DO NOT SEE THIS
PURIFICATION AS A OPPORTUNITY FOR CONVERSION, BUT ON THE CONTRARY SINGLE ME OUT AS RESPONSIBLE FOR THE SUFFERING, THE CALAMITIES, THE TRIBULATIONS OF LIFE, WITHOUT BEING AWARE THAT EVIL WORK AND ACTION ATTRACTS EVIL.
The Sun, the Moon, everything in the firmament and all that man has placed in Space is related to man. At this instant the Sun is acting on the Earth, even in its depths, as never before. It acts on man, not only on the skin, but on work and action, for good or for evil, precisely if this man lives by what is worldly because he is unable to control himself. The Moon acts on man, as it acts on the sea, all Creation influences man. And the man of science has placed satellites and more in Space; the instant is arriving when some will fall upon the Earth, causing catastrophes.
The Sun will come to make technological advances disappear, and Humanity will return to living primitively. The sun will stop giving heat and cold will overtake the Earth.
YOU DO NOT THINK FURTHER THAN YOU CAN SEE AND LIVE IN THIS INSTANT...
My People feel that that they control everything, even the Sun, the Moon and the whole firmament. This is not so, children, it is not so, therefore you must be humble and recognize that you need Divine Assistance, without which you are nothing.
Pray children, pray for Australia, its ground strongly shakes together with Japan.
Pray, children, pray, the tectonic plates are in constant movement and My children will suffer much because of it, and in quick succession.
Pray, children, pray for the United States, Chile, Central America, Italy and Spain.
Pray children, pray, two underwater volcanoes rise above the sea and will shake the nearby islands. My children will experience great pain.
Do not believe that war is not coming, do not think that My Word is in vain, remain vigilant!
Man's sin and the denial of sin have awakened the Creation that does not want man to be lost.
My Angelic Legions stand before you, but you do not perceive them because of not desiring the good and not seeking the good.
WHAT IS GREATER IN THE HUMAN CREATURE THAN OBEYING ITS FATHER WHO IS IN HEAVEN?
I bless you with My Love, I bless you with My Mercy.
COME TO ME, DO NOT TURN AWAY, COME TO ME!
Your Jesus
HAIL MARY MOST PURE, CONCEIVED WITHOUT SIN