Tuesday, October 24, 2017
Message from Our Lord Jesus Christ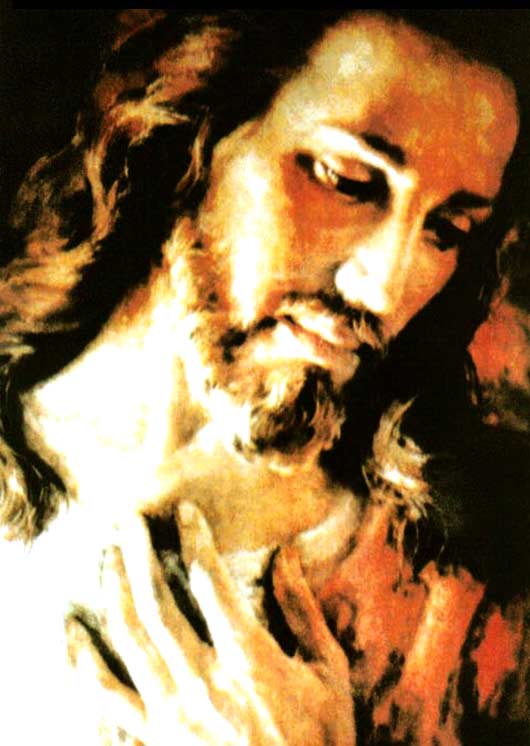 My Beloved People:
RECEIVE MY WORD COMING FROM THE LOVE THAT IS VIVIFIED IN MY MOST SACRED HEART FOR ALL OF YOU.
My People are not foreign to My Word, but accept and take it as their norm and rule of life.
My children anoint My Heart, alleviating the pain caused by the disobedience of those who constantly rebel, turning away from Me.
IN MY FATHER'S HOUSE THERE ARE MANY DWELLINGS (Jn 14,2) WHERE THERE EXISTS A PLACE
FOR THOSE WHO NEED TO PURGE THEIR SINS, AND WHEN THEY HAVE COMPLETED THIS, THEY
ATTAIN ETERNAL LIFE. DWELLINGS FOR THOSE WHO HAVE OPENED UP THEIR HEARTS TO WHAT OUR DIVINE WILL HAS CALLED THEM AND GIVEN THEM TO KNOW.
My Beloved People, you are constantly introducing innovations concerning the behavior of My children. This must cause you to reconsider, since in Sacred Scripture you find the answer to all what is necessary for Humanity.
Do not forget that in My Word I warned you: false prophets will come saying that they are My chosen ones. (Mt 24,11) Those who limit Me are not My chosen ones.
Pray and fast in order to be instruments obedient to My Will, and thus you reach fusion and abundant union with Our Will and with My Mother.
I warn you out of love for you, I do not want you to adhere to the worldly vices that are burgeoning unrestrained, damaging man inside and disturbing his mind, troubling thought and undermining values, until the human creature is left empty and surrenders to whatever presents itself to it. Evil is cunning, children, very cunning.
You form part of My Mystical Body in which different points of view and differences arise, since not all have the same principles. This is because not everyone knows Me deeply, with conscience and commitment to living as I ask you.
I NEED THE UNITY OF MY MYSTICAL BODY, SINCE ONLY THE UNITY OF MY CHILDREN IS CAPABLE
OF ATTAINING THE EXPANSION OF MY LOVE, FAITH, HOPE, CHARITY AND OBEDIENCE TO MY COMMANDMENTS.
For the above to be carried out and expand to the greatest number of souls, that UNITY is necessary within which all My children remain active, being useful to one another. Not everyone has the same virtues or the same gifts. Not all are skilled in a single activity, but it is precisely in diversity where UNITY finds its joy so that all are useful and be messengers of My Love.
I HAVE CALLED YOU TO BE PART OF MY FAMILY, TO LOVE ONE ANOTHER AS I LOVE YOU. (Jn 13,34)
I HAVE GIVEN YOU TEACHINGS SO THAT YOU PUT THEM INTO PRACTICE.
My Father left you the Earth, the Universe and all that exists in it, visible and invisible; you possessed the Preternatural Gifts so that you would not need anything, only Divinity. That union was broken by man, who, wanting to develop at will whatever he possessed, disobeyed My Father and did not fulfill the purpose for which he was created. From that instant on, My Father at every stage of the human race allowed it that this separation chosen by man be repaired and communion with Our Trinity be re-established. It has not been possible; each generation is more contaminated by evil, it being the case that evil knows the proximity of the fulfillment of the Revelations of My Mother to Humanity and which you ignore.
You have come to Holy Mass to spend an instant in distraction and not out of Love ...
You have come to think that you can call yourselves christians by repeatedly praying a prayer that you neither feel nor meditate upon...
You receive Me in sin, you live hurting yourselves, rebelling, being such scrutinizers of your brothers that you cause Me nausea in the face of such hypocrisy, since those whom you single out do not deserve it ...
Ignorant ones! My People are ignorant in not entering into Me in order to know Me, they are ignorant because they do not draw near to Me and do not know the true meaning of the word Unity.
You do not know that all Creation is united to man and man to Creation. MY FATHER GAVE HUMANITY THE RAW MATERIAL FOR YOU TO REPRODUCE IT, AND ON THE CONTRARY, YOU HAVE NO QUALMS ABOUT EXTERMINATING IT.
You walk the Earth being unaware of the union and influence of the whole Creation with respect to you and to Creation itself.
What was created by My Father has continued to revolve within the fulfillment of the function for which it was created. Man, on the contrary, is the one who constantly rebels against My Father.
The elements of Creation, the moon and the sun maintain an influence over man. Therefore, the actions of man and the reactions of man both have a force within Creation. The good that man produces expands throughout Creation, the evil that man provokes expands through Creation, causing a reaction according to what man emanates.
You forget to look up, you walk attached to the earth, you do not see the moon or the stars, you do not see the clouds nor see the Signs of these instants.
There is a great alienation of man from Creation, and Creation fears man who has harmed it. This is a product of the hardness in the heart of man and man's lack of love, which does not cause him to meditate on what surrounds him.
YOU HAVE FORGOTTEN THAT EVERYTHING IN CREATION IS UNITED.
At this instant My People feel that the day has become shorter, but at this very instant it is man who makes the day so short that the day vanishes. You do not give thanks in the light of everything that you have, nor do you thank My Father for the day and night.
The common people look at the moon, they marvel at it without thinking more about it.
Children, the moon holds great influence over the Earth and its stable rotation; if the moon were to move away from the Earth, the poles would be inverted. Does this interest man?
Man advances in technological innovation, sometimes to make good use of it and at others to misuse it, and because of this has not curtailed it before a point which he should not have passed. At the instant you are exposed to greater phenomena that will stop you and bring you to a state unimaginable for man, without technology.
The sun's influence on man is not unknown, nor its direct action on the development of man's life. Children, man is more likely to act and react clumsily during emanations proceeding from greater solar activity.
Most of you, My children, live without acquring the slightest knowledge of what I have mentioned to you.
The sun increases its activity through which you are more exposed to suffer its effects, not only on health, but concerning technology and what Nature encompasses.
Everything reacts to the evil caused by misused human free will.
Children, you will ask yourselves: "how is it that Christ is telling us about this?"
I reply: so that you wake up and decide to know the environment, not only what immediately surrounds you, but what is happening beyond the Earth and which is linked to Humanity.
My Beloved People, at this instant when confusion reigns, you have the obligation not to belong to those human creatures who are confused. Our Trinity has given you the "means and more" so that you remain alert and use your intelligence to draw near to Me, to discover the Love of My Mother for Her children and to be the abode of Our Holy Spirit.
It is not enough to say that you are My children if you are not truly so....
It is not sufficient to go to My Temples to receive Me in the Eucharist if you are not properly prepared to receive Me. Communions received in a state of mortal sin lead you to the lake of fire if you do not attain the Sacrament of Confession and do not manage to repent before dying. Therefore, you must live every instant as if it were the last and live prepared.
My Beloved People, the Earth in its continuous process of transformation is ahead of Humanity, and in a type of reclamation because of how man has damaged it, it suffers continuous spasms with which you will continue to suffer and be purified.
The Earth is shaking at one point and another and another at this instant, without stopping. The climate is striking various countries, fire makes no truce and it is the case that man's indifference to Our Will leads Creation to feel that man is far from Our Trinitarian Love.
This generation has fallen back into sins that already existed and has constantly innovated sin, reaching gravely offending Our Divinity and My Mother.
Pray children, pray for the United States, it suffers through Nature and it shakes strongly.
Pray children, pray for Argentina, it shakes and darkness in the hearts of some creatures lead to pain for this nation.
Pray children, pray for Spain, blood flows and its soil, shaken, will be scourged.
Pray children, pray for the Middle East, blood is spilt and from the atmosphere a strange phenomenon will be received by man.
Pray children, pray for Russia, stay alert, it is lurking.
Beloved People of Mine, make reparation for the offenses to Our Sacred Hearts. Be humble, but wise, inasmuch as you keep seeing the greatness of Our Divine Love and being grateful.
A new fashion among youth will cause terror, this being the product of evil.
AT THIS INSTANT, SOME OF MY CHILDREN HAVE RAISED UP INSULTS, HERESIES AGAINST OUR
DIVINITY, AND IT WILL BE THAT EACH ONE MUST ANSWER FOR THIS, SINCE IT IS A GRAVE OFFENSE.
Do not walk without thinking, without measuring, without looking at the climate...
WHAT SCIENCE HAS CALLED A PRODUCT OF CLIMATE CHANGE, I CALL THE SIGNS OF THIS INSTANT.
BELOVED PEOPLE OF MINE, DO NOT DISREGARD THESE SIGNS, BUT LOOK AT THEM, PREPARE
YOURSELVES AND COMMIT TO BEING TRUE CHILDREN OF OUR WILL AND OF OUR MOST HOLY MOTHER.
I love you with Eternal Love.
Your Jesus
HAIL MARY MOST PURE, CONCEIVED WITHOUT SIN