Friday, October 27, 2017
Message from Our Lord Jesus Christ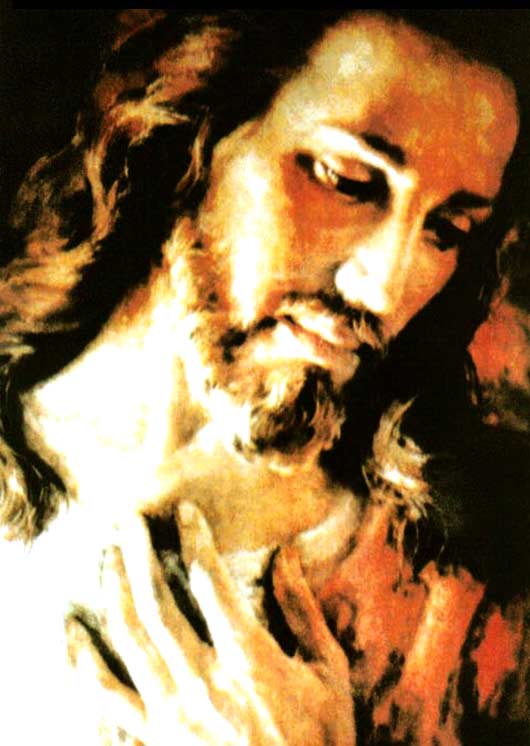 My Beloved People:
I KEEP YOU IN MY HEART ...
MY GAZE IS NOT SEPARATED FROM YOU EVEN FOR AN INSTANT. MY PEOPLE ARE "THE APPLE OF MY EYES" (DT 32,10).
As a Father, I desire that all My children "be saved, that they may come to the knowledge of My Truth" (I Tim 2,4), being peaceful and bearing My Love in order that they might spread My Love and that this would reach their brothers and sisters.
KEEP YOUR LAMP LIT. As I watch over My People, so My children must watch over the fulfillment of My Will in My Mystical Body. Do not be among the lukewarm, do not be part of those who, in small doses so as to go unnoticed, introduce innovations contrary to Our Divine Will, leading My People astray so that they would meekly surrender to the deceptions of evil. That is why I have called you to recognize Me, I have called you to be a faithful part of My People, for whom I came and for whom I am coming.
It is not only prayer that you must know, but entering into yourselves to discover that everything coexists in you. Do not flee when I mention to you that My Divine Strength is to be found in you and it is up to the will of each person whether you accept it or not.
MY STRENGTH REMAINS PRESENT:
When My children proclaim My Word...
When you pray and decree for good in My Name...
When you request My Assistance...
When you pray and when prayer is made with feeling in the depths of your heart ...
YOU MUST CONVINCE YOURSELVES THAT THE WORD OF MY CHILDREN, GUIDED BY MY WILL,
EXPANDS WITHIN YOU AND YOUR PHYSICAL SENSES: TOUCH, TASTE, SMELL, HEARING AND SIGHT ARE SUPPLIED WITH MY STRENGTH, WITH MY POWER FOR YOU TO ASCEND SPIRITUALLY.
But for this you need to be constant: constancy is a great gift for My children, it is a rule of life, without which you are unable to ascend, and united to everything a practicing Christian needs to fulfill.
You know full well, children, that evil exists, and where you attract evil the latter makes itself present. Negative energy is attracted to man by the human will. What is similar attracts, and if evil dwells in a human creature, evil lives in that human creature - thoughts, tastes and desires are influenced by evil.
The Good is perceived by you in a human creature who emanates love, charity, forgiveness, hope, faith. A human creature who coexists with evil spreads that evil everywhere and this is when what is negative infiltrates and causes unpleasantness, division, indifference, restlessness, envy, discouragement...
My Beloved People:
I ASK YOU NOT TO GO OR PARTICIPATE
IN THE HALLOWEEN FESTIVITIES, THE DEVIL'S CELEBRATION.
Evil has taken possession of a great number of human creatures and it is not necessary for you, that are part of My People, participate of that pagan festivity that lead souls to enjoy what evil represents, since those who dress customs that represent everything demonic, makes it easy for the demons to take possession of you.
MY PEOPLE'S IGNORANCE IS SO GREAT, THAT WHEN THEY DO NOT GIVE GREAT IMPORTANCE TO THIS ACT, WHICH SEEMS INOFFENSIVE, IS IN REALITY OPENING THE DOORS TO EVIL.
How I wish you would counteract the evil's festivity in Halloween.
I do not wish you to dress up with religious attire.
I wish you to pray the Holy Rosary.
I wish you to help your neighbor.
I wish you to feed the hungry.
I wish you to do an act of Mercy.
I wish you to be My Love Itself and to join with My Blessed Mother in the communion of Saints.
MY BELOVED PEOPLE: CONVERT NOW!
The Signs of this instant do not delay. Live tied to the good, reproduce good by giving My Love to those who are deprived of It. Man has distorted the word "love", he has given it a worldly, immoral and totally distorted meaning.
You who make up My People, do you know what I am talking about?
As part of Humanity you need to unite, My children, to live out every action or work in depth so that you do not become contaminated, and for this you need to invite Me to work and act in you.
The Warning is approaching for man - it is My Great act of Mercy for Humanity, it is the opportunity for you to see yourselves and rediscover the True Path to Eternal Salvation.
My beloved ones, you hear that in different parts of the world events of Nature are occurring that did not occur before with the frequency with which they are happening at the instant. This is because of the sin of man with which he lives without stopping.
Thus man himself finds himself without peace, agitated by the speed and madness of daily living and influenced by the great action of the sun and without doubt by the acceptance of satan in the lives of those who surrender to him.
Civil revolts will be more continuous, with no apparent reasons. You will not feel security where you are because man has less and wants more.
Pray, My children, pray, threats between nations will become what Humanity has feared.
Pray, My children, pray for Mexico, it suffers through Nature.
Pray for My children, pray for Russia, it will show itself as it is.
Pray for My children, pray for the United States, its soil shakes in the midst of the shaking caused by those who consider themselves its enemies.
Pray children, pray for Italy, it will suffer greatly, every vestige of My Church will be destroyed.
My Beloved, evil is making haste, it does not wait, it seizes those who approach it. Therefore I continually invite you to be creatures of good and messengers of My Love. This generation will suffer, it will be purified, but at the same time it is blessed by the intercession of My Most Holy Mother.
JUST AS EVIL IS UPON HUMANITY, SO MY ANGELIC LEGIONS ARE WAITING FOR A CALL FROM YOU
IN ORDER TO DRAW YOU CLOSER TO THE GOOD PATH. Trust in the protection and constancy of your Travelling Companions, your Protectors, so that you are aware of the angelic prescience in your work and action.
You are living the instants when evil seizes man and causes him to fall into his trap, but at the same time you are living the instants of great Spiritual Assistance. You will see miracles in the lives of those who live in Our Will, in the lives of those who strive to remain on the True Path. You will be witnesses of My Love towards My People.
WAIT, DO NOT DESPAIR, MY ANGEL OF PEACE IS COMING TO HELP MY PEOPLE.
STAY ATTENTIVE AND ALERT! "THE ONE WHO TRUSTS IN ME WILL NOT
BE PUT TO SHAME" (Rom 10,11).
For you My Blessing is Strength and Love. I love you.
Your Jesus
HAIL MARY MOST PURE, CONCEIVED WITHOUT SIN