Wednesday, November 8, 2017
Message from the Blessed Virgin Mary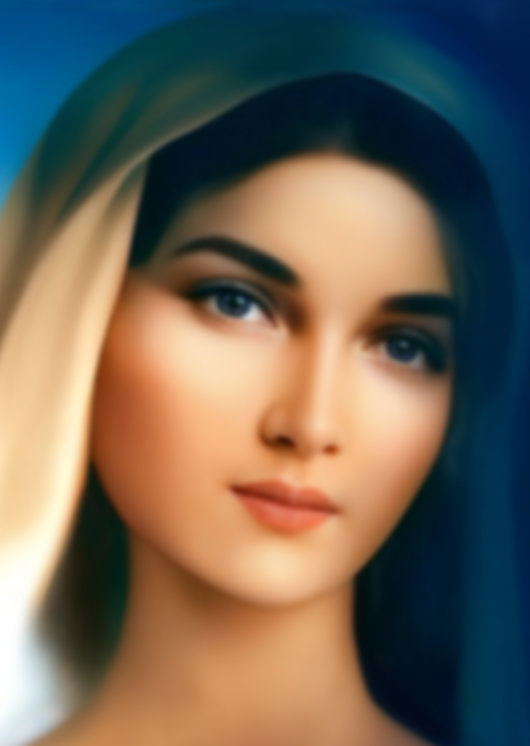 Beloved children of My Immaculate Heart:
MY MATERNAL HEART BEATS FOR EACH OF MY CHILDREN; INASFAR AS THEY WALK AWAY FROM MY SON, SO MY HEART BEATS MORE STRONGLY, WITH THE AIM THAT THEY HEAR IT.
At these instants Humanity has entered into places from which it does not know how to get out, and so it continues being immersed in evil.
My Revelations do not speak to you only about what will happen to you because of not being obedient, because you rebel against the Divine Will and worship the devil. I reveal the conditions that God the Father indicates for Humanity to fulfill and thus attain clear discernment, THE GOAL BEING THAT YOU DO NOT GET LOST AND REPENT OF THE EVIL COMMITED AND THE GOOD THAT YOU HAVE NOT CARRIED OUT.
Children, at this instant you must pray for one another, and from this fraternal prayer you need to become intercessors among yourselves. In this way Love will grow in you more quickly, being a wall on behalf of the Mystical Body of My Son. "Live in prayer and supplication, pray at all times as the Spirit inspires you. Watch together and persevere in your prayers without ever being discouraged. Pray for one another, interceding on behalf of all the saints." (Eph 6.16)
My children, keeping alive the hope of finding grace in God's eyes and obtaining the forgiveness of sins is what must give you the strength to continue overcoming the pitfalls of the human will when it wants to lead you to act wrongly. ALTHOUGH IT WILL NOT ONLY BE HOPE THAT WILL LEAD YOU TO OVERCOME WHEN EVIL APPROACHES YOU, BUT PERSEVERANCE IN REACHING THE GOAL OF GOD'S CHILDREN: ETERNAL
LIFE.
In instants of purification, Humanity does not see evil, it does not recognize it because it is related to man, he sees it in one place and another. It is only those who live trying to stay within God's Law who continue with the ardent flame of hope, recognizing that there is no human law, there is no social law, there is nothing more than appearances outside the Law of God.
THE SUN'S LIGHT SHINES FOR EVERYONE, THE STARS SHINE FOR EVERYONEE, BUT NOT EVERYONE SEES.
In the instants of Humanity's purification, despair has reached man and led him to a desire for possession that he is unable to satisfy except by indulging himself in abuse.
In this instant of Humanity's purification, some rebel and deny My Son, they deny Divine Justice, they do not want commitment, do not allow sacrifice, they do not look beyond where bodily sight allows them to see, and these children of Mine NEED TO BECOME HUMBLE IN ORDER TO FIND THEMSELVES AND IN ORDER TO FIND THE LOVE OF LOVES WITHIN THEM.
Beloved children of My Immaculate Heart, do not speculate about dates: Divine Time is not that of man.
Prepare yourselves for the GREAT WARNING (1) ...
Change what you need to change in yourselves ...
Be renewed internally with a generous spirit ...
Soften your heart of stone ...
Learn to smile with those who smile and weep with those who weep...
Do not only look at your own square meter, but look at that of your brother and sister, because it is in Love that you will be measured, by the measure according to which you love your brother.
IN EXPERIENCING THE WARNING, SOME WILL CONVERT, OTHERS WILL GO FURTHER AWAY FROM MY SON, AND THEY WILL REMOVE ME FROM THEIR LIVES.
SOME WILL BE RENEWED AND OTHERS WILL JOIN THE EVIL ONE. WALK AS IF EVERY INSTANT WERE THE FINAL ONE OF YOUR LIVES.
Beloved children, you will see fire coming from Heaven; some will feel joy thinking that it is already the DAY OF THE LORD - others, even the most hard-hearted, the most sinful, will be seized with fear and will run one way and another without finding refuge.
This generation does not heed the Divine Calls: it questions them, dismisses them and denies them, at which My Son does not withhold what can lead them to conversion.
You, children of My Immaculate Heart, prostrate yourselves and worship. You cannot live being lukewarm, you need to convert. I call you with My Motherly Heart to choose life and reject eternal death.
You, children, wander through life constantly wasting opportunities; you live in the past, you do not see the present or long for the future. If you would stop, you would possess conscience that you are living imprisoned by your own free will, prisoners of what could have been, of what you are and what you want to become in the future.
My children have not renewed their thinking in order to give what you call time, the great opportunity for Eternal Salvation. You request freedom to condemn yourselves by your bad decisions ... since decisions have consequences for those who take them and decide their destiny.
At this instant of Humanity's purification, you are still in the reality where the wheat and the tares coexist. Given the coexistence of wheat and tares, everyone receives both the good of some and the evil that others commit: war is not only for those who provoke it, but all suffer the consequences of it and likewise with everything that happens. That is why I call you to be those who forge good.
Children, act within what is good, with the Love of My Son and this Mother. In My Revelations I have referred you to the product of Humanity's sin; at the same time, I have extended My Hand over you as intercessor and support - I am the Mother of humanity.
Pray children, pray for the Church of My Son so that the existing division does not precipitate events.
Pray My children, pray for Japan, it is shaken again, and again it is a source of contamination for Humanity.
Pray children, pray, war goes from words to deeds, daybreak being the alarm for the world.
Pray My children, pray, plague alarms all Humanity.
YOU WILL SEE WHAT YOU WILL CALL A LIGHT CROSS THE FIRMAMENT, IT WILL ILLUMINATE WITHOUT BEING LIGHT. THEN SAY TO YOURSELVES: "THIS IS THE INSTANT" AND BEND YOUR KNEES.
Beloved children of My Immaculate Heart:
LOOK AT THE CLIMATE, THE VEGETATION, LOOK AT THOSE WHO DENY GOD,
LOOK AT THOSE WHO REJECT YOU, AND YOU WILL COME TO UNDERSTAND THAT THESE ARE THE SIGNS OF THIS INSTANT; SO IT IS PRECISELY THAT THE WORD OF MY SON AND MINE IS DENIED.
I treasure you within My Heart; EVERYONE HAS IN THEIR HANDS THE KEY TO REMAINING WITHIN MY HEART: THIS IS THE WILL.
I love you and bless you.
Mother Mary
HAIL MARY MOST PURE, CONCEIVED WITHOUT SIN