Wednesday, November 15, 2017
Message from Our Lord Jesus Christ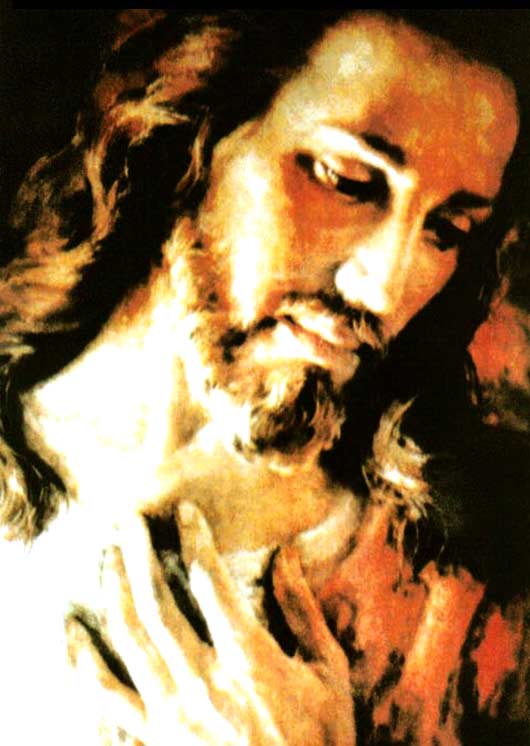 My Beloved People:
THOSE WHO WISH TO AMEND THE COURSE OF THEIR LIVES HAVE TO TAKE THE DECISION NOW!, BEFORE THEY ARE UNABLE TO ESCAPE CONFUSION.
My Church has allied itself with false doctrines and you, who do not know Me in depth, accept whatever innovation comes to you... WHAT A GREAT MISTAKE YOU ARE MAKING! My Mystical Body is in the darkness that prevents it from seeing My True Light.
FAITH IS TESTED AGAIN AND AGAIN, MY CHILDREN ARE PASSING THROUGH THE CRUCIBLE FACING THE PREPARATIONS FOR THE CULMINATION OF THE GREAT TRIAL OF HUMANITY.
You know that the road to Our House is narrow (Cf. Mt. 7,14), on My Way you are not going to find the conveniences that the world offers you. But if these strictures are overcome, the reward will be greater, ALTHOUGH FOR THIS YOU HAVE TO REMAIN CONVINCED, CONVERTED, WITH LOVE AND UNSHAKABLE FAITH.
Within My People you are looking at each other, criticizing, pointing at each other: this is another example of the hypocrisy in which you are living - you are not love, nor copies of My Love, but you are sad figures of an illformed human love, without values, that prevents you from staying within Our Will.
You fall easily by looking at the work and action of your peers; you do not see within, you ask yourselves why or for what I allow certain actions without judging yourselves.
You live in a false humility; you think you know everything, you think that your dedication is total, yet you cling to the human will; you put personal whims above goodness and love itself.
You tend to what is carnal and not to what is spiritual, you do not subdue your gaze and you give free rein to the mind, with which you fall again and again.
You are tolerant towards sin in order not to commit to My Love, YOU TOLERATE WHAT GOES AGAINST
THE DECALOGUE IN ORDER TO CONTINUE WITHIN MEDIOCRE SOCIETY AND WITH A LUKEWARM
FAITH.
My beloved People, the alienation from My Commandments is so great that when you need My Help you will find no words, you will feel ashamed for so many offenses that you have committed against Me. You will feel sorry in requesting My Help or that of My Mother; you will know that I am Just and fear My Justice, hence you deny it in this instant and will deny it.
You are empty inside, nothing satisfies you; there are so few who take Me by the Hand without any selfinterest. LITTLE BY LITTLE MY PEOPLE ARE BEING REDUCED UNTIL THOSE FAITHFUL TO ME WILL BE COUNTED ONE BY ONE.
Some of those who stay within the prayer groups, within movements in My Church, some of those who participate in Evangelization within My Church, are not entirely sincere: they appear in the communities, but in truth they are walking with the tatters of the human will.
For some of My children comforts are not enough: they are not content with anything and long for the past.
THIS GENERATION IS NOT AWARE OF THE URGENCY OF CHANGE: YOU BELIEVE YOU ARE DOING
ME A FAVOR BY MAKING AN EFFORT, FORGETTING THAT YOUR OWN SALVATION IS IN THE BALANCE.
That is why My Angel of Peace will arrive until you suffer horribly faced with the presence of the antichrist. My Angel of Peace will be the balm for those who are Mine, He will be a bearer of healing and will come to touch the heart of My People when the latter feel that I am no longer holding them in the Palm of My Hands. THEN MY CHURCH WILL BE RENEWED AND THE BURROWS WILL BE OCCUPIED BY ANIMALS AND NOT BY MEN, MY WORD WITHIN HIM BEING TRUE AS A RAY OF LIGHT.
MY PEOPLE WILL OVERCOME IN MY NAME AND UNDER THE COMMAND OF MY MOST HOLY MOTHER!
They will overcome those who persecute them.
They will overcome those who have denied My Real Presence in the Eucharist: I will multiply My Eucharistic Miracles.
They will overcome those who have profaned My Name.
They will overcome those who have blurred My Truth in order to live with worldly objectives.
My People are the apple of My Eye and those who wish to exterminate them will be confounded.
Beloved People of Mine, My Prophets will be prohibited from sharing My Truth for fear that they proclaim what on occasions is not convenient for the hierarchy of My Church so that you, as a people, would know. There are holy persons dedicated to Me, but they have been consigned to anonymity so that others do not follow their example.
My true instruments "will shine like the midday sun" (Dan. 12.3): they preach with Truth, without fear of being pointed at.
The world and the flesh say that the devil does not exist: some of My children who believe they are still committed to My Church also affirm it. Yes, children!, they affirm it so that you act in licentiousness and folly, so that you allow yourselves to act out of control, dominated by the action of evil upon you, and so that you do not repent of it.
The world and the flesh say that the devil does not exist to justify your abuses towards the closest or weakest and so that you do not feel repentance for it. Here pride shows itself, My children, the pride that debases you and hardens your heart.
My beloved People, at this instant the devil is making a nest in some hardened hearts, in those who do not love Me, in those who live in licentiousness, since they are ground that is prepared for evil to spread.
DO NOT NEGLECT LIVING IN MY WILL, BE AWARE OF THE INSTANT IN WHICH YOU ARE LIVING.
The earth itself constantly shakes all over the world, and My children suffer. The Earth will oscillate in Space.
I WISH TO SEE MY CHILDREN PREPARED FOR THE RAVAGES OF EVIL AND THIS WILL SUCCEED IN DOING BY INCREASING THEIR FAITH THROUGH DIVINE LOVE.
Pray My children, pray for Central America, it is shaken.
Pray My children, pray for the United States, San Francisco is purified.
Pray children, pray, a world leader dies. Pray.
All that you see with My Love will emanate My Love towards you. It is necessary for you to remain in My Unity; whoever leaves My Unity is exposed to the clutches of evil.
I call you to reconciliation so that in My Peace you are as I wish: My Faithful and true People.
I bless you.
Your Jesus.
HAIL MARY MOST PURE, CONCEIVED WITHOUT SIN