Tuesday, November 21, 2017
Message from the Blessed Virgin Mary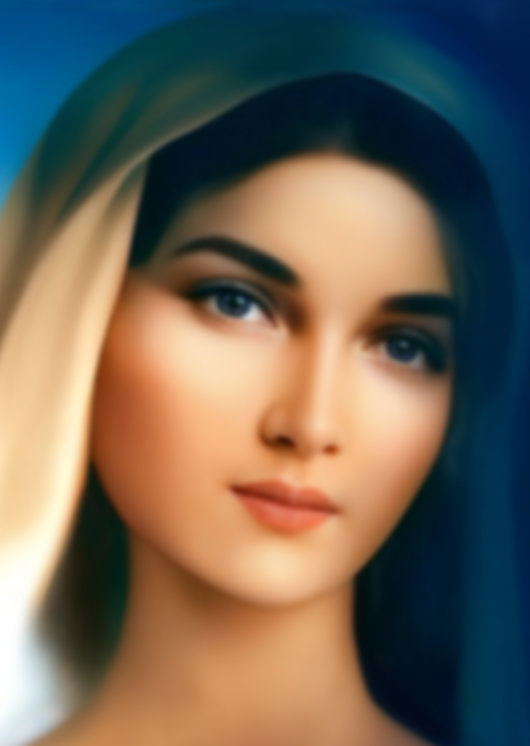 Beloved children of My Immaculate Heart:
MAY THE PEACE AND LOVE OF MY SON BE FOR YOU THE FRESH WATER THAT KEEPS YOU IN CONTINUOUS SPIRITUAL RENEWAL.
I come to bring you the Words that are the Will of the Father in order that all take up again the true essence of the Faith.
You are creatures of God and as such, you have the capacity to be reborn in the spirit, to be creatures of good and to leave aside the garments of the old man with which you used to adorn yourselves in order to be admired by your brothers.
You live in the world, but you are not of the world.
You are not living in order to compete on the material level ...
You are not living in order to conceal the Signs of the Times out of fear ...
You are not living in order to question why or for what God allows something ...
You live observing what your brothers and sisters are doing, but you do not notice how many mistakes you possess, you hide them in order to continue in sin ...
You live a partial spirituality, with empty prayers and meaningless songs that do not touch the spirit at all.
YOU HAVE TO OBEY COMPLETELY UNTIL YOU EFFACE YOURSELVES
SO THAT MY SON MAY LIVE IN EACH ONE OF YOU, AND SO THAT IT IS NOT THE HUMAN WILL THAT PREVAILS, BUT THE DIVINE.
You do not take My Words with due seriousness, you consider it false that you are going to be witnesses of the change into which you have plunged and which keeps on growing like the waves of a raging sea. This generation is living through the changes most expected by those who have paused to see what the Signs of this instant are, yet you have become permeated by these changes and see them unimportant.
Satan's subtlety has entered into the Church of My Son in order that this Church seems to continue being My Son's, without being totally obedient to Him.
You, children of My Immaculate Heart, do not have what you ought to as children of My Son as they given you crumbs, not the whole banquet. This so that you are torn away from the faithful People when the People of My Son dwindle. The evil one and his hordes have greater possibilities for deceiving you, to the point of bringing you to live in total indifference and disrespect towards the Father, the Son and the Holy Spirit.
YOU ARE ADVANCING, BUT PASSING VIA THE CULMINATION WHERE CONFUSION CAN LEAVE YOU SPIRITUALLY BLIND, AND ESPECIALLY THOSE WHO DO NOT KNOW THE WORD OF MY SON AND ARE IMMERSED IN THE PETTY DETAILS OF FALSE RELIGIOSITY.
At this instant My children are prey to those who distort the Word of My Son within His Church: they cause the People to commit abuses, rejecting the Divine Word, from which you must not depart and in which you must live.
Man is attached to what is worldly, what is material, to society, to what is comfortable for him, and he dismisses the Call of My Son for him to take up again a New Life. I have mentioned to you that you are called to holiness, yet you hold back, since you do not trust in the strength that the Holy Spirit pours out on those who keep striving to ascend and to be empty vessels so that the Holy Spirit fills them.
The prayer of each one of you is important, My children, but not repetitive prayer without feeling the word pronounced in each sentence.
PRAYER MUST BE BORN WITHIN THE CREATURE, FLOW FROM THE HEART, BE BROUGHT TO
AWARENESS, FROM THERE TO REASON, AND THUS THE HUMAN HEART RAISES IT UP WITH TRUE FEELING, CONSCIOUSNESS, RESPECT AND THANKSGIVING TO THE MOST HOLY TRINITY.
Man must not be sleeping at this instant, he must try to go deeply into the Way of My Son so that nothing disturbs him and no one mislead him.
Most of My Son's People are waiting for the beginning of the signals and signs that tell them that they are already in the Purification, and I as Mother grieve over such denial, seeing what is already happening in the whole Earth.
Children, the attacks by Nature which science itself has not been able to explain as events as occurring that have not happened before and unexpected signs, noises, changes in Nature and within men that do not want to see, as they remain under the influence of the moon and the sun and of Nature itself and the action of the devil, given the lack of God in man. IF A PERSON DOES NOT KNOW HOW TO LIVE IN THE LOVE OF MY SON, THEY WILL NOT BE ABLE TO OVERCOME THE CONSTANT AND VARIABLE STATES OF MIND IN WHICH THEY ARE LIVING AT THIS INSTANT, GIVEN THAT THEY RECEIVE THE SATANIC INFLUENCE INVOLVED IN EVERYTHING THAT SURROUNDS THEM.
You expect that evil will come to confront you with weapons or with proposals; this is not how the thief of souls acts - instead he acts surreptitiously, without being seen or felt, so that man does not put himself on guard.
At all times some have denied the word of the prophets in order that the People of My Son do not prepare. At this instant you deny My prophet and attack what she preaches, forgetting that it is not her word but the Divine Word that she preaches. Humanity accepts what it ought not to accept and rejects the Word that comes to take the blindfold from your eyes so that that you discover that you are children of God and ascend and live in communion with My Son.
Beloved children:
DO NOT BE TROUBLED, DO NOT BE FRIGHTENED, GREATER THINGS WILL HAPPEN AND YOU NEED
TO MAINTAIN A LIVING FAITH, CALM, AND THE DESIRE TO ENTER INTO AND FINALLY TO BE FUSED WITH THE DIVINE WILL.
Be creatures of good works, do not be envious or let greed invade you, since the devil finds in this a culture in which to grow and harm you as creatures of God.
If you are warned by this explanation of the Divine Will, do not demolish it if you do not believe it, continue in ignorance, but do not throw useless words that are easily debated.
YOU, MY CHILDREN, PENETRATE IN THE TRUTH, LIVE WITH A PURE HEART AND BE RIGHTEOUS IN YOUR HEARTS.
Pray My children, pray, the plague will be described so that Humanity be warned.
Pray My children, pray, the earth shakes strongly, it is the time of woes! ... (Cf. Rev. 8,13)
Pray, My children, betrayal between countries is coming and they will rise up with great ferocity against one another.
Pray children, pray for Portugal, lamentation is heard everywhere.
Pray children, pray for Spain.
Beloved children of My Immaculate Heart, there are many creatures who come to Me.
Sometimes you tell Me that I do not come through for you, but you do not see that your Faith is so cold that you ask without even thinking with Love or making supplication, but giving orders, and My Son loves humility.
The Angel of Peace will come from the Father's House and will speak to you with the true Word and will cause you to remember that God is faithful and true. (Cf. Dt. 7,9)
I bless you.
Mother Mary
, CONCEIVED WITHOUT SIN