Sunday, November 26, 2017
Message from Our Lord Jesus Christ
Feast of Christ, King of the Universe.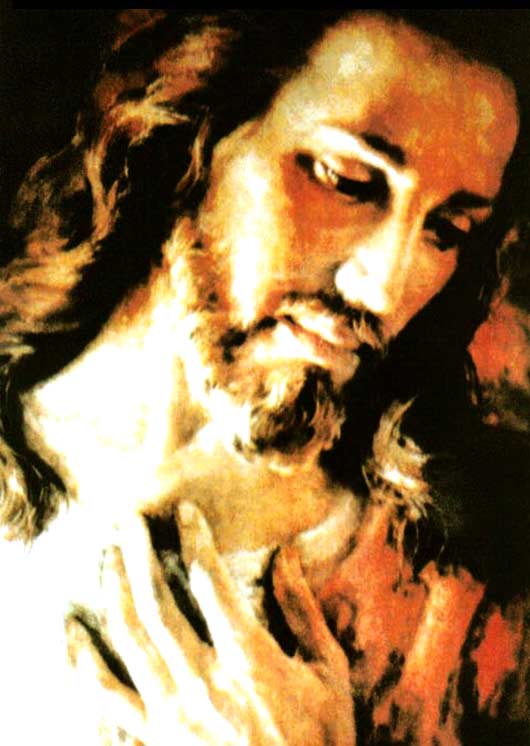 My Beloved People:
I WALK WITH MY PEOPLE AT EVERY INSTANT, I DO NOT DEPART FROM MY OWN.
I bless you constantly for every action in accordance with Our Will and I grieve so much when you do not heed My Calls.
I have not come to reframe the Commandments, nor Sacred Scripture, nor the Sacraments, I remain in act presently.
OUR TRINITY IS THE ETERNAL PRESENT AND BY DECREE OF OUR TRINITY THE EXPLANATION OF THIS TRINITARIAN WORD IS REVEALED TO YOU IN THESE MESSAGES.
My People, it is urgent to become aware so that you change your path and enter into becoming more spiritual so that you might discern between what is Divine Will, what is the will of men and what is moving My Church towards schism, with the aim of raising up the usurper of My People.
NOT ONLY MUST YOU KNOW WHO I AM, NOT ONLY MUST YOU KNOW ME, BUT YOU HAVE TO
RECOGNIZE ME IN ORDER THAT YOU ARE NOT BE DECEIVED. THEREFORE, IT IS NOT ENOUGH TO
CALL YOURSELVES CHRISTIANS, NOR TO KNOW AND BELIEVE THAT I REDEEMED YOU FROM SIN,
SINCE YOU DO NOT HAVE SALVATION ASSURED. "EACH ONE WILL BE JUDGED ACCORDING TO
THEIR WORKS" (Cf. Rev. 20,12).
You hear it being said with some frequency that Heaven is for all, and it certainly is for all: that is Our Will, but not everyone has won Heaven - rather you have to strive and be fulfillers of the Divine Law which you know, in order to come to enjoy Eternal Life.
You hear it said that hell does not exist, that you live hell on Earth. This, children, is an aberration and it is because you are ignorant of Sacred Scripture that you are deceived. THE PLACE OF FIRE EXISTS WHERE SOULS REMAIN WITHOUT ME, LAMENTING AND SUFFERING, NOT BY DIVINE WILL, but through the misuse of free will surrendered to evil and therefore to sin.
You do not regularly hear preaching about Purgatory, and Humanity has lost that which for the souls of those who are in Purgatory is a great help and blessing: the praying of the Holy Rosary and the praying of the Holy Trisagium for the intention for the souls that are in Purgatory, waiting for My Most Holy Mother and the Angels in Her charge to bring them to Our Presence.
My beloved People, you must remain constantly vigilant in regards to yourselves, in regards to the human ego so that it does not cause you to stray from the path to Eternal Life.
Observance in regards to personal work and action is decisive, but this cannot be achieved by those who are not humble, so you must gather as the Mystical Body that you are, in order that you help one another and overcome personal impediments.
AT THIS INSTANT MY PEOPLE HAVE LOST CONSCIOUSNESS OF WHAT SIN ENTAILS FOR THE SOUL, BECAUSE YOU ARE NOT BEING PREACHED TO WITH A WORD OF TRUTH, BUT IN LUKEWARMNESS, AND THEREFORE MEN FIND AFFINITY IN SIN.
Humanity hears talk of a mercy without justice, of a mercy that does not see, of a mercy that does not hear, but forgives everything no matter how grave the fault may be, even if the creature does not feel pain and sorrow for the wrong committed.
My People want to see a cross that pleases man, a cross that allows everything, a cross that is complacent towards sin. Children, grow up, scrutinize Me, know Me so that they do not mislead you, so that they do not deceive you. MY CROSS IS LOVE, MERCY AND JUSTICE.
"May mercy and truth never depart from you; bind them to your neck, write them on the tablet of your heart. So will you find favor and good repute in the sight of God and of people. Trust in the Lord with all your heart, and do not lean on your own understanding. Acknowledge him in all your ways, and he will make your paths straight." (Prov. 3,3-6)
I AM A KING WITHOUT A KINGDOM, I AM THE MASTER OF LOVE AND I BEG FOR LOVE ...
The way towards perdition is being facilitated for My children, they do not understand that to walk towards Me they must live in Our Divine Will. Man's intelligence, man's knowledge, man's understanding has been altered to walk towards what is easy, towards what does not demand an effort and does not take him away from his zone of comfort.
My beloved People:
IF YOU WANT TO BE TRULY FREE:
Love the freedom that I provide for you in order that you choose to follow Me ...
Love fulfilling My Will ...
Love fulfilling the Commandments ... Love fulfilling the Sacraments ...
Love following Me ...
Love serving Me, but not in the fickle manner of man, RATHER IN MY WILL THAT INVOLVES EFFORT, DECISION, DEDICATION, COMMITMENT, TRUTH, SURRENDER, FORGIVENESS, BUT, ABOVE ALL, WORKING AND ACTING IN MY LOVE.
DO YOU WANT TO BE FREE AND NOT SLAVES? FOLLOW ME, I OFFER YOU TRUE FREEDOM.
My People, do not let them lead you astray and towards perdition where the soul will not see My Light. The devil introduces himself into man's thought precisely in what man most covets, in order to attack him and lead him away from Me.
THE LIFE OF MY CHILDREN AT THIS INSTANT HAS TO BE ACTIVE IN THE SPIRIT; OTHERWISE, IF MY CHILDREN ARE NOT IN PRAXIS, THEY ARE EASY PREY FOR EVIL. Do not forget that the devil keeps up a fight that you do not notice because of the worldly noise in which you live, because of the absence of inner silence: a spiritual fight, and in some cases, it becomes physical when the creature is possessed by the devil.
MY PEOPLE, GIVE ME MY KINGDOM, DO NOT EXCLUDE ME FROM YOUR LIFE. They have forbidden Me
in public places, they treat Me like a thief, they hide Me, they take Me out of workplaces, they do not allow My little ones to look at Me, they reduce My Word in order that satan penetrates My whole People.
BUT CHILDREN, THIS KING OF LOVE AND MERCY, OF LOVE AND JUSTICE, LIVES WITHIN EACH ONE OF HIS CHILDREN AND FROM THERE NO ONE CAN REMOVE ME, ONLY YOURSELVES.
KNOW ME IN DEPTH SO THAT YOU UNDERSTAND THAT I AM THE KING OF ALL THAT HAS BEEN CREATED, OF ALL THAT IS VISIBLE AND INVISIBLE, KING OF THE UNIVERSE, KING OF WHAT MAN KNOWS AND WHAT HE STILL DOES NOT KNOW (Cf. Col. 1,16). That is why I reveal events so that you keep your lamp overflowing with oil.
Pray children, pray, the earth continues shaking, you will not find rest.
Pray children, pray; the devil, having infiltrated and possessed the minds of some men, brings pain to
Humanity. In one country and another, terror is present and My innocent children suffer. European capitals suffer.
Pray children, pray.
Pray children, the United States suffers.
Pray children, communism gathers strength and My People are oppressed without compassion.
The instants are cruel: what is taking shape is not the man of My remnant Church, but the man of rebellion, the man of contradiction, the man of pride, the man who without definition participates in all the rites of the religions so as to be lost in the sea of confusion: then satan will find the ideal place for his plan in regards to Humanity.
My beloved People:
EXERCISE THE GIFT OF FREE WILL, REMAINING IN GRACE SO THAT YOU FIND THE END FOR WHICH YOU WERE CREATED: TO ENJOY ETERNAL LIFE.
My People, do not judge the attitudes of your brothers, do not point at the one who has erred; on the contrary, praise the one who progresses and is going towards the knowledge of the Truth of My Word.
ALL MEN WALK IN THE MIDST OF SOME EMBERS OF ERROR, BUT THIS IS PRAISEWORTHY FOR THE ONE WHO RECOGNIZES THEIR ERROR, AND WHOEVER CONTINUES IN ERROR WITHOUT RECOGNIZING IT BELONGS TO THE FOOLISH.
Scrutinizing Me, knowing Me is not contrary to My Will, it is the obligation of My Mystical Body to know Me deeply and to enter with confidence into that relationship that I want you to maintain with this King of Kings, but few are the children who truly want it.
IN THIS CELEBRATION, REMEMBER THAT I AM THE KING OF THE UNIVERSE, DO NOT LIMIT ME. I COME TO YOU WITH MY LOVE AND MY JUSTICE, WITH MY FORGIVENESS AND MY TRUTH.
I bless you and I explain to you what you must know in order not to be lost for lack of knowledge.
My Love welcomes the one who knows how to recognize himself as a sinner: the foolish, the stubborn one who recognizes himself as such.
I BLESS EACH ONE OF THOSE WHO TREASURE MY WORD, I BLESS THEIR WALK AND THEIR SQUARE METER SO THAT EACH ONE OF YOU BE A HUMAN CREATURE WHO TAKES THIS BLESSING OF MINE WHEREVER THEY GO.
I love you.
Your Jesus.
HAIL MARY MOST PURE, CONCEIVED WITHOUT SIN