Friday, December 1, 2017
Message from the Blessed Virgin Mary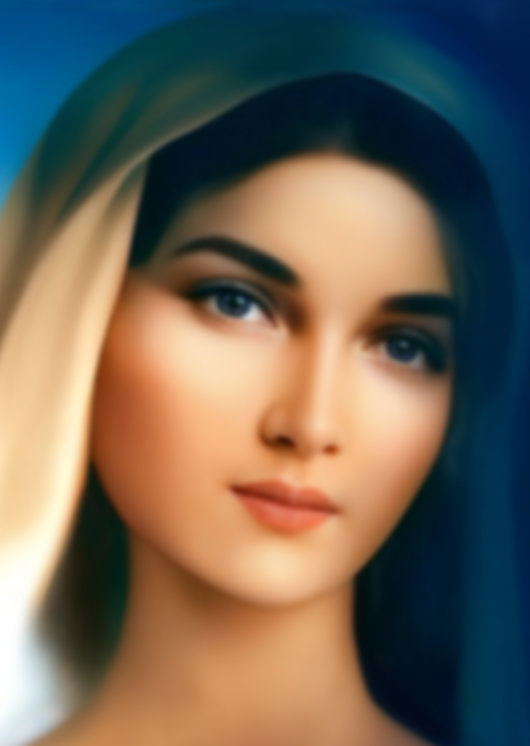 Beloved children of My Immaculate Heart:
MY MATERNAL BLESSING REMAINS WITH YOU AS AN INDELIBLE SEAL OF MY MATERNITY FOR THOSE WHO ACCEPT IT AS SUCH.
THE MOST HOLY TRINITY HAS GIVEN ME THE TITLE OF "OUR LADY OF THE LAST TIMES".
All are My children, without distinction, I offer all of you My Love, My Guidance, My Intercession, My Hands to take you towards the sure Path that leads you to Eternal Life.
Beloved children, faced with your insistence on detaching yourselves from My Son, from the Divine Will and from My Motherhood, these Calls are so that you reconsider and so that more souls are not be lost.
This generation has seen to it that from Heaven and by Divine Mercy you will certainly see the events announced to Humanity, the instant of trial that is already unfolding. You are not a generation of little intelligence, but you are a generation that has rebelled against My Son and everything that is Divine, sinking into the oblivion of God and falling into the trap of the antichrist.
IN FRONT OF EVERYONE THERE REMAINS A SET OF SCALES, AND AT THIS INSTANT, THE BALANCE
IS LEANING TOWARDS UNBELIEF, CONTEMPT, REBELLION, IMMORALITY, LACK OF RESPECT, OF CHARITY AND OF LOVE TOWARDS NEIGHBOR. On the scales man places his own pride, egocentrism, the wish to stand out and to possess the best, lack of faith, ignorance of the Divine Laws and attraction to what evil offers him.
This generation has received The Great Legacy of Salvation; precisely because of this it has not valued it and misinterpreted it, feeling that it is safe, it clings to evil and at the same time, it has created that which when used will cause the greatest damage that you have ever seen or heard…
In the midst of the fiction in which a large part of this generation has grown up through video games and cinema, you lack a sense of reality and danger. Therefore, you have been entrapped by fiction so that the devil attains his objective facing a generation that thinks that life is a game and that whenever it wants, it has the power to start everything again.
THE LACK OF AWARENESS OF A MAN WHOSE CONSCIENCE IS DISABLED BY MISUSED FREE WILL,
IS THE SAD REALITY OF PRESENT-DAY MAN who lives in unreality in the midst of the real world, of the real events that urge man to a definitive change in his work and action. But My children do not obey, therefore evil uses human weakness to deceive you and cause you to think and believe that all is well.
These are instants of confusion for My children; the rudder spins and in the middle of the raging sea of what is worldly, you do not find the courage to take the right decision. Those who consider themselves enemies of the Divine Will, will commit great and greater acts of sacrilege, taking hold of the Temples. The Sacred Vessels will be sold as worthless objects and the Temples transformed into places of worldly spectacles.
MAN'S IDOLATRY FOR MAN GROWS AND MY SON IS INCREASINGLY CONSIGNED TO BEING ALONE.
The People of My Son lack Truth, lack information, lack knowledge, therefore the enemies of the faith have perpetrated their diabolical plan little by little, until arriving at this instant in which by permission they take hold of man as a slave who will then be used to serve the imposter.
The instants of wavering have arrived, My children do not distinguish between the Divine Will and what comes from being imposed by men. For this reason, I call you to heed My Calls, I call you to know Sacred Scripture so that you do not accept the forms of modernism that will cause Humanity to hand itself over to perdition. You act passively in the face of what is leading you down the wrong path, you are going like sheep towards the precipice.
YOU WHO CALL YOURSELF FAITHFUL, TESTIFY TO MY SON, BE THOSE WHO ENCOURAGE YOUR BROTHERS AND SISTERS SO THAT THEY STAND FIRM BESIDE MY SON.
You are seeing great changes happening every instant in the whole world: communism itself advances slowly but surely, it oppresses and represses before the eyes of Humanity. My children die of hunger facing the power of communism; they die without being allowed to utter a word and the rest of Humanity ... what is it doing on behalf of its brothers and sisters?
At this instant, those who are spreading the Revelations of Heaven are persecuted in order to dispute what We reveal to them, with the purpose of nullifying the credibility of the explanation of the Divine Word or the Word of this Mother. This instant of confusion is evil's instant, because it leads man towards the opposite of good and man takes pleasure in it. My poor children, you are spiritually blind!
The one who is spiritually blind at this instant shields himself in his blindness in order not to believe, and to refuse to accept the Calls of the Father's House, attached to his false idols.
In the history of Humanity sin has existed, but not to the degree in which it exists now. There have been blasphemers, but not like at this instant. Man has gone away from the Divinity, but not as you are doing. Wrong human work and action has surpassed what man himself could conceive, and at this instant he does not want to know that he cannot return to the past, because of having become accustomed to evil, and therefore you do not want to convert.
Beloved children of My Immaculate Heart:
Pray children, pray for France, it will be prey to terror.
Pray children, pray for Central America: it will be shaken and Colombia will suffer famine because of disobedience to My Son's Calls. The guerrilla do not sign truths, but set conditions. This land will suffer in expiation.
Pray children, pray for the United States, man rises up at anything, it does not want constraints. Pray, the land of freedom will be shaken and the sign of freedom will be attacked by enemy forces.
My Son is Love and because of this he allows man to purify himself. Humanity feels itself growing pale at innumerable losses in all areas, yet even so it does not obey and suffers more. On suffering it gives it names and excuses because of its haughtiness, in order not to accept that it is acting wrongly.
The waters of the sea continue to scourge Humanity. On the sunny day man will be surprised by the water. Plagues arrive and in an instant they destroy man's food, therefore famine and droughts will be the concern of great nations.
This Humanity will see what is undesirable, it will be purified in order to be prepared for the Second Coming of My Son, when Peace will reign everywhere and man will fulfill the Divine Will, and man will no longer be separated from the Most Holy Trinity nor from this Mother, because man will be one with his Father who is in Heaven.
Beloved children of My Immaculate Heart, the Angel of Peace is coming to speak "... to men of good will" (Lk 2:
14b) and to those who have not believed, so that they convert, and they will convert faced by the Word of Truth. My children will give thanks for not having abandoned the correct Teachings of My Son and will give thanks for having remained faithful to God.
Look at Me children, I attend to you so that more souls are not be lost!
Look at Me children, do not continue living in darkness where you do not distinguish what is right, what is pleasing to My Son! Do not satisfy evil, be creatures of good, of Divine Love, and those who possess what the world lacks: Wisdom and Discernment.
Children of My Heart, I bless you with My Love, I bless you with My Maternity, I bless you and love you.
Mother Mary
HAIL MARY MOST PURE, CONCEIVED WITHOUT SIN