Friday, December 8, 2017
Message from the Blessed Virgin Mary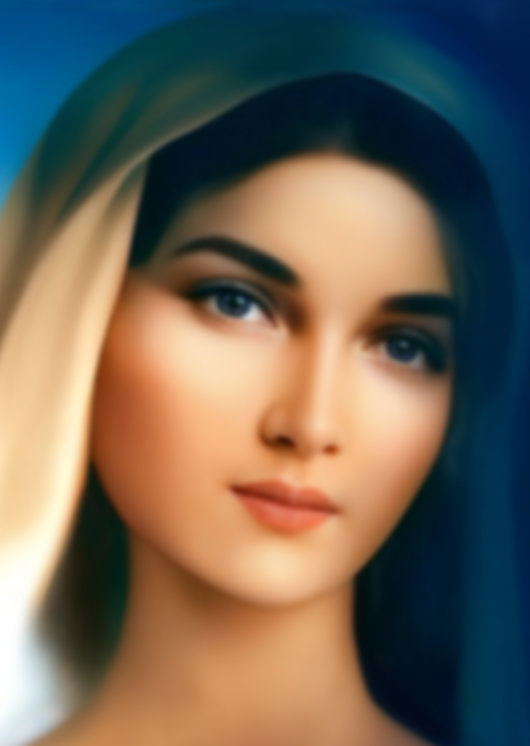 FEAST OF THE IMMACULATE CONCEPTION OF THE BLESSED VIRGIN MARY
Beloved children of My Immaculate Heart:
MY BLESSING ENTAILS NOT ONLY MY LOVE TOWARDS EACH ONE OF YOU, BUT THE ATTRIBUTES THAT I WANT FOR MY CHILDREN.
Everyone must take the attributes that My Blessing entails and increase them so that they then take hold in you and later be transformed into Gifts.
CHILDREN, WITHOUT EFFORT YOU CANNOT MAKE ANY ATTRIBUTE, VIRTUE OR GIFT GROW WITHIN YOU. The one who is not persistent is like a lamp that goes out in a slight wind. You need to strive so that this willpower, decision, desire to obey the Will of the Most Holy Trinity strengthen you when you need it.
On this date, in which My Immaculate Conception is celebrated in a special way, I look at the Earth, and what I see does not give Me satisfaction: the number of My children is diminishing, especially in the big cities. In small places, in small towns is where I see greater devotion and greater love for My Son, since what they offer to My Son and to Me is born in the heart.
In some places they offer Me empty prayers, the Holy Mass is celebrated without true love, Rosaries are offered without meditating, and this is what man has come to and what was already announced, due to the weakening of the sense of responsibility that the human creature possesses as a child of God the Father.
MAN HAS BEEN GIVEN SPACE TO DEVELOP LICENTIOUSNESS AND TO USE HIS FREE WILL BADLY.
Faced with this chaos, Humanity, advancing or retreating like an uncontrolled mass, has come to regress due to the misuse of free will, it has thoroughly regressed morally in living together, in education, in human integrity, in respect, in patience, in effort, and you are constantly living this regression on the personal level and as a society, since you do not observe or preserve human ethics.
MY CHILDREN HAVE COME TO IDEALIZE AN EXCESSIVE DESIRE FOR POSSESSION, ESPECIALLY WITH RESPECT TO WHAT IS MATERIAL AND FINITE.
That is why I call you to become aware of the willpower that you have to maintain in order that the Love of My Son grows in you.
Do you want a good life?
Do you want to find the Truth?
Do you want to prosper?
Hold to the Love coming from the Sacred Heart of My Son, and as Mother I offer you Mine, which will mediate for each of you without distinction as long as you repent when you act and work wrongly and decide to make amends for the wrong done and to direct yourself towards good.
At this instant, My children are directing their lives towards what is improper, they are in a serious crisis about which they have been warned beforehand, but what is the motive that prevents them from reversing this?
YOU ARE NOT LOOKING INSIDE YOURSELVES, YOU ARE SEEKING OUTSIDE YOURSELVES WHAT YOU WILL ONLY FIND WITHIN YOU.
It is because of this is that man is entering into a serious personal crisis from which he does not know how to get out. And it is the case that the human creature does not understand that, if it does not center its life on God, everything else suffers a great disruption, it leaves its axis and spins without stopping.
How often I have called you to know My Son! I have called you to scrutinize My Son so that you both reason and, being aware of this Divine Love, be drawn to God.
MY CHILDREN POSSESS INTELLIGENCE, BUT THIS HAS BEEN DARKENED BY THE DEVIL. Humanity
does not want to reason; I have told you that Love is the force of the will, I have told you that Love moves the will. Except that at this instant when Humanity does not know what True Love is, it cannot transform the will, and man falls, dominated by that dominant will that causes him to opt for what is easy and worldly, because, given man's weakness, that will has come to grow: proud and dominant, thus imposing itself upon man.
IN HOMES I SEE A GREAT LACK OF TRUE LOVE AND A GREAT WEAKNESS IN MAINTAINING HARMONY - THIS BECAUSE THE CENTER OF THE HOME IS NOT MY SON, because you do not gather to raise up a petition to Heaven, and I carry on waiting to be invoked in order to help you...
AS MOTHER OF ALL HUMANITY I WANT YOU TO ATTAIN THE KNOWLEDGE OF THE TRUTH
AND SAVE YOUR SOUL. HERE I AM BEFORE EACH PERSON WITH MY HANDS STRETCHED OUT TOWARDS YOU IN ORDER TO LEAD YOU TO MY SON.
Beloved children of My Immaculate Heart:
THE INSTANTS MAKE MAN'S THOUGHTS RACE AND CAUSE HIM TO ACT WITHOUT REASON, GOING
AHEAD IN ANGER. This defect in man is caused by the lack of union between man and his Creator, due to which his decisions are the response of the madness in which Humanity is submerged, madness caused by evil in order to advance the formal appearance of the great usurper.
You find yourselves in great changes that are encircling Humanity - unexpected changes fabricated by the minds of the powerful of the world and through which suffering comes to the innocent. Struggles increase and borders will be closed because you do not recognize each other as children of God, and the powerful believe that they can take the reins of the decisions of Humanity's future.
Beloved children, you find yourselves in apparent peace, but in an instant you will discover that this apparent tranquility has vanished and facing the mirror of reality you will see how communism, freemasonry and Illuminati have led you into confusion and have used that confusion to dominate you.
They have built a Tower of Babel; weapons have not been constructed by man for him to look at, but to demonstrate his power to his fellow men. At this instant, Creation trembles at human disobedience and human action.
WHERE IS A SINGLE ACT OF PRIDE LEADING YOU? TO THE SORROW OF SORROWS!
I beseech you, My children, to pray for the Middle East, pain becomes established.
Pray, My children, pray for Venezuela, the merciless scourge leads this people to face a greater agony.
Pray, My children, pray for Argentina, at dawn the confusion increases and pain seizes My children, Nature strikes them.
Pray, My children, pray for Europe, great cities will be prey to terror and the earth shakes.
Beloved children of My Immaculate Heart, the opposite of evil is good, unity, love, brotherhood, wisdom, meekness, forgiveness ... In the face of this, My children, evil would not be advancing.
I ASK YOU, CHILDREN, TO HOLD BACK THE INNER ANGER WITH WHICH YOU HAVE BEEN CONTAMINATED AND WHICH YOU HAVE ACCEPTED, IN ORDER THAT YOU SEE WITH THE EYES OF THE LIGHT OF MY SON'S LOVE. In this way you will draw Divine Love towards Humanity, you will be lightning rods that will stop the advance of the evil that has penetrated within man.
Offer up the effort of living in inner peace, of living in Love, of being understanding and putting aside haughtiness and what is worldly. Otherwise you will share in the great mistakes that have entrapped Humanity and through which a great part of It will suffer.
MY SON DOES NOT ABANDON YOU, DO NOT ABANDON HIM, DO NOT LEAVE HIM WITHOUT A CROWN.
MY SON CALLS YOU AND PLEADS FOR YOU, I PLEAD FOR WISDOM FOR YOU AND THAT YOU MAY
BE LOVE IN MY SON'S LIKENESS.
I bless you with My Mother's Heart. I bless you, beseeching each one of you to be your brother's intercessor.
Pray My children, pray and be those who accomplish the Divine Will.
I bless you.
Mother Mary
HAIL MARY, CONCEIVED WITHOUT SIN