Tuesday, December 12, 2017
Message from the Blessed Virgin Mary
Feast of Our Lady of Guadalupe.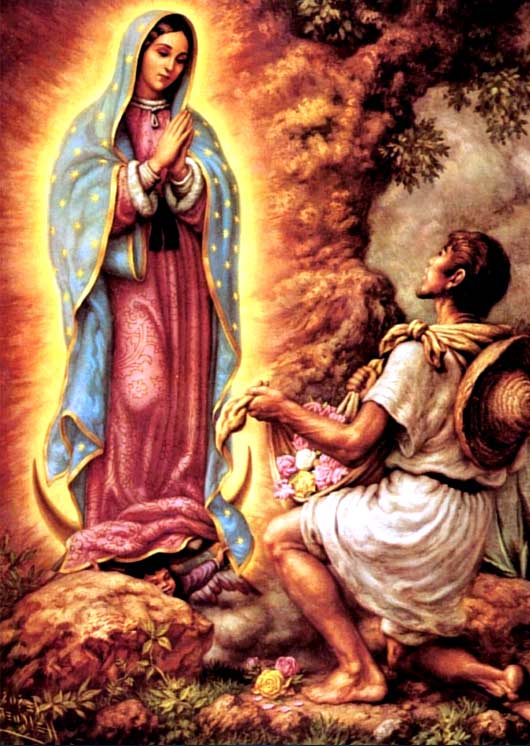 Beloved children of My Immaculate Heart:
MY MATERNAL HEART OVERFLOWS WITH LOVE FOR ALL MY CHILDREN.
At this instant you find yourselves before the commemoration of My Son's Birth. This instant ought to serve to prepare you spiritually, knowing that as My Son's People you have been given a Divine Law: The Commandments.
The Divine Truth is one; it is not subject to interpretations. I received you at the foot of the Cross of Glory and Majesty and I do not want you to enter into the confusion about which I have been warning you. Children, confusion is caused by evil and you must recognize that in this instant in which this generation is living, chaos reigns everywhere, in all aspects of human life, values are disappearing and morals have declined to the point of not respecting one another as Children of God.
The human body, Temple of the Holy Spirit, has grieved the Holy Spirit, man has offended Him by thoughts infested with perversion; evil is at the origin of confusion and at this instant evil is desperately striving for the perdition of souls, and due to the absence of order in Humanity and in its spiritual life, the enemy of the soul has found where to cultivate his evil in full freedom and reproduce evil and anti-values, with the goal of undermining the Mystical Body of My Son so that My children despise what is holy.
Sadness overwhelms Me: you know history and you must apply this knowledge during this instant in which you move and are opposing My Son and what He represents. Evil has introduced itself into the very Church of My Son, and from where guidelines emanate for My children, disrespect arises that has been exploited to deny what cannot be denied.
BELOVED CHILDREN, YOU DO NOT KNOW SACRED SCRIPTURE IN ALL CONSCIENCE, AND
THEREFORE YOU HAVE NOT LEARNED TO DISCERN, AND YOU KEEP CLINGING TO THE CURRENT OF THE WORLD, A CURRENT OF CONFUSION AND SHAME.
As Humanity you should be faithful to My Son, grateful, knowledgeable, charitable, reflective, and maintain a relationship that goes beyond attendance at Holy Mass every seven days - ATTENDANCE AS LIVING THE MASS IS DIFFERENT FROM ATTENDING IT.
Hence spiritual relationship has declined more than in previous instants of Humanity. You know of the era of Creation dedicated by the Eternal Father to His People, you know the legacy of My Son and profit from It in order to continue on the spiritual path as His People, and at this instant you remain in the instant of the Holy Spirit, where the Heavenly Father arranged it that His children enjoy the good things that previous generations rejected.
YOU ARE THE CHILDREN OF THE FATHER, THE SON AND THE HOLY SPIRIT, AND THEREFORE THE
GIFTS AND VIRTUES, JOYS AND THE RELATIONSHIP WITH THE DIVINE SPIRIT ARE CLOSER TO EVERYONE IN ORDER THAT YOU ARE ABLE TO ENTER INTO A DIFFERENT UNION, WITH THE DIVINE THOU RATHER THAN THE HUMAN ONE.
It is not easy to have such a close relationship with the Divine Spirit. This opportunity is being given to you by the Eternal Father for these instants in which man must leave a lukewarm relationship with the Most Holy Trinity in order to enter into a true relationship, where union, truth, closeness and man's continuous living with His Lord prevail.
Beloved, be reflective, do not act "a priori"; reason, examine yourselves, do not be arrogant, do not feed the "ego" so that free will finds necessary restraint and so that you govern the "ego" and the "ego" does not govern man.
Beloved children of My Immaculate Heart, do not neglect work and action, do not continue being judges of your brothers and sisters, being part of the majority that acts by imitation.
Beloved children, at this instant the People of My Son walk like a pilgrim and in silence, they fear as if they were living in a foreign land, they wait in the midst of the uncertainty caused by the lack of a firm faith.
At this instant you find yourselves literally hand in hand with the advertising of consumerism. My Son was born in a manger and not in a golden cradle, this Advent should be different for you and you should not forget the true spiritual meaning of Advent.
YOU ARE PREPARING FOR THE PAROUSIA. AT THE SECOND COMING OF MY SON ALL NATIONS
WILL BE SHAKEN; EVERYTHING THAT EXISTS, FROM THE UNIVERSES TO THE MOST
INCONCEIVABLE AND MINISCULE OF CREATURES WILL KNOW THAT MY SON IS COMING. PREPARE YOURSELVES BECAUSE NOBODY KNOWS THE DAY AND HOUR.
You celebrate My Apparition as Empress of the Americas and I want children obedient to the Divine Will. I do not want a People that surrender to evil so as to be dominated by the forces of evil that takes you as slaves and degrades you as children of God.
MY LAND OF MEXICO IS AT THIS INSTANT A LAND OF PAIN WHERE CRIMES, OFFENSES, ABORTIONS STAIN THE SOIL TO WHICH I CAME. YOU LOOK AT ME ON THE TILMA, YOU PRAY TO ME ... AND I ASK YOU: WHERE ARE THE HEART OF MAN AND THE THOUGHT OF MAN TO BE FOUND?
Some read about the studies made of My Tilma on which I am reflected, you read what they have found, you know that the constellations are reflected in Me and they have been unable to deny the miracles that I keep up as Revelation.
I see perennial surprise in man's heart at these scientific analyses, and even so you are still to discover what can be seen at a first glance on My Tilma, and scholars of My Image on Earth have not been enlightened by the
Holy Spirit because they do not ask for it. BUT GOD'S TIME IS NOT THAT OF MAN, AND GOD'S LOVE FOR HIS PEOPLE WILL BE MANIFESTED IN ALL ITS SPLENDOR, IN THIS PATRONAGE OF MINE FOR ALL HUMANITY.
WAIT FOR THE ANGEL OF PEACE, (1) WHOM I AM PROTECTING UNTIL THE INSTANT IN WHICH MY SON SENDS HIM TO THE EARTH. I know that for some people My Revelations are not too much. That is why I have revealed this secret to My Prophet, waiting for a reaction from Humanity.
Pray, My children, do not withdraw your prayer for North Korea.
Pray My children, pray for Australia, it is strongly shaken.
Pray Children, pray for the United States, Russia and Germany, it is urgent.
Pray children, pray for Central America, it will suffer.
MY BELOVEDS, DO NOT FEAR ... AM I NOT HERE WHO AM YOUR MOTHER?
You do not observe God's Magnificence, God's Power that speaks to you through His Creation. And He says to you: "look on high", and how many look on high? ...
How many of you have forgotten that the stars are seen at night? ... How many of you know that you are alive? ...
My children, My Son's People, giving oneself to life in spirit and truth is not a matter for those who suddenly surrender, but for those who are true.
Do not only wait for calamities; prepare yourselves to enjoy Heaven in advance.
I am the Mother of all Humanity, and as the Woman Clothed with the Sun, I am the Mother of all Humanity, which I protect and love with Love coming from the Most Holy Trinity.
Pray as families in order to dispel the darkness of evil.
I bless you, I love you.
Mother Mary.
HAIL MARY MOST PURE, CONCEIVED WITHOUT SIN