Sunday, December 17, 2017
Message from Our Lord Jesus Christ
To His Beloved Daughter Luz De Maria.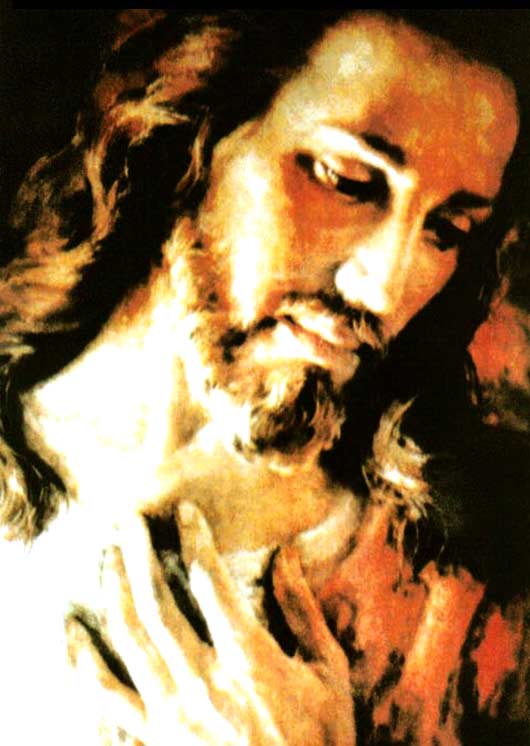 My Beloved People:
I BLESS MY CHILDREN, EVERYONE, THOSE WHOM I LOVE, SINCE ALL PEOPLE ARE MY CHILDREN.
On the way towards the awakening of consciousness, My People's instant is turning into an arduous work, an arduous struggle against the worldliness that penetrates Humanity disguised as what is good and acceptable, really being that which kills the good, CAUSING MAN TO FALL INTO BASE INSTINCTS AND SPIRITUAL
IGNORANCE, PUTTING MAN'S PRIORITY, WHICH MUST BE SAVING THE SOUL, IN THE LAST PLACE.
My People remain inert, and as the instant passes, so inertia is bringing man to the edge of the spiritual abyss.
The man who offers nothing to Me, who does not sacrifice, who wants to remain the center of attraction, who offends his brothers and sisters, who is indifferent to human pain,
who despises who is fraternal: the slanderer, the fool, the one who does not bow before the Law of My Father in the Commandments, who despises the Sacraments, who rejoices in the pain of others,
who does not hear the Calls of My Father's House,
who offends My Mother,
THAT CHILD OF MINE BECOMES DISTANT FROM ME AND IS IN DANGER OF BEING LOST IF HE DOES NOT REPENT IN TIME.
My People, the king of pride infiltrates man with pride so that this germinates. My children are enlightened by My Holy Spirit and must not rejoice in pride, but in humility, otherwise they will act with pride without noticing it.
You are instructed as a people. In each Revelation you have been instructed to stay alert to what is improper and sinful, and so that you do not fall into the mud of the current of the world, which moves further away from Me and joins the ranks of the devil as a sign of rebellion towards Our Divine Will. Evil offers you licentiousness, debauchery, lies, it facilitates what you want so that you feel comfortable, it causes you to feel that all is well and that you are acting and working within the good. It saturates you with distrust towards Me.
You are a People instructed to continue putting Revelation into practice, being true. TO THIS I CALL YOU, TO THE PRACTICE OF THIS REVELATION SO THAT YOU TAKE STRENGTH IN FAITH, BEING CONSCIOUS, CONVINCED, KNOWERS OF MY WORD, PRACTISING A STRONG UNION WITH ME, CONVERTED, DISCERNING, HUMBLE - AND ABOVE ALL, BE LOVE, AS I AM LOVE.
You were born of My Love. I sacrificed Myself out of Love for you; My Holy Spirit accompanies you, instructs and guides you in discernment, My Mother intercedes for all. But you still have not found what opens the way for you... THIS IS LOVE.
THE MAIN INGREDIENT IN THE HUMAN CREATURE, THAT WHICH SHOULD NOT BE LACKING,
BECAUSE IF THE SEASONING OF OUR LOVE IS LACKING, THE HUMAN CREATURE THAT IS EMPTY INSIDE IS A CONSTANT THREAT FOR MY CHILDREN.
My beloved People, it is because of this ingredient that used to exist in some creatures and has withered due to the hardening of the human heart, that a large part of Humanity has fallen into chaos, rebellion, incoherence, communism and its errors, envy, the lack of charity and the harmful largesse of the human ego. My beloved People, within the Plan of Salvation I have called you to be faithful participants.
ASSISTING YOUR BROTHERS AND SISTERS IS ESSENTIAL SO THAT THEY WOULD NOT BE LOST BECAUSE OF THE LACK OF FAITH IN MY WORD. THE INSTANT WILL COME WHEN YOU FEEL OR THINK THAT YOU ARE ALONE, BUT IT IS NOT THE CASE, I WILL NEVER ABANDON YOU.
My Mother loves you with Eternal Love.
My beloved People:
Pray, children, pray, war goes from being a threat to being a reality.
Pray children, pray, the storm in My Church will continue.
Pray children, pray for England, it will be shaken and terrorism will invade them.
Pray children, pray for Italy, suffering is near, it will be shaken and Nature will scourge it. Rome will weep without ceasing.
Pray children, pray for Indonesia, it will suffer due to its volcanoes.
Beloved children, Colombia will suffer for the errors committed against My Mother, this People's foolishness will be defeated.
My beloved People:
IT IS ESSENTIAL TO BECOME PERSONALLY AWARE SO THAT YOU ARE MIRRORS OF MY WORK AND ACTION.
Evil prepares its strategy against those who are Mine - do not separate yourselves from what belongs to you: Eternal Salvation.
Do not be like the pharisees (Cf. Mt. 23,3.), be Mine "in spirit and truth" (Jn 4:23). Grow, do not stop, continue growing patiently, working and acting in My Will. Do not be prey to those who criticize you, be patient, be Love for those who are far from Me.
I suffer for those who are indifferent to My Calls or do not take Me seriously: they will regret having rejected My
Word. They will regret not having been students of My Word: I have given them the "means and more" regarding My Angel of Peace, yet My People continue being indifferent, making predictions that do not help you. You jump from one place to another and become more confused; you do not listen to My Voice, you want to know more and end up knowing nothing of what I have announced to you. I am patient and just at the same time.
My Angel of Peace sees you, He earnestly seeks harmony, sincerity, faith, trust, peace within you and in your homes.
UNDERSTAND THAT YOU ARE MY END-TIME APOSTLES, AND AS SUCH, YOU MUST LIVE AS I HAVE TAUGHT YOU; THUS MY ANGEL OF PEACE WILL NOT FEEL THAT YOU ARE INDIFFERENT.
Beloved People of Mine, look on high, important phenomena will occur in the vault of heaven, unknown by the majority. DO NOT FORGET THAT YOU ARE PREPARING TO COMMEMORATE MY BIRTH AND YOU MUST DO SO WITH THE PEACE AND LOVE THAT THE REST OF THE WORLD DOES NOT OFFER ME.
I call you as your Lord and Savior to maintain inner peace and love so that you are magnets that draw My Love towards you.
I STAY WITH YOU SO THAT YOU ARE NOT LOST, AND YOU MUST STAY FAITHFUL TO OUR TRINITY; DO NOT BE ASHAMED OF BEING MY CHILDREN OR CHILDREN OF MY MOST HOLY MOTHER.
MY LOVE WALKS THE EARTH IN SEARCH OF SOULS IN WHICH TO DEPOSIT MY LOVE.
WITH MY BLESSING I NOURISH YOU SO THAT YOU TURN AWAY FROM EVIL.
I love you, you are My People, the Apple of My Eye (Cf. Dt. 32,10).
Your Jesus
HAIL MARY MOST PURE, CONCEIVED WITHOUT SIN