Friday, December 22, 2017
Message from the Blessed Virgin Mary
To Her Beloved Daughter Luz De Maria.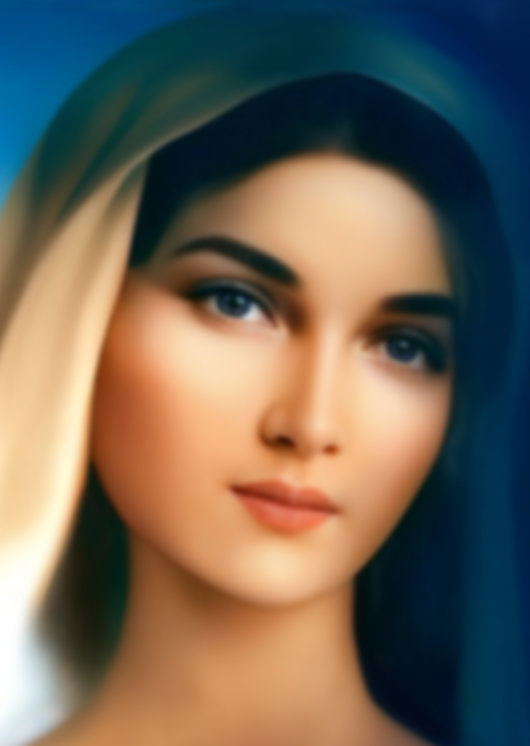 Beloved children of My Immaculate Heart:
I KEEP YOU IN MY HEART...
AND THUS UNITED, LET US GIVE THANKS TO GOD FOR THE COMMEMORATION OF THE BIRTH OF MY SON.
In My Son I see you and as Mother of Humanity, My Heart overflows with joy for you.
BELOVED CHILDREN, MY SON BEGS YOU FOR UNITY, RECONCILIATION AND UNDERSTANDING. Households lack this at this instant in which each member of the family chooses what best suits their personal interests and not to the interests of those around them.
My Son says to you: "…Who is my mother and who are my brothers?" (Mt 12:48).
Do not only approach those with whom you feel comfortable or pretend to approach them just for this date or love only those you want by your side. KEEP IN MIND THAT MY SON CAME TO UNITE AND THIS DATE IS FOR THAT AND SO THAT THERE IS A TRUE FRATERNAL RECONCILIATION LASTING FOR THE REST OF YOUR LIVES.
DO NOT FORGET THAT MY SON WAS BORN IN A STABLE IN WHICH THERE WAS NO LUXURY except for the warmth of the straw in which We placed Him. My Son rejoiced at the sincere love of the humble who came to worship Him. Knowledge, understanding towards one's brothers and sisters, wisdom in treating one's brother and devotion to the neighbor for love of God are more accessible for the humble in spirit.
Beloved children, the stable where My Son was born tells you that you should not live by vain appearances or "status" nor desire economic importance or human honors. In the midst of conceit and selfishness, man does not come to this humble manger, since in order to go there you need to leave behind on the way that which prevents you from recognizing the greatest treasure that this manger holds, the greatest grandeur: DIVINE LOVE.
SAINT JOSEPH AND I TOOK OUR SON AND IN THE MIDST OF THE HEAVENLY CHOIRS WE PLACED
HIM IN THE MANGER (cf. Lk 2,7). Do you know what the manger represents? The inner cloister in which man becomes small in order that My Son shows His Power, His Glory, His Majesty and His Omnipotence. The manger is where man recognizes his smallness and the need to be one with My Son and with his brothers and sisters.
DIVINE LOVE RECEIVES WARMTH FROM THE STRAW: do you know what the straw of the stable sheltering My Son prefigures? Each piece of straw represents each one of you, My children, those who continue in the midst of fatigue, temptations, calumnies, storms, those who walk in the footsteps of My Son. These are the Apostles of the Last Times.
LIGHT WAS NOT LACKING WITHIN THE STABLE, INTENSE RAYS OF LIGHT CAME DOWN FROM THE HEART OF THE ETERNAL FATHER, AND IN UNION WITH HIM THE HEAVENLY CHOIRS APPROACHED THE HUMBLE WHO WERE TENDING THEIR FLOCKS. How many of My children do not see the Light that is in front of them for lack of humility!
THEREFORE YOU HAVE BEEN ENTRUSTED WITH THIS LIGHT SO THAT AT THIS INSTANT YOU KEEP THE EARTH ILLUMINED THROUGH GOOD ACTIONS AND WORKS IN THE DIVINE WILL.
YOU ARE FEW, YES, BUT MY CHILDREN MAKE THAT GOD THE FATHER LOOKS TO THE EARTH AND THE LATTER IS NOT IN TOTAL DARKNESS.
In the midst of total adoration come the Kings who, following a star (cf. Mt 2: 9-11), have found the King who has been born and bow down before Him and worship Him, offering Him Gold, Incense and Myrrh (cf. Mt 2:11), acknowledging the Savior of Humanity.
Beloved children of My Immaculate Heart, such an exalted Birth speaks at the same time of sacrifice for the salvation of man.
THIS CHILD IN THE MANGER SACRIFICES HIMSELF TO THE FATHER OUT OF LOVE FOR MAN. HE SACRIFICES HIMSELF ON THE CROSS OF CALVARY FOR EACH ONE OF YOU
WHETHER YOU LOVE HIM OR DO NOT LOVE HIM, YES, MY SON LOVES YOU AND SACRIFICED HIMSELF FOR ALL (cf. Gal 2:19).
Children, My Son wants to remain in you, wants truth in each one of you, wants His Divine Love to reign in you so that you are repeaters of His Love, His Action, His Truth.
As Mother, I call you to unity at this instant in which Humanity is running over with what is improper, seriously offending My Son, replacing the Commandments and Sacraments so as not to feel remorse.
Creation vomits out the errors of this generation, the biggest mistake being the lack of Love for God, the lack of Love in man. From this all errors are born and for this reason you have gone astray because of the constant disinformation with which they are confusing you.
The earth shakes at human disobedience, and in this shaking man suffers and will suffer more calamities. You have not understood that in disobeying the Will of God man punishes himself and God allows this punishment given human negativity.
My children, the moon will take on a different color from normal for a few instants, the vault of heaven as well. You keep in mind prayer with the heart and above all, constant work and action in the Divine Will.
Pray My children, pray for the innocent who suffer at the hands of ruthless men, pray that the Angels of God help these innocent creatures.
Pray My children, pray, violence takes hold of Humanity, disturbances lead to conflicts and these to uprisings. Argentina, you will suffer for your errors!
Colombia, you have been blind to My Requests!
Chile, you rebel against My Son!
You will again be shaken by the earth and Nature.
Pray My children, pray for the United States and France, they will be prey to terrorism and Nature.
Beloved children of My Immaculate Heart, volcanoes are becoming active even in the sea.
Do not let yourselves be separated from My Son, cry out to the Holy Spirit, do not forget your Guardian Angels, your travelling Companions.
WAIT FOR OUR ANGEL OF PEACE (1), WAIT FOR HIM WITH LOVE, DO NOT CAUSE HIM PAIN BY REFUSING TO LIVE IN PEACE AND IN TRUTH.
I AM IN FRONT OF YOU IN ORDER TO GUIDE YOU TO "THE WAY, THE TRUTH AND THE LIFE" (Jn 14,6).
I love you with Eternal Love.
Mother Mary
HAIL MARY MOST PURE, CONCEIVED WITHOUT SIN