Saturday, December 30, 2017
Message from Our Lord Jesus Christ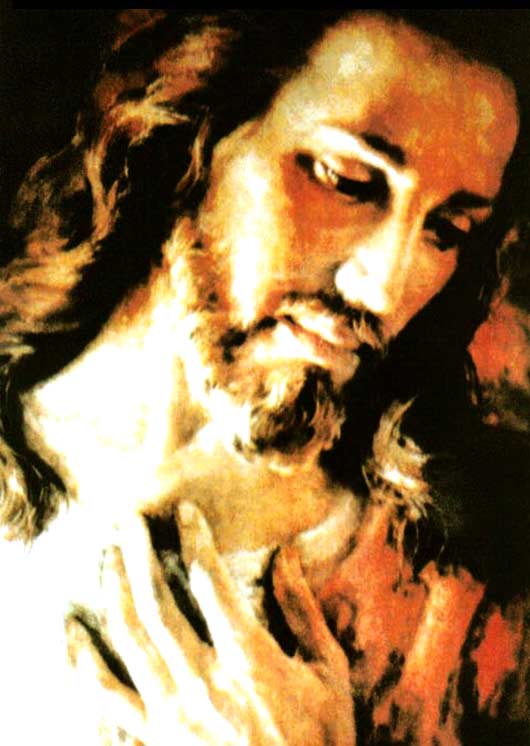 My Beloved People:
"I AM WHO I AM" (Ex. 3,14)
I MAKE EXPLICIT MY WORD LEFT IN SACRED SCRIPTURE SO THAT THIS GENERATION BECOMES AWARE OF THE PATH ON WHICH IT IS TRAVELLING AND BE DISPOSED FOR CONVERSION.
My Love does not stop calling you, touching the hearts of those who are Mine so that they turn away from evil and overcome the human ego that subdues them through improper attachments which cause you to continue in bad actions and works.
I grieve at seeing how individualistic you are, with such marked differences even within the same family.
I grieve when, using power in society, in education, in religion, in government, you commit injustices against the weakest, the humblest.
My People:
I SEE WITH SADNESS HOW MAN HAS DISTORTED HIS HUMANITY. He has come to commit errors without measure and sometimes with premeditation. Man, who must serve Our Trinity, is serving evil at this instant, and bad actions are spreading within all social classes, without distinction.
MORALITY HAS BEEN SUPERSEDED BY FORMS OF MODERNISM: society is indulgent with fashions, accepting serious errors as new moral norms. A great number of My children drag these errors behind them and judge their brothers and sisters by them, allowing selfishness and envy to run through their veins and feeling powerful, they sit in judgment and falsely plot even against what is of Me.
My People, do not forget that when you have turned away from Me and have refused to recognize Me as God and have felt superior to Me and have limited Me, you have become confused and have acted against one other in great confusion. You have drawn pain to yourselves, making the whole Creation rebel against man, who is working and acting contrary to the Divine Will.
My People, I have been leading you through this "Lectio Divina" in order to explain to you what you have refused to accept: My Word. I REVEAL MYSELF TO MY PEOPLE DESPITE CONTINUAL DISOBEDIENCE TO MY WORD, IN ORDER TO MOTIVATE YOU TO CONVERSION. MY MOTHER IS CONSTANTLY CALLING YOU BECAUSE SHE DOES NOT WANT MORE SOULS TO BE LOST.
I call you to acknowledge that you are sinners and you proudly refuse to do so ...
I call you to stay in a state of Grace and for this generation that is a laughing matter ...
I call you to fulfill the Sacraments and you refuse to do so ...
I mention the Commandments and you do not know what I am talking about, the Beatitudes are unknown for this generation in which selfishness reigns.
At this instant "technological childhood" believes that they can kill and give life.
Children, you live as bearers of an extreme anger that you continually receive through the media and deceptive entertainment that you have within reach. The senses are constant receptors of aggression, and the human creature comes to expand that anger against its peers. This is not what I want from you. This is not how I want you to correspond to Me, My children.
I CALL YOU TO LOVE ME AND TO DRAW NEAR TO ME ...
MY CHILDREN MUST WORSHIP ME "IN SPIRIT AND IN TRUTH" (Jn 4:24).
Unbelief runs like the wind; you treat Me with great disrespect in the Blessed Sacrament of the Eucharist, where I am really and truly to be found, in My Body and My Blood, and this cannot be denied: whoever says as much is anathema.
MY PEOPLE, DISCERNMENT IS NECESSARY. The devil assaults My People with lies, providing false paths for them through which he binds them by temptations and deceptions that appear to be good, these being the shield he uses so that you do not see clearly, so that you feel that the way to follow is the one to which he calls you. Invading thought and intelligence, he becomes the master of your actions so that you go away from Me.
My People trust in themselves, forgetting that evil brings them thoughts that seem to be good, yet in the light of discernment those thoughts are not good or just. My children do not discern, so they allow evil to mislead them without resistance.
Man refuses what requires renunciation of him, what requires love for him, humility, obedience, tolerance, wisdom, cordiality, integrity, peace ...
IN GOING AWAY FROM ME, YOU CANNOT FOCUS ON THE RIGHT PATH. I call you to live in goodness, to get away from feelings of pride, to get away from having an impetuous character, to get away from thoughts that elevate the "ego".
MY PEOPLE, I DO NOT WANT FANATICS, I WANT SOULS THAT HONOR ME, ADORE ME, SOULS THAT
LIVE OUT THE DIVINE WILL, SOULS CONSTANTLY DEVOTED TO ME, THAT SERVE THEIR NEIGHBOR, THAT ANNOUNCE MY WORD: SOULS WITH MISSIONARY SPIRIT.
MY PEOPLE, RESPECT AND LOVE MY MOTHER WHO AT THIS INSTANT IS INSULTED BY SOME MEN WHO HAVE STRAYED FROM THEIR PATH. My Mother intercedes for My People and My People must love and venerate Her as She deserves.
Pray, My children, pray so that you, as children of the same Father, respect, love one another and be fraternal.
Pray My children, pray for the United States, it continues its suffering; experiments have altered the climate and the crusts of its soil. Terrorism comes and causes pain.
Pray My children, pray for Europe, terrorist action brings pain with it.
Pray My children, pray for Italy, it is shaken. Sleeping volcanoes become forcefully active.
Pray children, Chile and Ecuador suffer.
MY PEOPLE, IT IS NECESSARY FOR ME TO WARN YOU: PRAY WITH YOUR HEARTS, PRAY AS IN NINEVEH (cf. Jonah 3,5) AND LIVE AS BROTHERS AND SISTERS.
You have forgotten fasting, goodness, charity, but above all, Truth.
Humanity as it advances is coming closer to using what it has created. Peace agreements are forgotten in the midst of so much anger. The rulers of the nations go from words to action: this is how man acts.
I INVITE YOU TO PRAY WITH THE HEART, NOT TO BE SEPARATED FROM ME, TO LOOK TOWARDS
THE VAULT OF HEAVEN; YOU WILL KNOW THAT I AM CLOSE TO HUMANITY, THE SIGNS WILL NOT DELAY. Do not wait for the events in order to convert - you know neither the day nor the hour; look for Me promptly. Faced with innovations, discern, be careful in work and action, let everything be according to My Will.
You are My children and I love you. I do not separate Myself from you. Come to Me.
My People, be worthy children of My Mother.
My Blessing, My Love, My Protection is with each one of you, I bless each one of My children.
Your Jesus.
HAIL MARY MOST PURE, CONCEIVED WITHOUT SIN
HAIL MARY MOST PURE, CONCEIVED WITHOUT SIN
HAIL MARY MOST PURE, CONCEIVED WITHOUT SIN