Thursday, January 4, 2018
Message from Our Lord Jesus Christ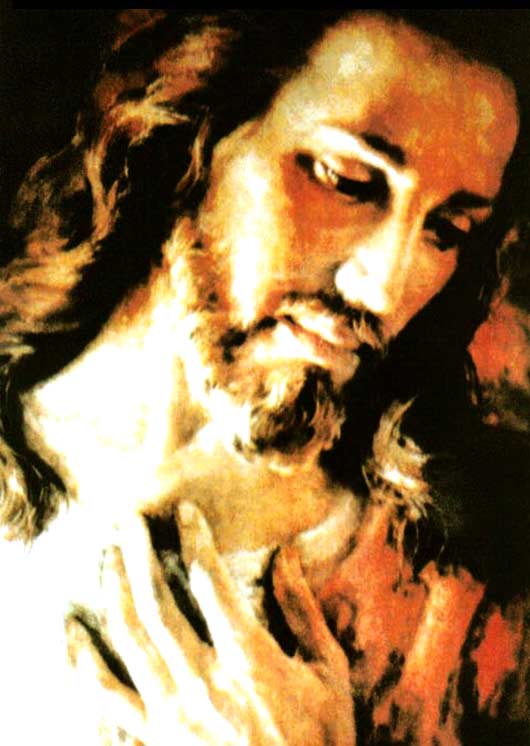 My beloved People:
I BLESS MY PEOPLE, THOSE WHO SACRIFICE THEMSELVES, THOSE WHO DO NOT RENOUNCE MY LAW, WHO OBEY ME AND LOVE ME AS I LOVE THEM.
This Word of Mine should be a blessing for My People. I outline to you the form and the constancy with which those who say they love Me must conduct themselves. The fact that I address My People is not looked upon with pleasure by some. In this Revelation My Holy Spirit insists on what is not to My liking so that you do not misinterpret freedom and not transgress the Law.
"And in the latter days, God says: I will pour My Spirit on all flesh and your children and your daughters will prophesy; your young people will see visions and your old ones will dream dreams" (Acts 2,17).
These Words are forgotten and they point the finger at Me if I do not tie Myself to what those who direct My People want. My Word is not welcomed with gratitude due to the deviant interests that exist and form part of the world and its machinations.
If I call you to put aside the comforts with which you live, you stop loving Me...
I have been exchanged for human gods who stand out on social media, you attach yourselves to them with great affinity because you live by what is immediate and what causes you distraction and pleasure ...
My People, I suffer with you and I grieve at what happens on Earth, as well as for what you will face as part of the evil behavior of man against man.
YOU HAVE DEVASTATED THE EARTH, YOU HAVE REJECTED MY WARNINGS ABOUT THE
CONSEQUENCES THAT YOU WOULD HAVE BECAUSE OF UNCONTROLLED DEVASTATION, NOT ONLY IN THE EARTH, BUT AGAINST HUMAN NATURE ITSELF.
The evil has penetrated into homes in order to divide them ...
Evil has penetrated the minds of men in order to confuse them ...
Evil has come to workplaces in order that My children are conditioned, and has touched the minds of the leaders of companies so that with a heart numbed by power and foolishness, they are those who prohibit My children from keeping images of Me or of My Mother or My Saints in the places where workers spend a great part of the day.
CHILDREN, DO NOT DEPART FROM THE GOSPEL, DO NOT BE CONTAMINATED BY SO MUCH FALSE DOCTRINE WITH WHICH YOU ARE LIVING AT THE INSTANT.
You need to understand that the devil, at this precise instant, wants to distance you from My Truth; he does not wish to be discovered, since the destruction being proposed has not reached the level desired by him.
My Images are condemned, destroyed, forcing those who profess obedience to My Mandates to destroy whatever exists of Me. This generation continues to walk alone by itself and with the one who keeps its destructive plan in motion: satan.
Evil has penetrated and hardened hearts in all strata of society and even within My Church, in order to undermine it, and it is because of this that I invite you once again not to lose heart, to be perseverant, "to pray in season and out of season" (I Thessalonians 5:17), to remain vigilant so as not to deviate from My Path.
YOU ARE NOT OF THE WORLD, BUT YOU LIVE IN THE WORLD, THEREFORE THE STRENGTH OF FAITH,
THE STRENGTH OF KNOWLEDGE, HARMONY, SOLIDARITY, WISDOM MUST KEEP GROWING CONSTANTLY.
My People constantly see the straw in the eye of others and not the beam in their own (cf. Lk 6, 41-42) and because of this, dissatisfaction leads them to commit injustice against their brothers and sisters and to bitterly criticize those who, as laborers and vinedressers, as committed laity, bring them the honey that I make explicit in these Revelations and in others that are of My Will.
SO, AS YOUR GOD, I INSIST ON THIS AGAIN AND AGAIN SO THAT MY PEOPLE WAKE UP. It seems that it is a minority who accept the explanation of My Word, fulfill it and obey it. But this is not the reality, it is rather that man remains silent out of fear.
This generation's error is the lack of love, therefore those who wish to follow in My Footsteps are not well regarded by the rest of society. The elderly who possess wisdom are despised, youth does not take advice well, materialism urges them to continue under that rule by which they look at the god of status. These are the fruits of disobedience and attachment to materialism.
This generation has become sick by accepting forms of modernism with which it has degenerated, rejecting My Commands.
The misery that some of those who call themselves christians carry in their souls is revealed through power or influence against their fellow men.
BELOVED PEOPLE OF MINE, THIS IS THE INSTANT FOR SPIRITUAL GROWTH, FOR ENTERING INTO ME AND ALLOWING MY MOTHER TO LEAD YOU.
My beloved People, struggles, uprisings, protests and lack of control are the product of anger, hatred and the lack of values in man because he does not know Me. Everyone gives what they have inside at the instant: some give love and others anger, which is not My Will.
My People, what does a father do when he sees his children going astray? …
My People, the countries are experiencing the most varied and strange natural phenomena, the waters of the seas will move and assault the earth, the winds will increase their intensity. My People, where there is heat, cold will come, and where there is cold, heat will come. My children are not prepared for these variations.
The Middle East is a cradle of massacres, scourges and destruction. Man has become contaminated within by anger, which will be brought to Europe with greater tenacity.
Communism causes great and serious havoc in America, more so than up until this instant.
MY PEOPLE, I SEE BEYOND, AND THE DISEASE THAT IS APPROACHING HUMANITY WILL FIND A CURE WITH THE PLANT Artemisia annua L. ON THE SKIN.
In some countries the streets will seem desolate, when they are taken over by terrorism, an evil coming from the devil.
Pray, love Me, fulfill the Divine Law and be instruments of peace. Receive Me properly prepared so that these communions be infinitely multiplied.
Prayer is heard in My House, it is not unheard. You must pray with the heart, not out of duty or in appearance, but "in spirit and in truth" (John 4:24).
Do not forget that from My House you will receive the necessary help if you are properly disposed. MY ANGEL OF PEACE, WITNESS OF MY LOVE, WILL GIVE YOU WHAT IS MINE.
MY LOVE IS THE BALM FOR EACH ONE OF YOU THAT YOU NEED.
ALLOW YOURSELVES TO LIVE IT INTENSELY.
I love you.
Your Jesus.
HAIL MARY MOST PURE, CONCEIVED WITHOUT SIN
HAIL MARY MOST PURE, CONCEIVED WITHOUT SIN
HAIL MARY MOST PURE, CONCEIVED WITHOUT SIN