Monday, January 8, 2018
Message from the Blessed Virgin Mary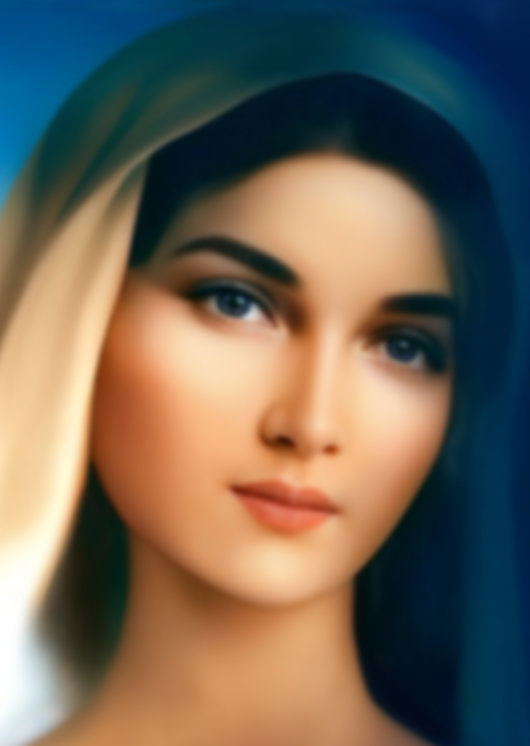 Beloved Children of My Immaculate Heart:
THE FORCE OF MY CHILDREN'S PRAYER KEEPS THE ETERNAL FATHER LOOKING AT THE EARTH AND SENDING HIS ARCHANGELS TO HELP MY CHILDREN.
My beloved ones, I am Maternal Love for all those who welcome Me as such.
You must not depart from spirituality, you must not be attached to false ideologies. I see you looking for the way to My Son, but you are walking down wrong paths that separate you from the Truth and take you to the clutches of the devil. You are embarking on dangerous paths, dangerous practices, opening your minds so that they are invaded by the allies of evil.
MY SON IS TO BE FOUND WITHIN YOU, AND WHAT YOU NEED TO DO IS TO BE SILENT INSIDE AND BE RECONCILED WITH MY SON.
I URGE YOU TO PRAY THE HOLY ROSARY: AT EVERY AVE MARIA YOU PRONOUNCE IN consciously OF WHAT IT IMPLIES, THE DEVIL RECEIVES A RAY OF MY MATERNAL LIGHT and feels himself dying because of
It - he cannot bear this invocation that makes him feel that he is burning and choking, REMEMBERING THAT THIS MOTHER OF HUMANITY WILL CRUSH HIS HEAD.
The devil knows that his days are growing short, and because of this he has decided to take souls weakened by sin and possess them to in order to cause and support great evils that Humanity is experiencing at this instant and will suffer later.
Beloved children of My Immaculate Heart:
There are some works and actions at which the devil decides to attack and then flee:
• Obedience to the Divine Will that strengthens man so that, in fulfilling the Law of God, he finds support facing human calamities.
• The child who knows their Lord and God - that child is a spiritual warrior whom the devil does not deceive easily, since knowledge and faith generate discernment and discernment generates union between Trinitarian Love and the human creature.
• Those who fulfill the Commandments and Sacraments, and their conscious and heartfelt practice of Them, are an impediment to the devil's shaking My children and defeating them.
• Humility, charity and forgiveness are virtues possessed by those who welcome the Call of My Son and put Sacred Scripture into practice, through it recognizing the Divine Will towards man. Such human creatures are a humiliation for evil.
• Those who keep My Son in their hearts and in their constant way of life, worshiping, receiving, strengthening themselves in the Holy Eucharist and in Love for their neighbor, remaining at peace with their brothers and sisters, adoring My Son with their actions and works for their own good and that of their brothers and sisters, giving witness at every instant of their lives - they are a dart that the devil receives.
Beloved children of My Immaculate Heart:
Pray the Holy Rosary in order that, by praying and meditating on these Sacred Mysteries, you draw near to and live, together with My Son and together with this Mother, Love and Loving Pain, which does not diminish the human creature, but leads it to scale the heights.
YOU MUST MAINTAIN CLARITY ON THIS SPIRITUAL PATH. THE LIFE OF EACH ONE OF YOU MUST BE CHRISTOCENTRIC; for this you need to be reconciled with My Son and fulfill your penance, so that upon receiving the Holy Eucharist He strengthens you, enlightens you, fill you with the Love that surpasses human love.
Conversion is a long path for which you need to dispose yourselves. You will not find only a bed of roses; you must prepare to be strong in order to overcome, but above all, if each one of you proposes not to increase the burdens of your brother and sister, that blessing that you give your brother will lead you to live in peace, in love, in patience, in charity and will increase your faith.
I CALL YOU TO INITIATE A REPARATION EVERY THIRD MONDAY OF EVERY MONTH, DURING NINE MONTHS OF THE YEAR, IN OFFERING TO OUR SUFFERING SACRED HEARTS:
· In the face of heresies
· In the face of paganism
· In the face of the death of innocents
· In the face of the lack of compliance of some of My priests to their promises of consecration
· In the face of man's lack of love towards his peers.
You should begin this reparation for My previous intentions with the praying of the Creed, then with the praying of the Holy Rosary and receiving My Son in the Eucharist, prepared consciously from the heart, with soul, powers of the soul and senses so that this offering brings the following graces for the one who offers it: · I will intercede for Peace in every instant of the life of the one who carries out this offering · I will be comfort in the instants of pain
· I will intercede so that you do not hide your sins or are instruments of evil
· I will remain attentive and will banish any indication of arrogance
· I will help you so that you attain the Gift of humility
· I will continually bless your homes
· To My Priests, I will grant them by disposition of the Most Holy Trinity, the virtue of service to My Son with all their strength, and in that way they will be those who help souls to be willing to give themselves to My Son, being true shepherds, preachers, liturgists and teachers in the Love of My Son towards the people.
Beloved children, how many are asking themselves with curiosity what will happen at this instant! This generation is increasingly offending Our Sacred Hearts every instant more and more; you live spiritual euphoria one instant and, return to daily life, you fall in the acts that make up part of life. You live by the human ego, the "I am" and not "GOD IS HE WHO IS".
Beloved children, Italy will suffer, Rome will be surprised and My children will weep. At this instant great confusion has invaded the Mystical Body, which is in confusion.
The earth continues shaking fiercely: NATURE WANTS MAN TO FULFILL THE FUNCTION FOR WHICH HE HAS BEEN CREATED: BEING A WORSHIPER OF THE MOST HOLY TRINITY.
The instant is becoming fierce for My children, developments are confusing the Mystical Body of My Son, therefore I call you to redouble not only prayer, but the practice of a constant life of faith, hope, charity and effort.
You will receive novelties coming from the Universe.
Water will be the cause of struggles in various countries due to the contamination of this same water.
Beloved children of My Immaculate Heart:
CONVERT, DO NOT WAIT! BE FAITHFUL TO MY SON, PRACTICE THE DUTIES OF THE GOOD CHILD OF GOD, BE FRATERNAL AND CHARITABLE.
Receive My Maternal Blessing, you are My beloved children with whom I insist so that you are not lost. I love you.
Mother Mary
HAIL MARY MOST PURE, CONCEIVED WITHOUT SIN
HAIL MARY MOST PURE, CONCEIVED WITHOUT SIN
HAIL MARY MOST PURE, CONCEIVED WITHOUT SIN