Sunday, January 14, 2018
Message from the Blessed Virgin Mary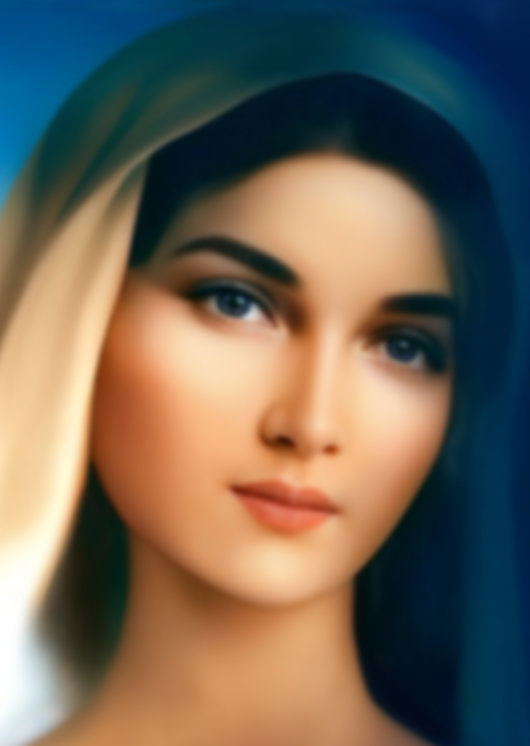 Beloved children of My Immaculate Heart:
YOU ARE MY SON'S PEOPLE, THE PEOPLE WHO ARE BLESSED WHEN LIVING, WORKING AND ACTING IN THE DIVINE WILL.
Everyone is worth Eternal Life! Hence My constant Call for you to voluntarily rekindle the Love of My Son that dwells in you and thus be able to be obedient instruments in the hands of the Divine Potter.
You fall, stumble, get up and continue making serious mistakes by refusing to find the teachings that are implicit in every stumble, voluntary or not. It is man who falls and continues in the same mistakes because of not reconsidering.
You do not know, do not like, do not want, do not long for My Son's Love: you believe that you love My Son. I invite you to look within yourselves, I invite you to look at your works and acts ... YOU ARE TEMPLES OF THE HOLY SPIRIT! (cf. I Cor. 3,16).
A very great evil is corroding man's spiritual organism; it debilitates him, causes him to be weak in all aspects of life.
A very great evil is leading to man's stagnation in spiritual growth.
A very great evil remains hidden from the one who suffers from it, and when it comes out into view, it has devastated brothers and sisters, it has destroyed, separated, disunited, it hurt other brothers and sisters as well as whoever suffers from it ...
The man suffering from this evil points at his brothers and sisters, but does not recognize his wrong action or conduct. This is the great evil in man at this instant: he does not want to be corrected, he does not allow an error to be pointed out to him, since he wants to live the Gospel at his convenience, but like the Pharisees, he accuses and does not apply in his life what he preaches (cf. Mt 23,1-3).
THIS VERY GREAT EVIL IS PRIDE (Cf. I Jn 2,16, Prov. 14,3, 11,2).
It is the evil that slowly poisons man, since whoever suffers from it does not accept that he is suffering from it, because he does not see it.
AS A MOTHER I WANT YOU TO ANALYZE YOURSELVES AND RECOGNIZE WHETHER YOU ARE SUFFERING FROM THIS EVIL:
Do you not submit to any instruction?
Do you impose your will despite the fact that this means losing those who make up your own square meter?
Do you not fulfil what you say to others?
Are you demanding with your brothers and sisters, but not with yourselves?
Do you need to keep the first place and keep track of everything in which you involve yourselves?
Do you blame others for the mistakes you make?
Can you not ask for forgiveness, and are you implacable?
Do you like feeling loved and admired, but are you incapable of loving or admiring a brother or sister?
Are you partial in what suits you?
Are you unyielding faced with the thoughts of other brothers and sisters? ...
HOW MANY PAGES I WOULD HAVE TO SET OUT IN ORDER FOR YOU TO ANALYZE YOURSELVES! I HAVE PRIORITIZED WHAT IS RELATED TO YOUR BROTHERS AND SISTERS, TO FRATERNITY.
Beloved children, you live with so many spiritual deficiencies due to not being concerned with becoming better. Each instant leads you to magnify your "ego" and to immunize yourselves against LOVE.
Whoever rejects LOVE moves away from the source of the Most Holy Trinity. Lack of love leads to impiety, to restlessness, to shortcomings in all areas and therefore, whoever maintains this essential deficiency in their life, in order to leave behind the chains that prevent them from having a heart of flesh, to forgive or forgive themselves, must make a firm purpose of amendment, so that they may have spiritual wings to scale the heights.
Beloved children of My Immaculate Heart:
THE DEVIL DOES NOT LOVE GOODNESS, HE DOES NOT WANT YOU TO CHANGE WHAT BINDS YOU AND PREVENTS YOU FROM WALKING.
The strategy of the devil is to feed aversion, to feed pride, impiety, disrespect for norms. The devil is pleased to see you transgress God's Law, he is pleased that you are becoming creatures that hurt, scourge, kill, destroy your brothers and sisters.
Beloved children of My Immaculate Heart, in the midst of hunger, of pain, of sickness, of sacrifices, of waiting, of the anguish of stumbling, of the selfishness of others, of mistreatment, of accusations, of injustice ... You have that which those who oppress you lack, encouraged by evil.
YOU HAVE THE GREAT TREASURE OF LOVE, WHICH CONQUERS WHAT MAN BELIEVES IMPOSSIBLE (cf.
Col. 3,14, I Cor. 13,2 and 13).
LOVE MAKES THE SMALL GREAT; IT MAKES WHAT IS APPARENTLY UNNECESSARY, NECESSARY. TO DISEASE IT GIVES RELIEF; TO SACRIFICE, ITS REWARD; TO ANGUISH, CALM; IT OVERCOMES SELFISHNESS. IT PROVIDES YOU WITH THE BALSAM THAT DIVINE LOVE GIVES TO THOSE WHO LOVE
IT...
The lack of Love in this instant is the result of the continuous rejection that satan has inserted into the mind of some of My children towards their brothers and sisters, but more seriously, towards the Divine.
The bad instructions and the permissive and improper concepts of some ideologies have hardened hearts so that they manifest themselves against all that is good, and thus the devil has succeeded it that man besmirches what is Sacred.
The devil fears good, and you, by not working or acting in the good, become those driving evil. You must be aware of it and not help evil to expand, but may you on the contrary be those who expand good throughout Creation.
I see My children contenting themselves with good intentions formed in the mind. Painfully, this becomes a spiritual abstraction: everything remains in the intellect and you do not bring it to concrete realization because of not having a strong and determined will to make the intention a constant and strong thought which becomes concrete in a real act. You live in the ambiguity of interpretation at your convenience.
Beloved children of My Immaculate Heart, nourish yourselves with good, seek the good, be hungry for good and be thirsty to share good with your brothers and sisters.
I have called you to know My Son deeply; if you do not see My Son in your brother or sister, you will not know My Son deeply.
THIS IS THE INSTANT TO PUT INTO PRACTICE WHAT SACRED SCRIPTURE SAYS (Cf. I Tim 3,16).
AT THIS INSTANT YOU ARE PARTICULARLY GIVEN OVER TO WHAT EVIL HAS WOVEN IN ORDER TO DRAG HUMANITY TOWARD THE LOSS OF ETERNAL LIFE.
BE STRONG IN LOVING AS GOD LOVES YOU AND WEAK IN THE LOVE THAT THE WORLD TEACHES (Cf.
Jn 3,16).
Beloved children of My Immaculate Heart, Nature strikes the earth forcefully. The earth shakes strongly as if it wanted to dislodge evil.
The United States continues its suffering and Europe continues being scourged by terrorism.
Italy and Spain suffer through man and through Nature.
The sea is agitated, the boat is agitated, prayer is necessary.
MY BELOVEDS, I DO NOT REVEAL THIS WORD TO YOU IN ORDER FOR YOU TO READ IT AND FORGET IT, BUT SO THAT YOU PUT IT INTO PRACTICE AND THUS BE MORE GODLY AND LESS WORLDLY (cf. James
1:22).
My Heart is man's refuge. Do not fear, I intercede for you, I bless you.
Mother Mary
HAIL MARY MOST PURE, CONCEIVED WITHOUT SIN
HAIL MARY MOST PURE, CONCEIVED WITHOUT SIN
HAIL MARY MOST PURE, CONCEIVED WITHOUT SIN