Saturday, January 20, 2018
Message from the Blessed Virgin Mary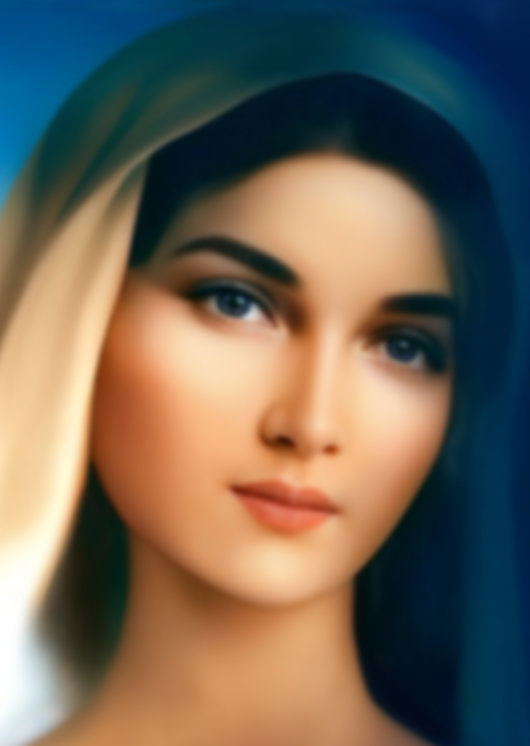 Beloved children of My Immaculate Heart:
MY CONSTANT WATCHING OVER YOU CAUSES ME TO INTERCEDE WITH GREAT STRENGTH SO THAT YOU MAY NOT BE LOST.
Humanity constantly appeals to "its rights" due to a false concept of freedom.
This generation is plunged in loveless, moral debauchery, lack of faith, social decadence, incongruity of concepts and norms, spiritual defiance, the acceptance of evil ideologies, mental numbness, in the loss of values and in the denial of God. These are some examples about human disrespect towards the Will of God, about how man constructs his passage on Earth in all respects, and about his relationships with his brothers and sisters and the Creation surrounding him.
Children, man wanders on Earth in search of something more that pleases his insatiable appetite, not exactly for good, but for the unknown, for that which leads him to break the Law of God and men, for what gives him dominion over others and world supremacy. In this process, Humanity falls by the mere fact of wanting to be more than one's brothers and sisters and enters into personal pride that is transferred to the environment in which it moves, carrying with it the constant thought of being independent and subjugating others.
Some of My children do not believe that My Son and I are continuing to warn you and explain to you about the work and action of faithful children of God...
IN CONSTANTLY CALLING FOR THE CONVERSION OF MY SON'S PEOPLE, I SEND THIS WORD SO THAT
IT MAY BE AN INDUCEMENT THAT EACH PERSON FREELY DECIDES EITHER TO ACCEPT AND WALK
TOWARDS CONVERSION OR REJECT AND TAKE OTHER MEASURES OR TO WITHDRAW INTO WHAT IS WORLDLY AND GIVE THEMSELVES OVER TO THE EVIL PATHS OF PERDITION.
My duty as Mother is not to rest from My Call. My Heart burns with Love for everyone, children, for everyone. The instant has come when the thought and goal of My children has come to focus on what has long been the plan of satan: to distance you from the Divine in order to enter into man's work and action, to take possession of what is Divine in order to deceive man and take man in his clutches.
How many have been My Calls! How much pain Humanity has experienced because of the evil work and action of man, who has looked with indifference on the life and suffering of innocent creatures!
In this instant, due to the constant contamination of the Earth, man's organism has become weakened, being more resistant to medication and diseases are arising forcefully.
MY CHILDREN, THE THIRD WORLD WAR IS NOT A UTOPIA, NOR DO I TELL YOU ABOUT IT IN ORDER TO CAUSE YOU FEAR, BUT SO THAT YOU STAY ALERT AND KEEP MY WORDS, SINCE AFTER THE STRUGGLE FOR WORLD LEADERSHIP, THIS WAR WILL COME TO A CLIMAX IN A WAR FOR THE POSSESSION OF
WATER. The pollution to which this precious liquid, essential for life, has been subjected, will cause various countries to end up fighting to own water. This liquid that you disdain, that you allow to be lost as if it were nothing - this liquid, children, will become the final reason for the Third World War.
THIS GENERATION'S FOLLY IS THE CAUSE OF THE DESIRE FOR POWER AND OF PRIDE (I Jn 2, 16b, II Tim 3: 1-5). The one who has well-being wants more and more, the one who attains professional achievements desires what others do not have, the one who has acquired a material good wants to have the best and greatest material good in order to be admired .... YET IN RELATIONSHIP WITH GOD YOU DO NOT INTEND TO GROW AND TO STAY CLOSER TO HIM, but wish to have places of honor in parish groups or to be among those who can be identified at the Altar, and to be admired by your brothers and sisters.
I see that some of My children participate in what the eyes of their brothers and sisters can see, but their acting spiritually is not in harmony with their daily life. My Son does not want you to stay in a place in order to be admired, but that each of you shine and that there is the ardent desire "ad extra" to participate in everything concerning right conduct and the spiritual growth of your brothers and sisters.
DO NOT BE STUMBLING BLOCKS FOR YOUR BROTHERS AND SISTERS, DO NOT BE BEARERS OF SPIRITUAL ENVY,
DO NOT CREATE THE STICK BY WHICH YOU WILL THEN BE MEASURED, (Cf. Mt 7,2b), DO NOT OBSCURE
THOSE WHO SERVE GOD WITH A GENEROUS SPIRIT (Cf. Ps 50, 12b), AND KEEP IN MIND THAT MY SON GIVES THE HUMBLE AND SIMPLE OF HEART (Mt 5,3-4) HIS WILL SO THAT THEY MAKE IT KNOWN TO THE HOLY REMNANT.
I see how the churches are burning with fire in a rebellion that is beginning against the People of My Son and His Institution. My children are not pausing to think with their hearts. They do not believe that they are forging their own spiritual destruction: a church can be rebuilt, an act against God is a great sin, and I pray that they repent before the night comes.
In this instant there are so many who are issuing statements about the WARNING and I hear them giving false interpretations of what the WARNING really is. This great act of Mercy for Humanity is personal yet at the same time for all Humanity.
It is personal because everyone will see themselves as they are, and for Humanity because all will see how two celestial bodies colliding minimally at a great distance from Earth will cause great light and fire that will fall in some places of the Earth, instants prior to the WARNING. MY CHILDREN, THE WARNING IS NOT THE GUARANTEE OF CONVERSION FOR ALL HUMANITY, BUT ON THE CONTRARY, THOSE WHO REBEL ON SEEING THEMSELVES HAVING COMMITTED SO MANY OFFENSES WILL BE MORE IMPLACABLE AGAINST THE PEOPLE OF MY SON.
Beloved People of My Son:
Terrorism increases, it is preparing to strike with its wrongful actions. Pray for Italy, Spain and Portugal.
The earth is shaking more, the fault lines existing in the depths of the earth are shaken in sequence and My Children will suffer from earthquakes increasing in their intensity.
Communism lies in wait, disguised as good, taking power at this instant.
The sea is stirred up and penetrates into the land, exposing the evil that pollution has caused. There will be phenomena that will cause air and maritime navigation to stop for a while.
MY BELOVED, DO NOT FEED HARDNESS OF HEART (Ps 95,8-9, Heb 3,7-9), COME TO GOD WITH A HEART OF FLESH, (Ez 11,18) LEAVING BEHIND PRIDE AND THE JUDGMENTS THAT YOU MAKE SO TRIVIALLY.
I call you to look at Me, to walk together with Me so that I can guide you to My Son, keeping in mind that the life of My own is a Christ-centered life. (Cf. Phil 1,21).
FULFILL THE COMMANDMENTS AND BE BEARERS OF THE BEATITUDES. THUS YOU WILL MULTIPLY HEAVENLY GOODS.
I love you, I bless you.
Mother Mary
HAIL MARY MOST PURE, CONCEIVED WITHOUT SIN
HAIL MARY MOST PURE, CONCEIVED WITHOUT SIN
HAIL MARY MOST PURE, CONCEIVED WITHOUT SIN