Friday, January 26, 2018
Message from Our Lord Jesus Christ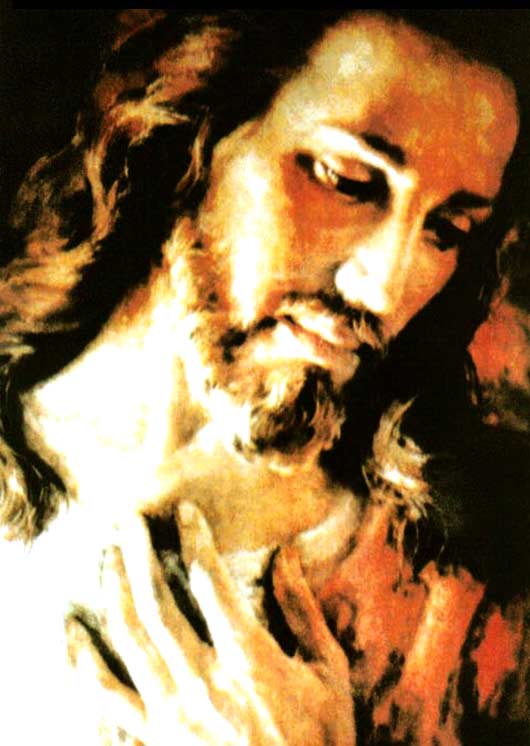 My beloved People:
I AM SPEAKING TO YOU, HUMANITY! I CALL YOU AND YOU DO NOT HEED ME!
AS IN THE TIMES OF SODOM AND GOMORRAH (Gen 19,23-29) THEY WERE MOCKING ABRAHAM, SO THEY NOW MOCK AND WISH TO DESTROY MY FAITHFUL INSTRUMENTS.
My Holy Spirit descends in order to make explicit to Humanity what man does not yet understand or does not intend to understand.
My Holy Spirit explains to the humble, to those who wish to do good, to those who love Me and obey Me.
Man is moving in a cycle in which he goes back, walks in the footsteps of the harmful errors of the past, augmented by greater evil with the invention of some harmful innovations in which man takes pleasure.
My People:
YOU ARE NOT IMPROVING, YOU HAVE RECOURSE TO THE GROWING DESIRE TO EXPLORE EVIL AND REJECT MY CALLS IN ORDER TO BE PART OF THE DARKNESS THAT THE DEVIL OFFERS TO MAN.
To be a believer it is not enough to say, "Lord, Lord!" (Mt 7,21). I have called you to obedience and you mock My Requests. Some who do not know Sacred Scripture do not know that only one family was freed from the destruction of Sodom and Gomorrah: the family of Lot, a man who was pleasing in the eyes of My Father, being righteous (cf. II Peter 2,6-8). The obedience was imposed on him that no member of his family should look back, but his wife looked back and she herself stayed in her disobedience (cf. Gen 19:26).
THOSE WHO DO NOT OBEY REBEL AGAINST THE DIVINE WILL AND REMAIN AT THE MERCY OF WHAT OUR MERCIFUL LOVE HAS ANNOUNCED.
THUS IT WAS, IS AT THIS INSTANT AND WILL BE IN THE FUTURE
I see great confusion among men, I see great sins on Earth, I see how man is attached to evil and along with this commits atrocities, aberrations, killings, excesses, lust, fornication, adultery, abuse of the innocent; use drugs, tell lies and I see the audacious ones who swear in Our Name... (Cf. Mt 5,34).
The mind and thinking of man have become contaminated with anger, and it lives in man, who acts and reacts against his brothers with a heart hardened by the constant contagion of evil, vanity, drug addiction and pride.
Humanity has rebelled against Me and does not want to serve the good, it closes its ears in order to not listen to those whom I entrust with the task of alerting their brothers and sisters. You defy Me, you do not need Me, you do not give Me the honor that you must render Me. This generation believes itself invulnerable but it is easy prey for the devil when it departs from My Ways.
The Truth is rejected, My People are despised and offended. If the Truth were accepted, Humanity would return to the good and would fulfill My Will and would therefore be more of Heaven than of Earth.
At this instant the devil has set himself the task of recruiting souls for perdition. The infernal legions are possessing those who are empty of Me, the spirits of evil possess the lustful who do not make amends and all who constantly live in disobedience. The spirits of evil possess those who are in constant sin and do not want to repent.
THE DEMON IS NOT TEMPTING MAN ONLY FOR PLEASURE, BUT BECAUSE YOU ARE APPROACHING AN ACT OF MERCY BY OUR HOUSE: THE WARNING.
Contempt in the way of dressing reflects the state of sin that the human creature may be carrying inside. Women dress like men and men like women, Humanity's path has been deliberately truncated for the benefit of a few and Humanity has responded in the affirmative.
THEREFORE I DEMAND YOU TO BECOME CONSCIOUS OF YOUR WORKS AND ACTS. CONTINUOUS SIN IS
VERY SERIOUS FOR THE SOUL. You need to regain moral order in society, the moral order consistent with Our Will, and not be acquiescent towards the sins that undermine your souls. Sin is sin, and if you continue without repenting, that sin will deprive you of Eternal Glory.
I SEE THE EARTH FROM OUTSIDE AND IT IS IN CHAOS. Man lives in the present and does not stop to think about tomorrow. Man influences the Earth; the sinfulness of man that comes out of him manages to transform man's environment. That is why I have called you to conversion, to the Salvation of the soul, to preparing to unite yourselves with My Father's House by being those who accomplish and emanate goodness. Receive me and adore me, for that there is no god greater than I. (Cf. Ps 86,8)
Nature is rebelling because of the inclination of man who loves himself and not Me. Men consent to sin and some collaborate with sin - this is grave. My people must not act in this way knowing the evil that they commit.
Sin influences what surrounds man until it alters what was previously beneficial for the life of the human creature. You are surrounded by those who, knowing that making use of nuclear energy will cause an unprecedented catastrophe, will use it without thinking.
The unhealthy fashions of those who design them are directed to the perishing of the human creature's morality. Women dresses immodestly, exposing their bodies without shame, men uses women's clothes facing the pressure of rebellious society. The lack of understanding among human beings leads to the human creature's desiring freedom and apparent loneliness; instead evil takes advantage in order to lead the weakest astray and to destroy families, destabilize society and Humanity.
MY BELOVED PEOPLE, IT IS TIME TO COLLECT THE HARVEST, DO NOT TAKE STEPS BACKWARDS, STAND FIRM.
Just as man rebels against what is natural, so nature invades the earth, washing the sin that this earth has because of perverted man.
LOOK UP, YOU WILL BE ASTONISHED.
PAUSE, SEE THE SIGNS OF THIS INSTANT! IT IS NOT ENOUGH TO BE AN APPARENTLY GOOD PERSON.
The earth will be threatened and man will bend his knees: some will do it without being genuine.
Italy will suffer as if presaging the pain before its invasion. Sin has become a collective sin, accepted and like an agreement between men you take it with great lightness, such that the burning of My churches will not be viewed with horror, but as an act of man's supremacy towards Our Trinity. My children are persecuted.
Chile will suffer again, Ecuador will be shaken. Volcanoes will make man afraid.
My People suffer through those who possess temporal power. The faith of My Own will be demonstrated and I will strengthen them by sending them My Angels.
Some roads will melt, Humanity will suffer this phenomenon frequently. Plagues will increase due to the genetic modification upon which man has embarked.
The United States suffers and shakes, My children are on alert.
Transport will become more difficult for man due to the climate.
The wolf continues to be dressed as a lamb; it accumulates power and will not be benevolent.
My People, My beloved People:
WITH WHAT PAIN I LOOK AT YOU: A PEOPLE WITHOUT GOD IS A LOST PEOPLE!
Do not imitate those who live in evil. Be different, change now!
I bless you, I protect you, I call you to turn away from evil. My Blessing is with you.
Your Jesus
HAIL MARY MOST PURE, CONCEIVED WITHOUT SIN
HAIL MARY MOST PURE, CONCEIVED WITHOUT SIN
HAIL MARY MOST PURE, CONCEIVED WITHOUT SIN