Monday, January 29, 2018
Message from Our Lord Jesus Christ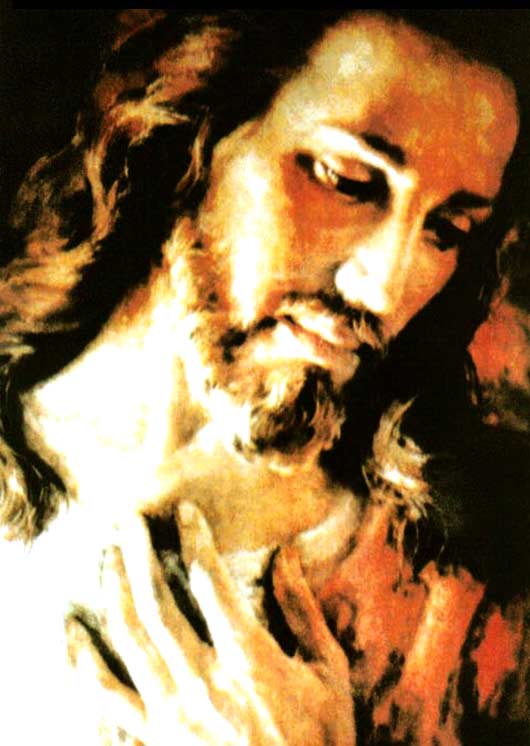 My beloved People:
I CALL YOU TO THE OBSERVANCE OF MY WORD. MY PEOPLE WOULD HAVE WHAT THEY NEED TO
SUBSIST IN PEACE AND IN HARMONY WITH THEMSELVES AND WITH CREATION IF THEY HAD FULFILLED THE DIVINE LAW.
This Word of Love is so that each one of My People keeps the Law given by My Father for all generations. I will not explain My Word to you differently or allow you to continue living in the unreality of false ideologies, false illusions nor will I allow you to live by momentary emotions. I call you because I desire "that all may be saved and come to the knowledge of the truth" (1 Ti. 2,4).
My People must nourish themselves with My Spirit in order to bear fruit of Eternal Life. Thus, My Word is a guide so that My children examine their works and actions and not grieve My Holy Spirit.
MY WORD IS LIFE, IS PRAXIS, IT IS SPIRITUAL EVOLUTION...
THIS WORD IS NOT THE FRUIT OF A HUMAN EGO, IT IS NOT THE FRUIT OF A HUMAN IDEAL. THIS WORK IS MY WORK AND THUS MY SPIRIT MOVES HEARTS.
Humanity is limited to looking at its life on Earth as something merely physical, forgetting or being unaware that it has a spiritual organism that it needs to strengthen, nourish and cause to grow properly.
I AM NOT A ROUTINE GOD, I WANT MY CHILDREN TO COMMIT TO BEING DISCIPLES WHO TAKE MY WORD TO YOUR BROTHERS AND SISTERS IN ORDER THAT THEY WAKE UP; do not allow obstacles to hold you back, be conscious that you have My Love, and My Love causes you to be tireless workers in My Vineyard.
Quietude is not poor company, but everything has its instant and its place, so at this instant when Humanity is not seeking Me, MY FAITHFUL MUST LOOK FOR SLEEPING HUMANITY AND BE TIRELESS WITNESSES TO MY WORD SO THAT YOUR BROTHERS AND SISTERS WANT TO KNOW ME.
You must maintain equanimity, and for this you must be still and immerse yourselves in Me, nourish yourself with Me, but you must not remain inactive. My workers work unflaggingly, knowing that evil is upon souls, leading them to think that everything is good.
WORKING AND ACTING IN MY WILL IS FOOD FOR THE SOUL, AND SO YOU, MY PEOPLE, MUST SHARE SPIRITUAL AND PHYSICAL FOOD WITH YOUR BROTHERS AND SISTERS.
Some of you, My children, are good servants, but you rather use feelings, emotions, wishful thinking in order to carry out a work, leaving aside obedience to My Will. And it is not that these faculties are improper, only that good servants possess them, and you must know how to elevate them to obedience to My Will so that you are good masters. I need you to have regenerated faith, revived faith, firm faith, which is not an instantaneous illusion, so that you may be firm conductors of My Love, My Sacrifice, My Truth.
My Beloved People, I do not want you to use force towards your brothers and sisters in order that they know Me, for you will have the opposite effect. Force makes My children resist hearing about Me, resist learning about Me, resist loving Me, and, on the contrary, the human creature rebels against Me because of the demands placed upon it. It is obvious that at this instant it is necessary for all people to know Me so that the evil spirits that wander throughout the world do not proliferate (Eph. 6.12).
THE HUMAN EGO, HAVING GROWN THROUGH CONSTANT ECONOMIC, SOCIAL, PROFESSIONAL AND OTHER TRIUMPHS, HAS CAUSED MY CHILDREN TO DARE TO TELL ME HOW I MUST ACT AND WORK FOR THEIR WELL-BEING. This is the result of human arrogance, it is the result of pride, is the result of the human lack of awareness that has forgotten that man is man and that I AM YOUR GOD (Ex 20,2).
At this instant, Humanity suffers through Nature and will continue suffering, since when the earth awakes it awakes in sequence: from North to South, from East to West. The earth shakes with greater intensity. Water will not only come to the land from above, but the seas and rivers will saturate it, the streams will become great rivers and the land will be less stable. Humanity has weakened its home, abused it.
You see and will see signs in the sky, which you attribute to phenomena with scientific names, yet it is not so. The moon affects the Earth, the tides and man's psychological state. Even so, you do not listen to Me when I call you not to expose yourselves to the sun's rays which, with greater force and amount of radiation, are causing damage to the skin of the human body and altering man; you go along with this incomprehensible way of acting by some of My Own.
I CALL YOU TO SEEK ME, TO QUIETEN YOURSELVES AND TURN AWAY FROM WHAT IS WORLDLY SO
THAT YOU CAN HEAR ME AND MANAGE TO COME OUT OF THAT CHANGEABLE STATE IN WHICH YOU ARE LIVING. YOU, MY PEOPLE, MUST KNOW ME SO THAT THROUGH YOUR TESTIMONY YOU ARE BE BEARERS OF MY LOVE AND BROADEN IT TO YOUR BROTHERS AND SISTERS.
This generation has separated itself from the waters of good and has cast itself into the waters of evil. FACED WITH
THIS FOLLY OF MY CHILDREN I WILL SEND MY ANGEL OF PEACE, THE WITNESS TO MY LOVE WHO, WITH MY WORD AND MY LOVE IN HIM, WILL MOVE YOU TO THE FULFILLMENT OF MY WILL. And you, return to Me with hearts thirsting for Me. (Cf. Jn 7:37).
My beloved People:
The sea will cause unforeseen events, some boats will not return to land.
The United States suffers, its soil shakes forcefully, you must pray. Mexico will be looked upon with grief.
Germany is prey to terrorism, and in the Middle East this causes devastation.
My People, come to Me, do not go away, without Me you suffer, do not worsen your suffering.
I BLESS MY CHILDREN, THOSE WHO EXPAND MY LOVE FOR HUMANITY.
I love you, My People.
Your Jesus.
HAIL MARY MOST PURE, CONCEIVED WITHOUT SIN
HAIL MARY MOST PURE, CONCEIVED WITHOUT SIN
HAIL MARY MOST PURE, CONCEIVED WITHOUT SIN