Thursday, February 1, 2018
Message from the Blessed Virgin Mary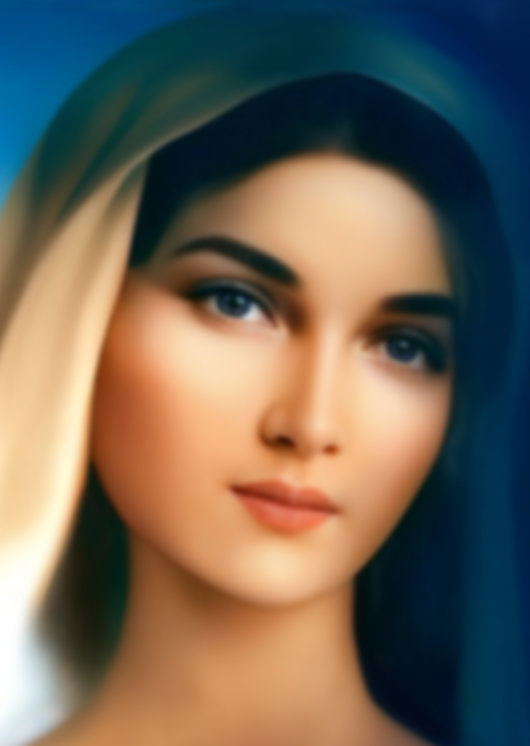 Beloved children of My Immaculate Heart:
IN THE COMING COMMEMORATION OF THE PRESENTATION OF MY SON IN THE TEMPLE AND MY
RITUAL PURIFICATION, I CALL YOU, MY CHILDREN, TO PURIFY YOURSELVES AND TO DISTANCE
YOURSELVES FROM EVERYTHING THAT SEPARATES YOU FROM THE TRUE PATH TO ETERNAL LIFE.
At this instant salvation of souls is dependent on the human creature's awareness, strength of will, knowledge of what the Divine Will asks of Its children, on the perseverance, of the obedience and preparedness to distance itself from what keeps you from finding the "Way, the Truth and the Life" (Jn 14.6)
Each one of you, children, has formed your own concept of time, within which you give free rein to what is not allowed for the children of God, forgetting that human time is a temptation to desiring what is of the world, giving thought the permission to work and act within what everyone believes is their time; besmirching the soul, corrupting thought, keeping the mind in wanting all the wrong that you encounter, and throwing itself unrestrainedly into the acts and works that lead you to sin again and again.
YOU FORGET, WITH YOUR OWN CONSENT, THAT TIME IS GOD'S AND THAT IT IS THE ETERNAL PRESENT OF GOD WHO ARRANGES ALL THINGS. And you comfortably adjust everything to a personal time in which you think that everything moves and will adjust itself according to you. But the reality is far from that perception of the time that My children have imagined for themselves.
How much time of life does each one of you have to amend your errors, repair acts of disrespect towards the Divine Will or those who make up your own square meter?
How much time do you have to rectify incorrect or premeditated judgments against your peers?
Nobody knows that! Therefore, nobody can be sure of having the time that you think you have in order that, after a life of offenses against God and your neighbour, you would have an instant to repent, although I plead for this.
MY CHILDREN, YOU CANNOT LIVE WAITING FOR A FINAL INSTANT IN ORDER TO REPENT. Life is made up of a succession of works and acts with which the human creature is gaining merits to attain Eternal Life. NOT ALL WILL HAVE THAT INSTANT OF REPENTANCE. Because of this, I call you again and again to live in the Divine Will and not to have vain premeditated expectations, to live in sin at your convenience and to ask for forgiveness at your convenience.
The life of each creature of God is a treasure and as such you must protect it so that it is not touched by anything that is improper, anything that stains it, contaminates it. My Son does not reject a truly repentant creature, but do not live in sin wilfully expecting to gain Eternal Life.
I point this out, children, because of Humanity's extreme lack of constancy. You propose to live within the Divine Commandments and in an instant you forget it, and so it is that the world has become contaminated by aberration, offenses against My Son are constant, you live detached from Him, totally ignoring Him.
Some spend their lives in a form of duality and this danger leads them to the wrong path, being permissive depending on the circumstances.
MY CHILDREN, A SINCERE EFFORT TAKES YOU AWAY FROM WHAT CAUSES YOU TO SIN. I ASK FOR AWARENESS SO THAT YOU KEEP IN MIND THAT YOU MUST LIVE REMEMBERING THAT MY SON IS ALIVE AND IS WAITING FOR YOU; WITHOUT HIM YOU ARE NOTHING.
On this day when My children bless candles in Eucharistic Celebrations and use them in the days of darkness or emergency due to natural phenomena, like a sacramental, you must bear in mind that the sacramental protects when the human creature keeps its soul burning like a candle filled with the fire of the Holy Spirit.
Come to bless candles and come to cleanse the candle of your thought, mind, memory, sight, hearing, palate, smell, touch, and cleanse the spiritual senses so that they burn in Love and Truth before My Son.
My Beloved People:
THIS INSTANT HAS MOVED ON AHEAD, SPINNING QUICKLY, AND YOU ARE LIVING IN A FALSE SENSE
OF SECURITY THAT THE DEVIL PRESENTS TO YOU SO THAT YOU SLEEP AND DO NOT MANAGE TO WAKE UP TO THE TRUTH.
This human pride leads man to be attracted by evil. In denying the Omnipotence of God, the human creature is permissive towards evil and its machinations.
EVIL WILL NOT TRIUMPH, it has an instant in which it attacks the People of My Son through fashion: women and their clothing are cause of shame for this Mother. My Son's People undergo persecution, suffering, threats, acts of impiety as a cause of the early sacrifice of My Own.
WHEN EVIL BELIEVES THAT IT IS DOMINATING THE EARTH, I WILL COME TO MY SON'S PEOPLE AND WILL SNATCH THEM FROM THE EVIL ONE AND DELIVER THEM TO MY SON.
I WILL DELIVER HIS PEOPLE TO HIM DRESSED IN WHITE AND WILL SILENCE THE DEVIL IN THE NAME THAT IS ABOVE ALL NAMES.
At this instant social, political, alimentary and religious convulsion in various countries is imminent. Terrorism, together with communism, have set out to destabilize Humanity and to strike in one place and another. This action will be so frequent that My children will not feel secure anywhere. Heaven is sending signals and signs at this instant and Humanity is not profiting from them, this being at the same time part of the devil's plan to keep you in ignorance.
Pray with your hearts, united as families, be present to receive My Son in the Eucharist properly prepared, be generous with your brothers and sisters and be careful in your work and action.
THOSE WHO DISTANCE THEMSELVES FROM MY SON ARE EASY PREY FOR THE DEVIL AND HIS MINIONS. DISHONESTY IS GREATER THAN IT SEEMS.
THE PEOPLE OF MY SON ARE HARSHLY JUDGED AND CORNERED, THEREFORE USE TECHNOLOGY FOR GOOD AND GAIN THE UPPER HAND OVER EVIL.
Spiritual jealousy is the worst poison, since it brings about the separation of those who stand beside My Son.
You, children, take delight in hasty prayers and this must not be: may you not only be fervent but authentic, souls of authentic witness - do not live half-heartedly, be love and the rest you will receive in addition.
The time will change in an instant, the radiant sun will illuminate a place and immediately that place will be darkened.
The water of the seas will remain calm and within instants will change, and the storm will arrive - this because the interior of the earth is moved by the constant frictions in the tectonic plates. Earthquakes will continue on Earth, the chain of earthquakes will not stop. Some countries will be shaken in order to oblige governments to accept the help of others, and in this way innocent peoples will find relief from oppression. In other countries, the succession of events will be an executioner.
Do not forget the United States, pray for that nation.
Mexico has endorsed sin. South America will surprise you. The waters will be more contaminated by radioactivity.
As Mother of Humanity I call you with My Heart to return to Divine Love and reject worldly pleasures, although these are increasing, drawing great calamities. Do not be prey to evil.
I, AS MOTHER OF DIVINE LOVE, INVITE YOU TO BE MORE SPIRITUAL AND LESS WORLDLY.
Come to Me, I lead you to My Son. My Blessing is with you, beloveds of My Heart.
Mother Mary
HAIL MARY MOST PURE, CONCEIVED WITHOUT SIN
HAIL MARY MOST PURE, CONCEIVED WITHOUT SIN
HAIL MARY MOST PURE, CONCEIVED WITHOUT SIN