Saturday, February 3, 2018
Message from the Blessed Virgin Mary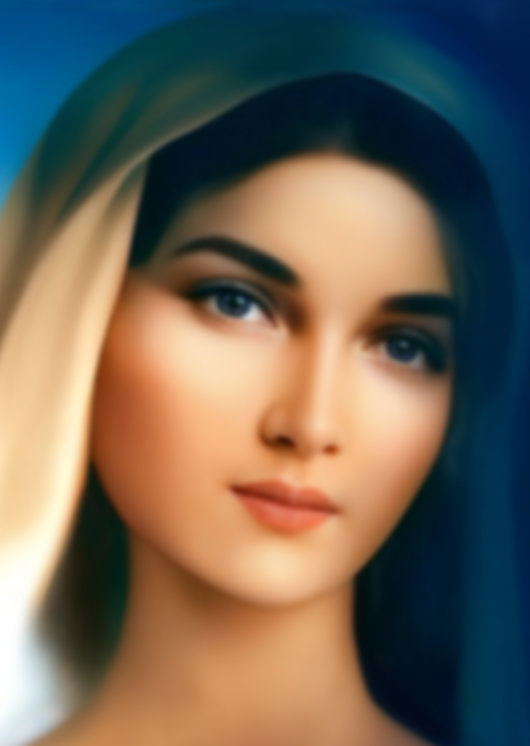 Beloved children of My Immaculate Heart:
FROM THE INTIMACY OF MY HEART I BLESS YOU.
YOU ARE MY SON'S PEOPLE AND WILL NOT BE ABANDONED.
In these instants in which evil has spread through the Earth and has taken hold of many of My children, and as
Humanity has lived inwardly absorbed in error, it has become increasingly hard-hearted, acting in spiritual regression.
You are not called to serve two masters ...
I have not called you to serve the world ahead of My Son ...
My Calls have been constant so that you would have knowledge about what happens when you turn away from the Divine Will. The clarity of My Words through My Appearances and Revelations has been so that you would stay alert and not be prey to evil, but you have disobeyed.
People of My Son, watch over the Truth and continue in union with Our Sacred Hearts, be true brothers and sisters, without strife or falsehood. THE ONE WHO THINKS THEY ARE THE GREATEST AND MOST IMPORTANT AMONG YOU, IS THE SMALLEST AND WILL NOT BE ABLE TO SEE PAST THEIR FOOLISHNESS UNTIL THEY ARE HUMBLE.
I see many of My children praying the Holy Rosary, I see them going to the Holy Mass and receiving My Son, I see them helping in the churches, yet at the same time, I see these creatures taking possession of what does not belong to them: Truth and judgment, taking a platform in church so that their brothers and sisters admire them.
How much zeal there is in opulent hearts who believe they have the Truth and privileges in My Son's House! Woe to those creatures, stumbling blocks that are weapons of evil for obstructing the Will of My Son - poor creatures!
I HAVE CALLED YOU TO BE LOVE AS MY SON IS TOWARDS YOU, BUT WITH SADNESS I SEE A CONTRARY REACTION.
What happens to My children when they forget the Gift of the Word? They say that they have not killed any brother or sister, yet I call them to examine themselves within.
Do you know, children, that the tongue is a double-edged sword and everyone uses it to praise, bless or curse? It is just that you have forgotten that the one who curses is exposed to that curse returning to them, just as the one who blesses knows that the blessing returns to them.
The evil that you desire for your brother or sister is the evil that you are preparing for yourselves without even thinking about it.
As Humanity you are hanging by a fine thread. Great nations, which you know well, have made technological advances in the field of armaments: they have devoted themselves to preparing to defend themselves from possible attacks by other countries. Because of so much advancement, previous wars that the Humanity has suffered seem like a game with respect to the armaments of war that a great majority of countries have at this instant, although in smaller quantities than the great powers.
MAN HAS MADE THE EARTH IS LIKE A MINEFIELD, UNSAFE FOR ALL HUMANITY, BECAUSE IN AN INSTANT THE PRIDE OF SOME LEADER WILL BE CRUSHED AND THAT WILL BE ENOUGH TO START WHAT WILL BE CARNAGE FOR HUMANITY.
It is not necessary for men to move from one country to another, only one order and the earth will burn. For this reason I have insistently called you to review yourself internally, for each one of you to be Love, to be Charity, not to lose Faith and to maintain the flame of Hope that MY SON'S PEOPLE WILL NOT BE ANNIHILATED.
I CALL MY SON'S PEOPLE TO KEEP THE FAITH AND TO BE A PEOPLE WHERE THERE SHINE TRUTH AND
LOVE FOR THE SACRED WORD, RESPECT AND LOVE FOR MY SON IN THE HOLY EUCHARIST, AS WELL
AS THE FULFILLMENT OF THE DIVINE LAW AND THE SACRAMENTS SO THAT YOU ARE CREATURES OF GOD ... BUT THIS PEOPLE MUST NOT DESTROY ITSELF.
My Son's People forget that all their actions and actions are seen by the Most Holy Trinity, and therefore, they should not act in secret against their brothers and sisters like thieves do, taking advantage of the darkness. The lukewarm are easily recognized by evil and are easily taken hold of in order serve evil.
My Heart grieves deeply as I see some of My own receiving My Son, praying to Me and then doing evil to their brothers and sisters.
My Heart grieves for the creature that is harmed and killed by the tongue and by the creature that performs the action, because that action then returns to the one who has performed it.
When they tell you of a promising future for Humanity, look around you and see that it is not certain while Humanity as a whole does not commit to a radical change, and this, children...
Countries are struck by the unexpected; Nature, altered by man, overflows with extraordinary strength.
Pray, children, Guatemala is pierced by pain, Uruguay is shaken and My children suffer.
Pray, children, Colombia learns from the hardness of its path.
Pray, children, the face of evil makes itself felt in England and shakes My children in that nation. Pray, children, Mexico suffers again and Spain pleads to Heaven because of an unexpected event. I call you to pray for Costa Rica.
Iniquity does not wait, My children, turn away from what separates you from My Son, what separates you from the good path, from Salvation.
Come before this Mother who intercedes for each one of you. I want the path of good for My children, and this is reached by knowing My Son in depth.
COME, LITTLE CHILDREN, COME, AND LED BY MY HAND, LET US WALK TOWARDS MY SON, WITH YOU BEING FULFILLERS OF THE DIVINE WILL IN PEACE, AND SERVING YOUR BROTHERS AND SISTERS.
DO NOT BE AFRAID, CHILDREN, I AM THE MOTHER OF ALL AND PLEAD FOR ALL BEFORE THE MOST HOLY TRINITY.
I bless you, I love you.
Mother Mary
HAIL MARY MOST PURE, CONCEIVED WITHOUT SIN
HAIL MARY MOST PURE, CONCEIVED WITHOUT SIN
HAIL MARY MOST PURE, CONCEIVED WITHOUT SIN