Thursday, February 8, 2018
Message from Our Lord Jesus Christ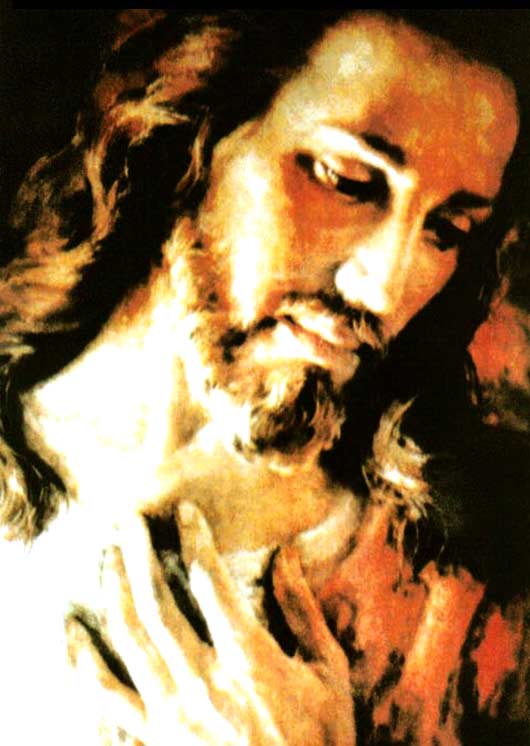 My Beloved People:
AS KING AND LORD OF THE UNIVERSE, I BLESS MY PEOPLE.
I bless you with My Love and My constant Call to remain in My Most Sacred Heart.
Each human creature lives its inner, personal truth, its thoughts, hopes, dreams, desires, faith: everything is like an inner sea that only the creature and I know in depth. That inner truth is immersed in the influence of what surrounds you, that inner truth can ascend or decrease depending on the environment, but deep down only the creature and I know what others do not know.
MY PEOPLE, YOU DO NOT NEED GREAT DISCOURSES, BUT GREAT TESTIMONY. (Cf. Mt.5,16) THAT INTIMACY THAT YOU KEEP INSIDE DOES NOT HELP YOU WITH GROWTH; ON THE CONTRARY, IT DEFORMS YOU THROUGH NOT EXPRESSING THE TRUTH IN WORK AND ACTION.
Woe to the one who lives for himself! He is like a cultivated field that bears fruit which ripen and rot because nobody tries them. Others are like the field that contains leafy trees with abundant fruits and when tasted they are bitter inside. (Cf. Mt 3,8; 12,33) Others are dismissed for appearing small and not belonging to the prestigious fields, but these fields of small fruits and leafy trees are the ones which, when tasted, are chosen as the best in flavor and the best in quality because My children are not found on the high hills where they are seen by all, but on the plain where they mix with their brothers and sisters in order to serve.
My People, there are three classes of creatures: some are those who live only for themselves and do not bear fruit of Eternal Life - these creatures are as if they were the only ones in the world, they live and love their "ego", they live with empty hands. Other creatures seem to shine, living by appearances, forgetting that the good word does not come from an indifferent heart, nor from a heart that does not live out its truth. And those of the best quality are not those in view of everyone, but those who give everything for Me; although they are not glisten, they live, act and work in My Will.
MY WORD IS HEARD BY EVERYONE, BUT NOT ALL OBEY IT OR PENETRATE IT OR TREASURE IT OR PUT IT INTO PRACTICE, FOR SOME IT IS RATHER LIKE THE WIND, IT PASSES BY AND GOES AWAY.
HUMANITY LIVES BY WHAT IS TEMPORARY, WHAT IS INFORMAL, FROM WHAT DOES NOT MAKE IT COMMIT, AND THAT IS NOT ME, THAT IS NOT THE FAITH THAT I NEED FROM MY OWN.
Confusion and darkness mix in order to seize those who look from a distance at life attached to the Gospel, to the fulfillment of My Will and to the salvation of the soul. Confusion faced with the unexpected, because when seeing that everything is apparently continuing, you feel security and reject and mock My Revelations and those of My Mother. You live - yes, but you do not know how and how much. I do know and therefore I insist on your inner change and conversion.
It seems to you that you are acting and living rightly, but this is not the case most of the occasions. Cooperate for a better world, do not walk in darkness if you have the light of My Holy Spirit. (Cf. Is 9.2; I Jn 2.9).
DO NOT LISTEN TO WHAT THEY SAY IF THIS IS OUTSIDE MY WORD...
I DO NOT CHANGE, CHILDREN, I AM LOVE, I AM MERCY, BUT THOSE WHO KNOW ME MUST CHANGE THEIR LIVES IF THEY ARE LIVING IN SIN, THEY MUST REPENT AND CONVERT.
I do not turn the sinner away, I forgive him again and again, but I do not take pleasure in sin, nor in the machinations of evil.
AFTER THE GREAT EVENTS AND THE PURIFICATION OF MY PEOPLE, I WILL ARRIVE IN MY SECOND COMING AND THE VAULT OF HEAVEN WILL CHANGE COLOR. My Light will eclipse everything that exists, the elements will remain static, the animals will be silent, men will prostrate themselves, and in stupefaction they will see the beauty of My Legions that, opening My way through the clouds, will allow My Light to be seen. You will have a faint view of My Father's Throne and will attain a reflection of My Holy Spirit.
Then My Legions will appear in the midst of the tones of the sunset and will seem to set the Sky alight with My Love. The waters will move not with a roar, but with a slight murmur so as not to diminish My Arrival. The earth, after shuddering, will make the most beautiful and pure colors of plants germinate. THE HOLY LADDER WILL BE OPENED FROM MY FATHER'S HOUSE TOWARDS THE EARTH, AND THOSE WHO HAVE LIVED, SUFFERED,
THOSE WHO HAVE BEEN PERSECUTED, BELITTLED, SILENCED, THE SLAVES AND MARTYRS, ALL WILL RISE AND WILL SAY IN ECSTASY: "MY LORD AND MY GOD!"
My Mother, making Herself present, will look at you and all will see Her. I will have separated the wheat from the tares. And everything will be renewed, My People will wear snow-white garments and Divine Love will be reborn in the hearts of My children.
At this instant man has committed a great evil: being contrary to Divine Love and allowing his physical and spiritual senses to be contaminated with evil and for the mind to rule the other senses so that they crave what is wrong.
Those who wish to remain saved must live in My Will and fulfill It as it has been expressed in Sacred Scripture.
You, My People, are not free from sin and, in seeking holiness like white linen, while you are working and acting outside of Me, the dust of sin is more visible on you.
The human creature should expect purification from the hand of man himself, which would have been avoided if you had complied My Mother's Requests.
The Earth retains this plague of sin over It, and it contaminates the lukewarm. The elements scourge Humanity. Great volcanoes awaken and My children suffer because of this.
The Earth shakes in Ecuador and Chile, and again in Japan and Italy.
My People must pray before night falls. I hold you in My Hands, I bless you.
Your Jesus.
HAIL MARY MOST PURE, CONCEIVED WITHOUT SIN
HAIL MARY MOST PURE, CONCEIVED WITHOUT SIN HAIL MARY MOST PURE, CONCEIVED WITHOUT SIN