Friday, February 23, 2018
Message from Our Lord Jesus Christ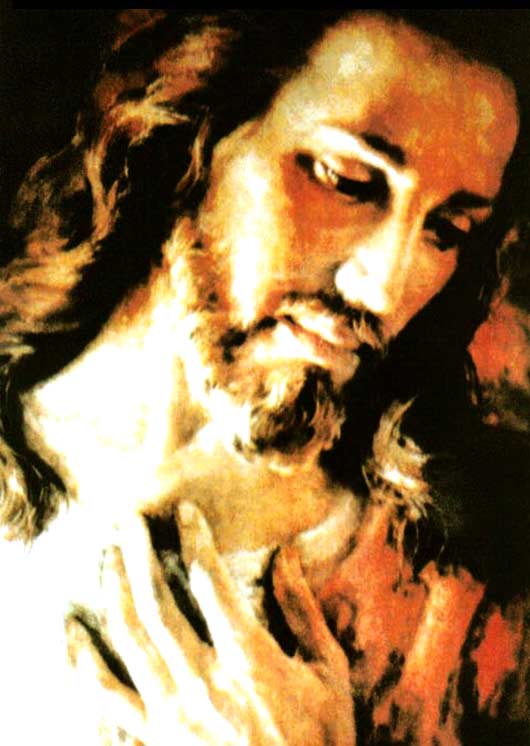 My Beloved People:
I BLESS YOU CONSTANTLY IN ORDER THAT YOU DO NOT GO ASTRAY.
YOU ARE MY PEOPLE: DO NOT FORGET IT, AND AS MY CHILDREN YOU MUST BE MY LOVE ITSELF.
Testimony is not a word, but a continuous practice of works and acts in My Will that are examples for all brothers and sisters.
The weight of your steps causes you to stop; you feel that each step is more difficult for you, and so it is that not only is man clinging to sin, but evil is constantly pouring out its mud so that My children be confused and do not progress.
Just as walking is more difficult at every instant, My children - those who convert - perceive the strength of My Holy Spirit encouraging them so that they do not regress.
Who is My Mother, who are My brothers? "My Mother and My brothers are those who carry out the Will of My Father who is in Heaven" (Luke 8:21). THIS TRUTH WAS NOT FOR THE PAST, IT IS ALIVE AND PULSATING FOR YOU AT THIS INSTANT.
This generation of great advances in all fields is at the same time the generation that is most immersed in wrongful acts that cause Me great pain. YOU CRUCIFY ME AGAIN AND, AS IN THE PAST, SOME AGAIN SHOUT: "CRUCIFY HIM!", AND AS THEY DO NOT SEE ME, THEY TRY TO CRUCIFY THOSE WHO ARE MINE.
The sins of the flesh abound in your midst. The devil knows man's weakness and has set out to attack the family; this is why you see so very many families that have disintegrated. Man and woman have allowed the devil to seduce them with his deceptions. Because of the multiplicity of improper acts committed by Humanity, It has gone astray, accepting aberrant acts, similar to those of the demons themselves.
Man's sin continues to be the same one by which he began his separation from Our Divine Will. This sin of disobedience leads to pride and pride causes rebellion, therefore Humanity finds itself in rebellion not only against Me, but against itself.
CHAOS IS BECOMING GENERALIZED IN HUMANITY, AND A HUMANITY SUBMERGED IN TOTAL CHAOS IS
THE GOAL OF THOSE WHO KNOW FULL WELL WHAT THE PLATFORM IS FOR PRESENTING THE IMPOSTER, THE ANTICHRIST, AT THE PRECISE INSTANT IN ORDER FOR MEN TO WELCOME HIM.
No, children, these are not fairy-tales!
In the midst of repression you will remember these Words of Mine and will regret having mocked Them. There are so many among My Own who deny Me! Not once or twice or three times without repenting afterwards; they have rather transformed their lives into a constant denial of Me, and the rebellion in which they live is the nourishment for constant actions contrary to Faith, to Love, to Charity, since they do not possess spirituality.
CONFUSION IS FOUND AMONG MY PEOPLE, IN THOSE WHO LIVE IN MY PATH AND IN THOSE WHO CONVERT, BUT WITH PAIN I TELL YOU THAT THEY ARE FEW. The rest see modifications contrary to My Will going on in front of them and it does not cause them the slightest qualm, they cannot locate the substance that contaminates them and they continue unchecked, applauding what is leading them to perdition.
New and consistently false religions are emerging before your eyes and some immerse themselves in them with disinterest towards Me. They believe that they come to Me with routine practices, being merciless, and that is not My Church.
My children do not look Me in the eye so as not to be prey to the conscience that calls them not to sin any more ... Are you aware, My children, how many brothers are possessed by evil and instantly lash out against the lives of those who are closest to them? For this generation this is normal...
YOU ARE INSTANTS AWAY FROM EXPERIENCING A WAR BETWEEN POWERS THAT WILL INVOLVE
HUMANITY AND YOU DO NOT CONVERT, YOU DO NOT PRAY, YOU DO NOT CALL ME, YOU DO NOT REMEMBER ME ...
The land where I was born will again be prey to pain, forgetting that power is not earthly, but spiritual.
Humanity is expiring, it is not interested in drawing closer to Me, and therefore the human creature has become hardened in its works and actions. You will come to believe that you do not need Me, you will remove Me from your lives, you will not invoke Me, but you forget that My Holy Spirit, although contrite and humble, remains in each one of you (Eph. 4,30). This is the greatness of My Love, therefore I have warned you to stay alert to evil and not to be easy prey.
My poor children! You call Me "apocalyptic" because I warn you about the events that you will face - the fruit of bad deeds and acts. I have not found a response like that of Nineveh, instead you have assaulted My Word like wolves attacking a sheep.
Hungry people rise up against their oppressors, there are dying children in countries rendered mute by the powers, it will be then that man, delirious because of the famine, will commit atrocities never before seen.
My beloved People, like combustible fuel stocked throughout the Earth, so is the apparent peace at this instant. Uprisings around the world presage what will come as a spark to set off the atomic fire of the Third World War, which will advance, exterminating lives. It is a hand that will rise up with the most damaging speed ever known by man. It would be better for the man who decides to devastate a great part of Humanity not to have been born! I DO NOT FORGET MY PEOPLE: MY CELESTIAL LEGIONS WILL INTERVENE SO THAT THE INNOCENT DO NOT PERISH.
I have emphasized your duties as My children ...
Woe to the one who remains lukewarm or dismisses My Acts of Love! ...
Woe to the one who mistreats one of My chosen ones! ...
Woe to the one who robes an innocent person of hope! ...
Japan will be flooded by its own creation, radiation will prey on this beloved people who continue polluting the world.
Italy offends Me without thinking, it shakes. It will be invaded by those who tread on its soil.
My People will accept new commandments and I will lament over it. This will be when the usurper takes My People by surprise and oppresses it with impiety.
The crime of abortion is the greatest pain with which you offend Me.
Pain is coming for Humanity from the Universe.
The instant is an instant...
MY MOTHER WELCOMES MY CHILDREN AND WILL SNATCH THEM FROM THE INFERNAL DRAGON ... IT
WILL BE MY MOTHER WHO, TOGETHER WITH MY ANGEL OF PEACE AND MY LEGIONS, WILL ROOT OUT MY PEOPLE'S USURPER AND FREE THEM FROM SLAVERY.
My Beloved People, go to your Guardian Angels, Travelling Companions, protectors and defenders to guide you and help you in instants of difficulty.
Pray and ask your Protectors to help you. They remain on alert to come to you. Do not forget them, I call on you to invoke St Michael the Archangel.
YOU ARE NOT ALONE, I WILL NOT DELIVER YOU IN THE HANDS OF THE ENEMIES OF MY PEOPLE, BUT
MY PEOPLE MUST REMAIN FAITHFUL TO OUR MOST HOLY TRINITY, PRAY AND FULFILL WHAT IS THE LAW FOR MY CHILDREN.
In each Blessing I give you the "means and more" (II Cor 1, 22).
Your Jesus
HAIL MARY MOST PURE, CONCEIVED WITHOUT SIN
HAIL MARY MOST PURE, CONCEIVED WITHOUT SIN
HAIL MARY MOST PURE, CONCEIVED WITHOUT SIN