Saturday, March 10, 2018
Message from the Blessed Virgin Mary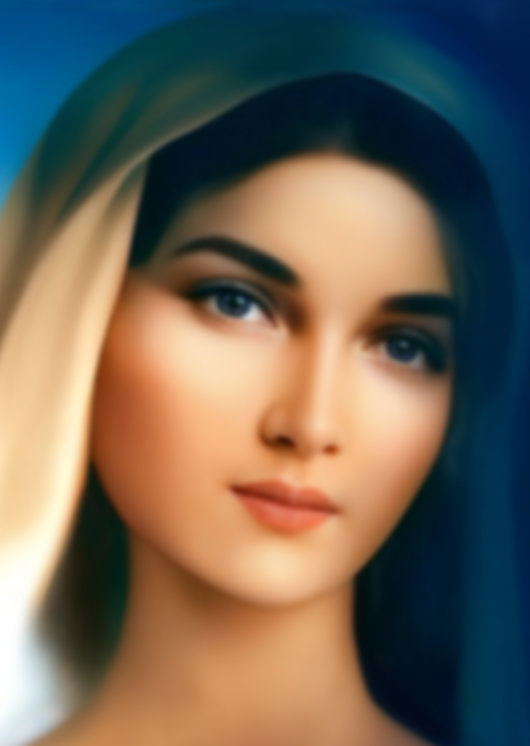 Beloved children of My Immaculate Heart:
I BLESS YOU WITH MY LOVE, I CALL YOU TO PAY ATTENTION TO THIS CALL OF MINE.
Humanity is torn between good and evil, between truth and lies, obedience and disobedience, liberty and libertinism, life and death ...
MAN IS LIVING IN TOTAL SPIRITUAL AMNESIA, IN A NOTHINGNESS REGARDING GOD that has gone from being a danger to My children to being one of their greatest threats. This is one of the most serious factors in the personality disorders from which much of humanity is suffering, and it has led him to become a creature without God.
LACK OF SPIRITUALITY IS THE PRODUCT OF MAN'S REJECTION OF THE PRESENCE OF GOD IN HIS
LIFE.
This generation is living a time of amnesia and its consequences: To forget God is to rebel against God ...
To remove God from one's life is to rebel against God ... To go against the Law of God is to rebel against God ... Contempt for the Will of God is going against God ...
Causing one's brother ill is going against God ...
Killing one's brother is going against God ...
Not practising Charity, Truth, not practising The Commandments and The Sacraments is going against God.
TO GO AGAINST GOD IS TO REBEL; IT IS DISOBEDIENCE, NOT LOVING GOD AND OPENING ONESELF UP
TO THE ENEMY OF THE SOUL, INVADING EACH ONE OF YOU WITH HIS DIABOLICAL ACTIONS IN ORDER
TO EXTERMINATE INNOCENCE ON EARTH AND SO THAT HUMANITY WOULD AGE QUICKLY AND CHILDHOOD DISAPPEAR.
Material idolatry is a heavy plague that has invaded man, and the competition for material possession has come to replace every vestige of God's Love in man. Since previous generations this plan has surreptitiously and little by little been infiltrating Humanity, which accepts what libertinism offers it.
Liberty is not the same as libertinism, children, and you have accepted libertinism, therefore you view as normal that which in reality is going against God's Will.
God is Love, He is Forgiveness, He is Mercy.
God is not libertinism, not disobedience, not rebellion, not sin.
God forgives the repentant sinner; He does not agree to sin, so good or evil in man depends on his free choice.
MAN HAS DEVALUED THE TRUE SPIRITUAL PATH, DEFENDING HIMSELF WITH FALSE DOCTRINES THAT ARE NOTHING OTHER THAN THE WAY THAT THEY ARE PREPARING FOR THE ANTICHRIST.
Beloved children, few are those who long to live in the Spiritual Path: many more are those who wish to possess what they see, idolizing the god of money.
Man is unpredictable in his works and actions because the devil does not rest and influences you if you are internally weak through not working and acting as My Son commands. Those who are influenced by demons fall into the same mistakes again and again and rise up against My children to demean them.
Humanity is living in an environment of impurity, without spirituality, without the desire for goodness, therefore instability in man is increasing, his actions and reactions are incomprehensible for a creature walking towards God. The environment in which man is developing at the moment is typical of those who mostly seek personal satisfaction and not the common good. The human ego has allied itself with the actions of evil, since it is these that are predominant. My children have not decided to emanate love and to counteract so much evil in this way.
MY SON DOES NOT WANT HIS CHILDREN TO BE RELIGIOUS FANATICS, BUT: children who live, work and act in His Likeness ... children who live in search of a high spirituality ... children who live the Commandments and love the Sacraments ... children with a thirst for souls like His ... children whom love Him in Spirit and Truth.
Do not live like the ignorant; do not forget that as soon as they talk about peace, war is closer. The demons have poured out the basest instincts over Humanity, and among them is the desire for dominion over the world.
CHILDREN, YOU ARE DECEIVED, YOU ARE NOT BEING GIVEN THE TRUTH, THE WORLD'S HIERARCHY ARE NOT SPEAKING TRUTHFULLY TO THIS GENERATION.
IF THEY DID, HOW MANY OF THE WAYWARD WOULD DECIDE TO CONVERT!
Beloved children of My Immaculate Heart, the City of Lights is a center of attraction and will be of destruction. The United States will continue to suffer.
The Middle East will be harshly treated and will react.
Nature continues calling man by means of great events not regularly seen. Earthquakes keep on going from one place on Earth to another.
The Church of My Son is being persecuted by the power of evil that desires supremacy over all.
The Church of My Son is a Mother and loves all her children without this implying walking in sin.
The Church of My Son must seek the holiness of My Son's People and above all the holiness of those Consecrated to My Son and My favored sons, being strict in this.
The Church of My Son finds itself at a critical moment in which the influence of evil has created confusion, until it will come to cause Schism.
My children, as the Mystical Body you will suffer. You will be shocked by news coming from the hierarchy of the Church. Pray, nourish yourselves with the Body and Blood of My Son.
Pray for those who reject the Gift of life, pray for those who die as martyrs, pray for the defenseless and take the Word of Heaven to your brothers, as long as time allows it, because what man has placed in Space will fall to Earth, causing serious damage, as we mentioned years ago.
Beloved children of My Immaculate Heart:
You are living in turmoil and disturbance, in confusion and deviance. You are living in the politics of uncertainty and in shameful and perverse sexual depravity.
THE ANCHOR THAT IS HOLDING BACK TOTAL LOSS OF CONTROL AND THE ASCENT OF THE ANTICHRIST WILL BE REMOVED AND MANKIND WILL SUFFER WHAT IT HAS ATTRACTED.
HOWEVER, THE PEOPLE OF MY SON WILL BE ASSISTED BY THE HEAVENLY HOST AND BY THIS
MOTHER WHO WILL DEFEND THEM. THE FORCES OF EVIL WILL NOT PREVAIL, IT IS THE DIVINE WILL THAT THIS MOTHER WOULD NOT LOSE HER CHILDREN BUT WOULD PROTECT THEM.
Do not fear, children, I am your Mother and I stay with you by Divine Will. My Motherhood remains alive. I bless you.
Mother Mary
HAIL MARY MOST PURE, CONCEIVED WITHOUT SIN
HAIL MARY MOST PURE, CONCEIVED WITHOUT SIN
HAIL MARY MOST PURE, CONCEIVED WITHOUT SIN