Thursday, March 15, 2018
Message from Our Lord Jesus Christ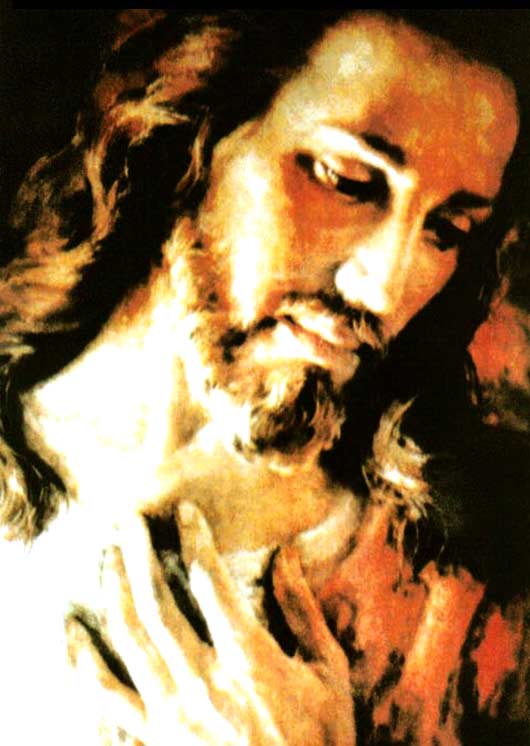 Beloved children of Mine:
I LOVE YOU ALL...
I FORGIVE ALL THOSE WHO REPENT AND MAKE A FIRM PURPOSE OF AMENDMENT.
I love the repentant sinner.
I love those who strive to continue in My Way against adversity.
I love the faithful who overcome their human ego to attain the necessary serenity of those who are truly My children.
I love the merciful, the humble, those who are not detractors of their peers.
I love those who work and act in My Likeness.
I love those who continue on the way without stopping because of obstacles.
I love the wise who seek peace everywhere - they do not allow the ideas, actions and works of others to hinder and disturb their hearts.
How many of you judge My Word based on the influences of your environment and your preferences, tossing your improper judgments into the air! My Children respect and examine My Word with great seriousness, knowledge, authenticity, impartiality, and thus encounter My Word of love, My Word of admonition.
My Word of warning.
My Word calling man to conversion.
My Word of unity in My People.
My Word of charity to My children.
My Word facing the sin that exists at this time and offends Me gravely.
My Word that points out right morals.
My Word of hope for a better life, pointing out immorality and calling what is sin, sin.
My Word that calls unceasingly to unity and fraternity.
My Word that anticipates Humanity's responsibility for its future, due to its improper acts and works.
My Word that marks the course of those who by their own will have been chained to the sin that is calling them.
My Word coming out of My Mouth through Mercy for sleeping Humanity.
My Word that does not offend, does not decrease, does not hold back, is not limited.
My Word that is truthful and just and paves the way for those who wish to continue, not with human strength, but by placing in My Will what happens to them so as not to slip.
I love sinners who repent and I wait for those who have not yet repented, although they cause me pain and offend Me. I wait until the last moment of man's life in order that he would seek me.
I am saddened by those who, thinking themselves wise, throw offenses to the wind or towards My children who suffer out of ignorance and therefore go after the words that strike them as intellectual, even though these may be the most absurd that are being pronounced.
I am saddened by those who judge My Word and label it as infamy, or as threatening, or born of My beloved Prophet.
I am saddened by those who hold superior positions within what is My Church and who, as in the past, judge "a priori" what opens the eyes of those who need the insistence of My Word so that they would decide to repent.
I mourn for the number of My children who turn away confused from My Church and join the false ideologies that lead them towards the abyss.
I grieve because My children have gone away from Me and My Mother.
I grieve at the contempt of My children towards what reminds them of "My Kingdom".
I grieve at the contempt for My Warnings that are not threatening but loving, so that you would take precautions.
MY BELOVED PEOPLE, THE TIME OF TIMES HAS BEEN PLANTED UPON EARTH, IT IS THE GIANT OF
UNBELIEF, OF LIBERALISM, OF IMMORALITY, OF DENYING ME, OF ACCEPTING SINS, OF THE PERDITION OF SOULS AND THE KILLING OF INNOCENTS SO THAT THE DEVIL'S GROUND WOULD BE KEPT CONSTANTLY FERTILIZED AND GENERATE GREATER ABOMINATIONS.
The plan of evil is being carried out without My children analyzing it. The devil requires that there would be no innocents on Earth because he detests innocence, he vomits faced with innocence and therefore it is necessary for him that it would not multiply.
My Beloved People:
PEACE GENERATES PEACE, DISCORD, DISCORD. THOSE WHO ARE MY CHILDREN GENERATE PEACE, DOMINATING THEIR IMPULSES, DOMINATING THEIR JUDGMENTS AND FORGIVING.
My children wish to draw closer to Me without putting pride aside...
This is not the way that leads to Me, it is not the lofty walk of those who feel they are greater than their peers or those who are impatient and unmerciful.
How many are preparing to go to war and to bring down those whom they consider weak or even those who are more powerful than them!
I DO NOT WANT YOU, MY PEOPLE, TO FORGET THIS WORD OF MINE:
NOTHING DEFEATS THE ONE WHO HAS BUILT A SOLID EDIFICE. ASSAULTS ARE INEFFECTIVE, WHEN WITHIN MY CHILDREN THE EDIFICE IS SOLID ...
AND MY CHURCH IS SOLID AND EVIL WILL NOT PREVAIL AGAINST IT. (Mt 16, 18)
My Beloved People, you do not know whether this Call of Mine is the last one you will read.
Nobody can be assured that tomorrow they will still be living. Therefore I repeat My Call not to slip, not to fall away in the face of evil, and to share this My Word that does not contradict what is already contained in Sacred Scripture.
I strengthen your path with this Word. The Earth will be threatened by the sun until the latter brings down the technology you possess. The sun's rays will bring a new disease to man in his psyche and on his skin. I have called you not to expose yourself to the sun, it is sick.
I invite you to pray for Ecuador, it will be shaken.
Colombia gravely offends me and does not make reparation, but increases sin; it suffers, suffers.
Guatemala suffers due of its great colossus, and its ground shakes.
The devil is fighting against woman and man is allowing himself to be used to kill women.
BIG NEWS WILL LEAVE HUMANITY WITHOUT KNOWING WHAT TO THINK ...
Beloved People of Mine, these are times for your discernment. Do not be separated from Me: receive Me, pray and do not fall into temptations.
PREPARE YOURSELF PROPERLY FOR HOLY WEEK. GREAT EVENTS WILL OCCUR, BUT MY CHILDREN KEEP FAITH IN OUR MOST HOLY TRINITY AND IN MY MOST HOLY MOTHER I BLESS YOU. I FREE YOU FROM EVERY ATTACK; COME TO ME (Mt 11, 28).
I love you.
Your Jesus
HAIL MARY MOST PURE, CONCEIVED WITHOUT SIN
HAIL MARY MOST PURE, CONCEIVED WITHOUT SIN
HAIL MARY MOST PURE, CONCEIVED WITHOUT SIN