Sunday, March 18, 2018
Message from Our Lord Jesus Christ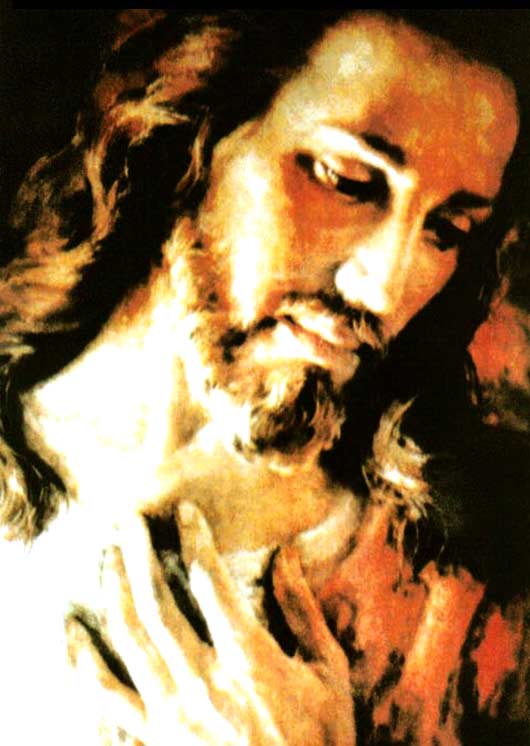 Beloved children of My Heart:
MY HEART BEATS FOR EACH ONE OF YOU, THOSE WHO LOVE ME AND THOSE WHO DO NOT LOVE ME. I
HOLD YOU LIKE A GREAT TREASURE, GUARDED BY MY CELESTIAL LEGIONS. I DO NOT WANT ANYONE TO GO AWAY.
When one of you goes away from My Heart and decides not to love me, I am a King who is rejected…
MY CROSS IS THE SIGN OF MY VICTORY AND ALL MY CHILDREN ARE CONTAINED IN IT. EACH OF MY CHILDREN IS FORMING THE WOOD I CARRIED TO REDEEM YOU FROM SIN.
All of you are My People and it is My People I am addressing without distinction.
I redeemed you from sin, but you must turn away from sin: you must repent of sins committed and overcome every temptation so that you would not repeat the same mistakes, because whoever does not decide to be better runs the danger of continually enjoying sin.
I show you with My Word how much will happen, not so that you would leave it aside and forget it, but so that you would remain in that constant desire for salvation, keeping your conscience alert and your heart ready to live in My Will.
This generation needs to hear from Me constantly so that more souls would not be lost. It is urgent for My Priestly sons to preach more about My Teachings in order that you would not open yourselves up to sin nor forget the sinner, but I do want My People to keep in mind that I love them and will not abandon anyone who comes before Me in definitive repentance.
I am Love and for everyone. I am not libertinism, which is why I insist so much on not allowing them to confuse you. The creature that does not repent and lives permanently in sin, is bound by evil.
This generation finds itself in a nauseating state due to the sin in which it remains and from which it does not wish to come out, although I offer you My Kingdom.
Large corporations have launched strategies for years in order to prepare the world population for the disorientation and rebellion in which it finds itself and the chaos that is spreading throughout My People.
Beloved People of Mine, do not keep on ignoring that when you work and act for evil, that evil is emanated by you and unites with the evil of other creatures, and you attract natural disasters for Humanity by attracting celestial bodies to Earth.
All Creation remains obedient to My Father yet you disobey, rebel and ignore the consequences for Humanity of these acts of disobedience, as it was with the generation of Noah.
CHILDREN, YOU POSSESS TECHNOLOGY, ADVANCES IN ALL FIELDS OF SCIENCE, YET EVEN SO YOU CARRY ON WITHOUT KNOWING HOW TO SAVE THE SOUL. You do not wish to enter into Me in order to be creatures that long for silence in order to meet with Me. This is why I want everyone who reads this My Word to examine themselves and be certain that before Me they will not be able to hide improper acts.
It is not necessary that I raise My Hand for this generation to be purified: you will purify yourselves ... You have used part of science to create artefacts for destroying yourselves, you have used science for self-destruction. All the rulers of the powers of the world know the fate of this generation if a single country makes use of nuclear weapons.
My Beloved People, in the escalation of the silent struggle which more and more countries are joining, they have created all the means to make a great part of the world's population sick. Man has become a ruthless creature, thirsty for power and through the air many will become sick by man's own hand. NOT EVERYTHING THAT YOU HAVE SEEN GOING UP TOWARDS SPACE HAS BEEN FOR THE PURPOSE OF RESEARCH.
You fear what you do not know and have forgotten that when man feels threatened, he becomes unrecognizable and reacts worse than the animals.
Repent now!
Great purifications continue to occur throughout the Earth, great solar storms will come to Earth at one point and you will not have any means of communication. Faced with this powerlessness man will lose his sanity, as he will lose it through the fall of the world economy.
Nature continues to give surprises to man. The volcano Vesuvius will again be a reason for fear. The climate will vary more.
Pray for the East Coast of the United States.
This is a time of tribulation for Humanity, but Humanity lives in debauchery and has not been aware of that by which it will be purified. From the sea foam will rise and will penetrate the earth.
Pray for Colombia, it will suffer: you have rebelled against Me.
Pray for Ecuador, this people will be shaken.
My People, resume the way towards Me (Cf. Lc 15,18), you will not find the door closed. Do not allow yourself to be confused. Some of Mine ask themselves: "how do I know what is God's Will?"
Children, it is written in the Divine Law: that is the Divine Will, do not transgress it.
Wait with confidence and be firm when you should say no to sin. Continue being those who emanate good and attract good to Humanity.
Be humble, not proud - the devil seeks these. Obey My Calls to conversion, do not turn away from Me, come to receive me, speak to me, since I hear you.
KNOW ME IN ORDER TO BE CHILDREN WHO ARE SURE OF THE DESIRES OF YOUR FATHER AND NOT FORGET THEM.
Beloved People of Mine, everyone holds a place in My Heart, do not say that you love Me if you do not stay at Peace with yourselves and with your brothers and sisters.
Beloved, wait for My Angel of Peace and convert in order to be worthy of His Assistance. I carry you in My Heart, I love you infinitely.
Your Jesus
HAIL MARY MOST PURE, CONCEIVED WITHOUT SIN
HAIL MARY MOST PURE, CONCEIVED WITHOUT SIN
HAIL MARY MOST PURE, CONCEIVED WITHOUT SIN