Wednesday, March 28, 2018
Message from Our Lord Jesus Christ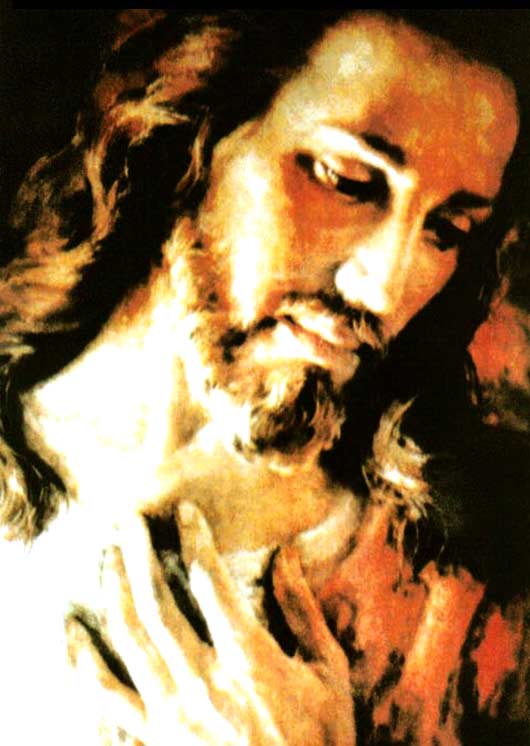 My beloved People:
MY LOVE CALLS YOU...
WITH MY MERCY I RECEIVE ALL THOSE WHO COME TO ME HAVING REPENTED FROM THEIR HEART AND THOSE WHO DECIDE TO AMEND THEIR WORK AND ACTION WITH FIRM PURPOSE.
I do not call you to what is impossible, but rather so that each person fulfils the Divine Will ... (cf. I Jn 2,10; Rom 12,2; Eph 5,17).
A few souls committed to acting rightly, to working in Divine Love, are becoming spiritually stronger by offering up and act, act and offering up.
Knowledge on this spiritual journey is not everything, but knowledge is necessary so that you are not deceived by evil.
Today's man does not meditate on My Love for each of My children, he does not feel part of My People, he does not want to enter upon My Path. Much of Humanity has made a pact with the devil, it has accepted what goes against The Commandments and is satisfied with this.
At this instant, each one of you, My children, must ask yourself: what is the measure of my faith?
Mistaken ideas are growing, ideologies that disturb the spirit, forms of human fanaticism...
You accept abomination in the world, you enthrone satan in My Place ...
The desires of the flesh are causing the greatest degeneration and immorality ever seen...
I hear blasphemies throughout the world ...
THIS IS MY CORRUPTED PEOPLE, WHO MAKE ME SUFFER CONTINUALLY; YOU DISOBEY ME BY BEING NEGATIVE TOWARDS THE SIGNS AND SIGNALS THAT I ALLOW TO OCCUR THROUGHOUT THE EARTH.
You have forgotten that plagues will strike Humanity, not because of My Hand, but because of the folly of man himself who neglects his own science.
I call you to reconcile with Me before night comes and finds you asleep. I am not an unmerciful or vengeful God nor do I continuously look at your sins.
I am God and nothing escapes from My Glance ... (Cf. Jn 4,26; Jn 8,58).
I am a Just God ... (Cf. Job 34.5a).
I am God who loves all His children ...
I am God who calls until the last instant, but man waits for that last instant - except that no creature knows the date of that instant and it may be that you do not have the instant to repent.
CHILDREN, DO NOT CONTINUE VIEWING ME AS A GOD WHO FORGETS THE DIVINE LAW OR NEGOTIATES IT WITH HIS PEOPLE.
I am going to walk the Way of the Cross and there are so many faces that I know I will see beside the path of pain, asking for My Crucifixion ...
Those same faces that later, wandering over the Earth, will cry out My Name, will invoke Me, and I will forgive those who deserve it.
I see the Calvary to which My Church has been brought and on which it will be crucified by those who have freely decided to betray Me...
How much I grieve for My People who will suffer to the uttermost!
THE SPIRITUAL GROWTH OF MY PEOPLE IS IMPORTANT SO THAT, WITH A FAITH STRENGTHENED WITH
THE ASSISTANCE OF MY HOLY SPIRIT AND MY MOTHER'S HAND, MY CHURCH BE TRIUMPHANT. Prayer
"from the heart and in full awareness" has never been as necessary as at this instant when Earth is hanging by a thread.
Nature grows in anguish and rises up against man whom it disavows, since he works and acts against the Divine Volition. At one instant one country suffers, at another instant another country, the earth shakes and fire comes up out of volcanoes, the wind rises and causes phenomena that man has not seen before, yet man ignores everything ... For man it is but an instant and then, in union with sin, he surrenders to depravity.
My People, Chile is being purified, Colombia suffers from the foolishness with which it views Me. My People, Nicaragua feels the shaking of its land.
My People, Italy suffers with a great roar.
My people, convert! ... (cf. Jer 3,14a).
My Church is wounded.
UNITE yourselves to my sorrowful passion for the events that cause the nations to suffer.
I love you infinitely as My Mercy is infinite.
Receive My Mother so that She intercedes for each one of you.
Do not deny My Love, do not despise My Love, do not reject Me ...
I GO THROUGHOUT THE EARTH IN SEARCH OF HEARTS IN WHICH EASE MY PAIN.
I bless you.
Your Jesus
HAIL MARY MOST PURE, CONCEIVED WITHOUT SIN
HAIL MARY MOST PURE, CONCEIVED WITHOUT SIN
HAIL MARY MOST PURE, CONCEIVED WITHOUT SIN