Thursday, April 12, 2018
Message from the Blessed Virgin Mary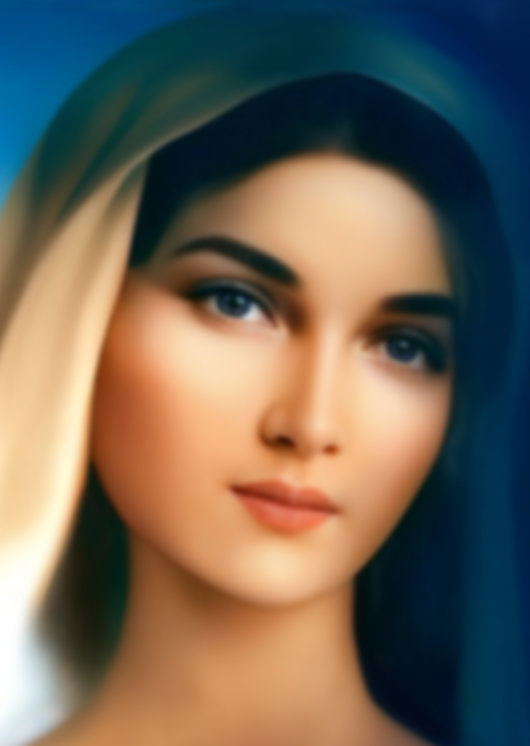 Beloved children of My Immaculate Heart:
I WATCH YOU STEP BY STEP AND MY HEART WANTS TO KEEP YOU ALL WITHIN IT.
I am the Refuge of sinners, Ark of the New Covenant, and My desire is for all to reach the goal to which God the Father has called them. As Mother I want the salvation of souls.
How much I have warned you in one or another of My Revelations in order to renew in every one of them My Call to conversion, so that all may be saved!
My suffering is great seeing how you continue being pleased with the misdeeds of some of your brothers and insist on being those who repeat the evil actions of those who have made a great commitment to satan, with the aim of hastening the arrival of the one who will be the great deceiver of Humanity.
My pain is deep when I see how you go astray and are pleased to be among those who desecrate My Son, desecrate the churches and desecrate life...
My children, satan rejoices at feeling welcomed quickly and without resistance by the majority of My children. It is satan who has propitiated the moral, social and spiritual decadence of the Church of My Son, not only as an Institution, but as the Mystical Body of which you are a part.
You are not aware of the path of darkness on which you are walking, and some of you, in an instant, will become followers of that dark road by not being able to withstand so much evil, never seen before.
I see how the faith of My children is declining to the point of becoming those who deny faith in My Son, and in the space of an instant, they are deserters who hand over their own brothers and sisters to evil.
I have called you to see the Signs of the Times and you refuse to do so...
I see you transformed into a small number of fearful creatures, who yield to what does not please My Son...
The People of My Son are diminished by maintaining a wavering faith. Christian courtesy is a thing of the past; both women and men behave surprisingly and unexpectedly.
Faced with so much emptiness towards love for God and respect for God's Law, the devil has found the simple way to invade human creatures and to implant within them debauchery, immodesty, sins of all kinds and disobedience towards God's Law.
You mock the Cross on which My Son gave Himself for you, you kill faithful priests and faithful children of My Son, since, invaded by evil, you become persecutors of those who continue fulfilling the Divine Will.
You do not reason, you do not stop to meditate, nor to ask the Holy Spirit for discernment so that, with the eyes of true faith, you are able to discern the evil path that the People of My Son have taken. My Son does not impose himself and evil has imposed itself, supported by you.
You want this Mother to close Her lips, to silence Her words so that She does not continue to call for conversion, for Divine Love, for obedience, for fraternity and respect for human life, of which man is not the owner.
My Heart is torn at the bodies of the innocent mangled and thrown into the refuse, at the number of children who are killed without even thinking about it.
Beloved children of My Immaculate Heart:
YOU NEED TO PASS THIS INSTANT OF CONFUSION IN WHICH YOU ARE LIVING THROUGH THE SIEVE OF TRUTH: WHAT TRUTH? THE TEN COMMANDMENTS.
Children, this is the instant for you to strengthen one another, therefore you need to know the Sacred Scripture and not to say "yes" where you must say "no".
YOU NEED TO BE FIRM, SOLID, IMMOVABLE, SINCE THE INSTANT OF THE HARVEST IS ARRIVING AND THE WHEAT WILL BE SEPARATED FROM THE TARES (cf. Mt 13,30), but some tares may be clinging to the wheat so that this wheat can be lost, so you need to stay alert so that you are not confused. You cannot go to sleep in worldliness.
Humanity lives and does not feel, lives and does not look, lives and pays no attention, lives and does not sympathize, lives and is not fraternal, lives and does not fulfill God's Law, lives and does not love the Sacraments, lives and does not love neighbor, lives and wanders, because it has become weak in the face of evil and has preferred to set aside the common good.
Beloved children of My Immaculate Heart:
With what are you nourishing the spirit?
What is your knowledge about the future towards which you are heading?
Do you know that you have been manipulated by great capitalists who have ruled you without your knowing it?
Do you know that you are not free?
Do you know that you are being dominated?
Do you know that they are selling evil to you?
Do you know that you have been trained for years so that you ask for licentiousness so as to fall into the eternal fire?
Beloved children of My Immaculate Heart:
HOW THIS GENERATION IS CRUMBLING, LIVING IN A SPIRITUAL APOCALYPSE THAT YOU CANNOT DENY!
THE PAIN OF HUMANITY IS IN FRONT OF YOU AND YOU IGNORE IT!
The elements continue destroying what is contrary to the Divine Will and you – are you changing ?, are you returning to the Love to which you are called, turning back to the Love of My Son alive in you?
CHILDREN, DO NOT DELAY, IT IS URGENT THAT YOU DECIDE TO CONVERT.
HUMANITY IS IN GREAT DANGER AND I GRIEVE AT THE CONFUSION OF MY OWN.
The People of My Son will be purified, Rome will be purified by the hand of man.
At this instant, I beseech you prayer for all Humanity: prayer born from the heart.
My Son does not abandon His People, I do not forsake you, and you need to be firm, not to falter and all to join as brothers in a single prayerful voice before the Most Holy Trinity.
The mind of the powerful knows the repercussions of taking the first step, so they do not want to be the first to bear arms. Power in the world is what the powers covet and because of this, when some country takes the slightest step forward, war will not delay.
You, little children, be Divine Love throughout the Earth and implore mercy for souls that do not love My Son.
I bless you with My Love.
Mother Mary
HAIL MARY MOST PURE, CONCEIVED WITHOUT SIN
HAIL MARY MOST PURE, CONCEIVED WITHOUT SIN
HAIL MARY MOST PURE, CONCEIVED WITHOUT SIN