Monday, April 16, 2018
Message from the Blessed Virgin Mary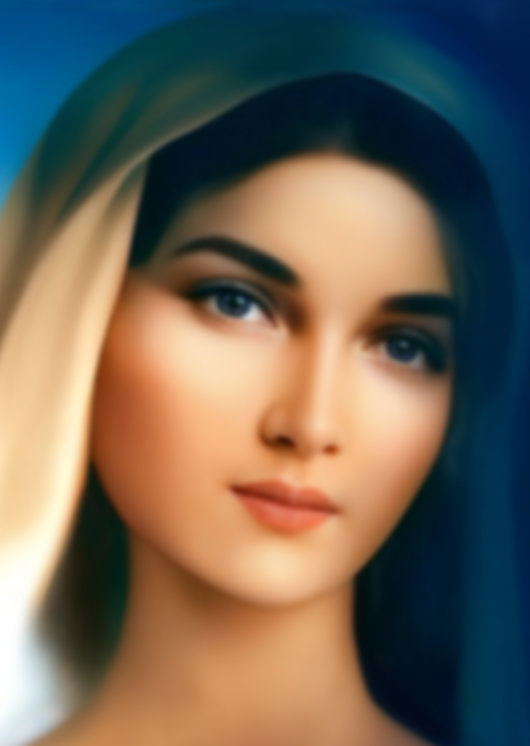 Beloved children of My Immaculate Heart:
MY HEART, ARK OF SALVATION, IS OPEN FOR ALL CHILDREN OF MY SON WHO WISH TO TRANSFORM THEIR LIVES THROUGH TOTAL CONVERSION.
In this difficult instant through which Humanity is passing, you should not close yourselves and deny the Signs that are given before you, but on the contrary, you should be objective in the light of Faith, so that you see the wretchedness in which man is moving.
Humanity lives in a constant hive of activity and works that are born out of wretchedness, ignorance, weakness in thought and work that each person as an individual has accepted.
MAN DECIDED TO SEPARATE HIMSELF FROM AND DEPRIVE HIMSELF OF DIVINE LOVE AND TO LIVE IN THAT CONSTANT CONCUPISCENCE WITH WHICH YOU DISDAIN THE GRACE OF REDEMPTION. This is why this Mother suffers at seeing this generation falling quickly.
I call you to remain in a state of Grace so that you return to the true freedom that you are rejecting at this instant by not being children who are obedient towards the Divine Call or the Call of this Mother.
This generation has been trapped by evil because of the pride that dwells in man and the longing for power that leads him to make sin a habit with which you voluntarily distance yourselves from My Son.
My Son loves you, He does not forsake you, thus He calls you as many times as necessary to reflect on the need that you have as people to return to the path of conversion.
YOU DISDAIN THE SACRAMENTS, YOU PROFANE THEM. YOU DO NOT ACKNOWLEDGE AND DEVALUE THE REAL PRESENCE OF MY SON IN THE EUCHARIST, AND THEREFORE YOU CANNOT OBTAIN THE
MYSTICAL BENEFIT FOR THE GOOD OF THE SOUL AND OF THE CREATURE. As members of My Son's
Mystical Body (cf. I Cor 12, 12-30), you must maintain the awareness of that mystical and at the same time real union that you personally obtain by receiving My Son in the Holy Eucharist properly prepared and spread that Grace towards Humanity so that your brothers and sisters would attain Salvation. Whoever wants all goods solely for their personal benefit is far from knowing what it really is to be a child of My Son.
NOT ALL WISH TO ASSUME THEIR DUTY WITHIN HUMANITY, EVADING RESPONSIBILITIES AS MEMBERS
OF MY SON'S PEOPLE, SINCE UNION WITH MY SON IS A FREE DECISION FOR EACH ONE OF YOU. They are part of the Church by Faith, but they take Faith to be a repetition of words and not the fulfillment of what the Divine Will is for His People.
My Son wants His People to be a People who know Him, who acknowledge Him so as to love Him with such love that their Faith will be indestructible, however serious the instants may be. (cf. I Jn 2,3-4). If you knew My Son in depth, you would possess the knowledge to discern what is of My Son and what is of man, and thus you would not accept evil and debauchery as a means of acceptance within a society that is sinful and obstinate in offending and denying My Son.
Sin, My children, is not only the act, but an action that leads you to repetitive situations that create in you an energy that draws you like a magnet towards constant sin.
As Mother of Humanity:
I urgently call you to conversion...
I call you to allow Divine Love to draw you towards Grace...
I call you to allow yourselves to be creatures who manage to overcome evil with the strength that you receive from the Holy Spirit and the firm conviction of a full life where Faith abounds.
Just as sin is working hard at this instant prior to grave world events and the appearance of the antichrist, so each of
My children possesses the necessary gifts to be bearers of the good and to spread it towards all Humanity so that your brothers and sisters come out of the ignorance in which they are living and attain the wisdom of true children of God.
UNDERSTAND, MY CHILDREN, THAT LIVING IN THE DIVINE WILL PROVIDES YOU WITH TRUE FREEDOM; IT UNIFIES YOU, ILLUMINATES YOU AND ENDOWS YOU WITH THE GROWTH OF THE SPIRITUAL SENSES SO THAT YOU ARE NOT BE DECEIVED BY WHAT IS NOT OF MY SON. Be spiritually wise so that ignorance does not land upon you and deceive you with subtleties in order to distance you from the Divine Truth.
Beloved children:
I CALL YOU TO SAVE YOUR SOUL ... NOW!
No!, do not flirt with evil, as this is not for the wise, but the ignorant who do not wish to improve their relationship with Divine Love, but are satisfied with being mediocre in everything, but above all in what is spiritual. BEING CREATURES OF HALF-MEASURES LEADS YOU TO BECOME LUKEWARM CREATURES, AND THE LUKEWARM ARE VOMITED OUT OF THE MOUTH OF THE FATHER (Rev 3, 15-16).
So many reforms, so many false ideologies and false religions existing on Earth at this instant are direct, reliable and clear evidence of the instants in which you are living. You cannot continue with your eyes blindfolded, your hearts hardened and your ears plugged ... Feel, breathe, be sensitive, as Creation is crying out to man that this is the defining instant!
I am Mother and as Mother I do not come to My Son's People to bring you Words of fear, but as Mother I cannot hide from you the truth of the tragedy of this generation that has been determined to give itself to the devil so that he would possess you.
Do not be stubborn! Do not make The Commandments into some rules dependent on the measure and will of each person. This is a grave sin, children, do not carry on being slaves of the distorted human ego that you have, do not carry on being slaves of human gods who manipulate you globally.
Beloved children of My Immaculate Heart:
Receive the Graces necessary for you to be bearers of that Love that My Son has left to you...
AT THIS INSTANT, MORE THAN AT OTHER INSTANT, THE PRAYER OF EACH ONE OF YOU FOR ALL
HUMANITY IS NECESSARY; IT IS URGENT THAT PRAYER BE CONSCIOUS AND LIVED OUT IN EVERYDAY PRACTICE SO THAT YOU EMANATE GOOD TO ALL HUMANITY.
EVIL DOES NOT REST, YET WHY IS IT THAT MY CHILDREN ARE ASLEEP IN THE PLEASURES OF THE "EGO"?
Children, it is urgent that you take being children of the Most High seriously.
You pour out human blood upon the earth and Nature is intoxicated by man's evil, and because of this suffering, water will appear inexplicably in various countries.
The sun is accelerating its emanations of radiation towards the Earth and Humanity will be a witness to it.
Pray in season and out of season, pray for the United States, Russia and France: they will suffer.
Terrorism, the arm of satan, takes the lives of the innocent. Fire calls fire and man has weapons for causing the greatest disaster on Earth.
CALL OUT TO YOUR TRAVELLING COMPANIONS, TO YOUR PROTECTING ANGELS, AND WAIT WITH PATIENCE FOR THE ARRIVAL OF THE ANGEL OF PEACE, SENT BY MY SON FOR THE CONSOLATION OF HIS PEOPLE.
Beloved children, evil needs the Third World War to be present in this generation in order to extinguish the greater part of Humanity. THEREFORE, I CALL YOU TO BE CONSTANT PRAYER, AND THAT THIS PRAYER BE
ACTION, WITH THE FULFILLMENT OF THE COMMANDMENTS, ESPECIALLY OF THE FIRST COMMANDMENT, AND TO IMPART THE BLESSING OF KNOWING MY SON TO YOUR BROTHERS AND SISTERS.
Beloved children of My Immaculate Heart, do not falter and be firm in the Faith; you are not alone. My Son has sent His Legions to help you. You must be messengers of peace and eliminate the whims of the human ego.
Be fraternal and in solidarity with those who suffer throughout Humanity.
MY BLESSING AND MY LOVE REMAIN WITHIN ARM'S REACH; DO NOT DESPISE THE DIVINE KINDNESS. I AM HERE, I AM THE MOTHER OF HUMANITY.
Mother Mary
HAIL MARY MOST PURE, CONCEIVED WITHOUT SIN
HAIL MARY MOST PURE, CONCEIVED WITHOUT SIN HAIL MARY MOST PURE, CONCEIVED WITHOUT SIN