Friday, April 20, 2018
Message from Our Lord Jesus Christ to His Beloved Daughter Luz De Maria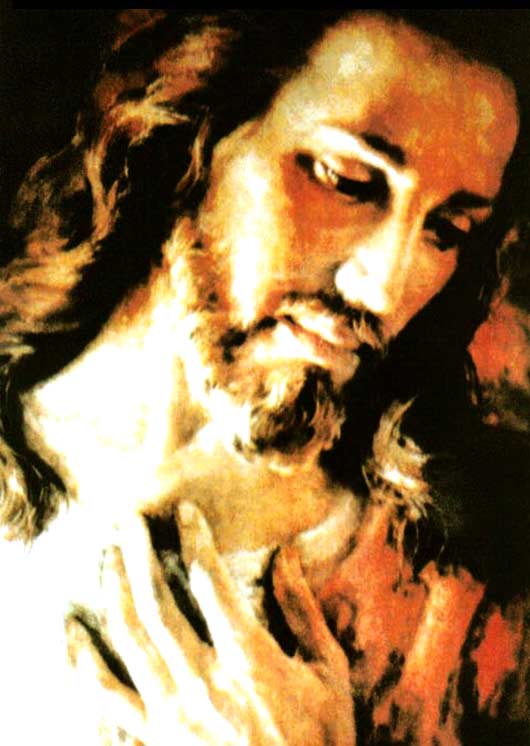 My People, My beloved People:
I CARRY YOU IMPRINTED ON MY HEART.
I SUFFER DEEPLY AT WHAT I SEE ON THE EARTH, INSTANT BY INSTANT...
My beloved People, Humanity lives without peace, in constant anxiety, as a result of accepting the devil as its guide. Social revolts will cause constant suffering in the world's societies; man has risen up against his brothers in a pitched battle.
Humanity is living out the consequences of the red horse of the Apocalypse, which came to take away the peace of the Earth and, together with those who ride it, takes away peace and leads you to kill each other (cf. Rev. 6,3-4).
HOW MANY UNFULFILLED PROMISES OF PEACE IN VARIOUS COUNTRIES OF THE WORLD ARE MAKING WARLIKE CONFLICTS INCREASE THROUGHOUT THE EARTH, UNTIL THE MUCH-FEARED UNSTOPPABLE WAR IS REACHED!
My beloved People, you very easily lose peace due to the weak way of thinking, the influences of others and the little or no discernment that you use to make a decision.
MY CHURCH IS NOT THE EXCEPTION TO THE RULE, BUT IS WHERE THE ENEMY OF THE SOUL ATTACKS MOST STRONGLY SO THAT MY CHILDREN ARE DISOBEDIENT AND ADULTERATE MY LAW.
My People should remain immovable so that those who wish to lead you to perdition do not succeed, but for this you must take My Sacred Scripture in one hand and the Holy Rosary in the other. These are the weapons with which My People will overcome by the Hand of My Mother.
YOU KEEP RESPECT FOR ALIEN IDEOLOGIES OR RELIGIONS, WHILE YOU PUT ME ASIDE, MOCKING
WHAT I HAVE REQUESTED OF YOU IN ORDER TO KEEP THE RESPECT OF OTHERS AND DEVELOP A UNIFYING TENDENCY THAT I HAVE NOT REQUESTED OF YOU.
YOU ARE NOT WALKING TOWARDS ME, BUT TOWARDS WHAT MEN WANT; SO IT IS THAT MY CHURCH ADOPTS THE PATTERNS OF OTHER RELIGIONS AND YOU CRUCIFY ME AGAIN, DISRESPECTING THE DIVINE LAW, FORGETTING THE SACRAMENTS AND BURYING WORKS OF MERCY.
Man must maintain peace, but not at the cost of burying My Teachings or accepting others. For My children, receiving Me in My Body and My Blood must be the culmination of union with Me, the ecstasy of fusion with Me, living Heaven in advance. You hand Me over without making My Own aware of the proper state in which My children must remain in order to receive Me, by not demanding from My children a prior repentance and an amendment prior to receiving Me, thus leading souls to forge their own condemnation (cf. I Cor 11:29).
MAY HE WHO HANDS ME OVER OUT OF HUMAN CONSIDERATIONS TO THOSE WHO ARE NOT AWARE OF MY GREATNESS IN THE EUCHARIST BE ANATHEMA, AND MAY THE SIN OF HIS BROTHER WEIGH UPON HIM!
My faithful and true instruments through whom I address My People so that more souls are not lost are persecuted in silence, they are reduced to silence.
Evil strikes the Earth, selfishness continues steathily waiting for your brother's carelessness in order to throw itself at him. Evil does not yield or hide; in the past it waited for the night to commit its misdeeds, in the present instant it appears in broad day because it no longer hides its evil, it knows that man welcomes it.
The man of this generation has not experienced total chaos and cannot imagine what total chaos is. YOU NEED TO
BE TRANSFORMED INTERNALLY SO THAT YOU DO NOT SEE THIS WORD OF MINE AS SOMETHING THREATENING, BUT AS THE WORD OF A FATHER WHO KNOWS THAT HIS PEOPLE MUST AWAKEN SLEEPING HEARTS, CREATURES WITH A HEART OF STONE, WITH FEELINGS DEVOID OF CHARITY, OF FAITH, OF LOVE.
Do not hold back, be fulfillers of the Divine Law and do not distort My Word. I call for Love towards the House of My Father where there are many dwellings, although not all are of Glory, since I will not give what does not correspond to the one who has not worked for Me and for their own sanctification.
My children, threats from one country towards another must not be taken lightly, but you must keep yourselves informed. Not everything you hear is the truth, but not everything is unreal. Syria suffers, like other Peoples on Earth.
Communism has not waned, it resurfaces in the midst of this great confusion on Earth and great spiritual distress.
A small country makes news in the whole world, from which the spark of war has already emerged; the world economy will fall at the least expected instant.
The spirit of discontent has sprung up upon man and taken hold of him so that he would perish. The people of Earth will be trampled upon, all will suffer, except that man immediately takes a posture of fear and does not cling with faith to Me, to My Mother, because faith is not strong, it is a momentary faith.
BELOVED PEOPLE OF MINE, THIS IS THE FEELING OF A FATHER IN LOVE WITH HIS CHILDREN. That is why
I call you to take My Word to every place, at all instants. And do not forget that it is not necessary to listen to those who bring to their mouths what they think they know, but to those who speak from the heart where they hold Me.
Children, pray for Nicaragua, pray for Argentina, pray for Chile, pray for Rome, pray for Costa Rica.
My Blessing and My Love are for everyone.
Your Jesus.
HAIL MARY MOST PURE, CONCEIVED WITHOUT SIN
HAIL MARY MOST PURE, CONCEIVED WITHOUT SIN
HAIL MARY MOST PURE, CONCEIVED WITHOUT SIN