Sunday, April 29, 2018
Message from Our Lord Jesus Christ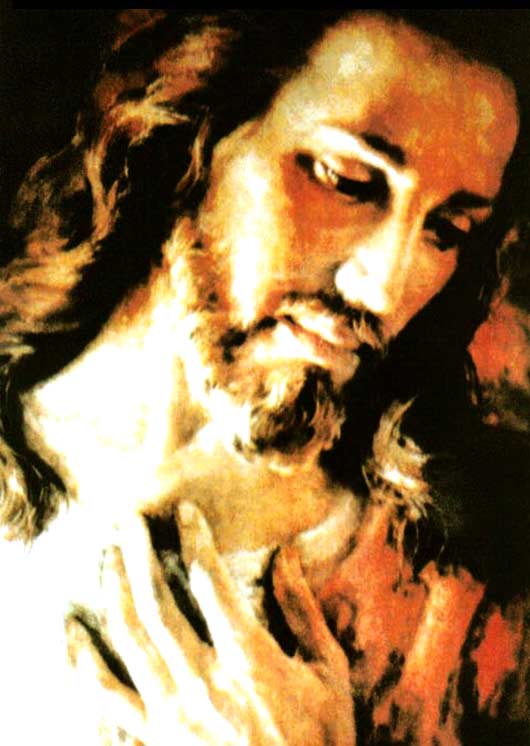 My Beloved People:
I CARRY YOU IN MY SACRED HEART.
YOU LIVE IN THE WORLD, BUT ARE NOT OF THE WORLD, SO YOU ARE PERSECUTED. For My sake they persecute you, My children.
YOU ARE MY INCENSE...
The instant when evil lurks is in your midst. Man has turned away from Me and Satan takes advantage of this to attack you continuously, encouraging Humanity to kill the innocent, among other atrocities. Abortion laws are sowing Humanity's self-flagellation.
Immorality is the cause of so much degeneration. Man without God awakens his most savage instincts. I grieve at so much immorality among women in this society: the unseemly way of dressing, the immodesty, the licentiousness in which the youth are living; it causes Me great pain.
MY MOTHER SUFFERS BECAUSE OF THIS, SHEDDING HER TEARS IN VARIOUS COUNTRIES AS A SIGN
OF HER PAIN AT THE CONSTANT OFFENSES WITH WHICH THIS GENERATION CROWNS ME WITH THORNS AGAIN AND AGAIN.
My Mother brings the presence of Her pain to you by physically showing Her presence and such severe Maternal pain. In spite of this, you deny that My Mother continues suffering My very pain, My very sorrow at man's inability to soften his heart and listen to the voice of conscience.
My Mother calls Her children by all means so they are not lost... (cf. Jn. 2:5)
My Mother suffers together with Me in the face of so much cruelty with which men look at each other...
My Mother announces the events, warns you through Her suffering and brings you Her tears, Treasure of My Heart.
My Beloved People, Humanity celebrates apparent achievements among nations, man being incapable of analyzing the objectives hiding behind these gestures that are not authentic (cf. I Thes. 5:3).
Confusion penetrates more and more in the midst of a Humanity without fears; accustomed to celebrating, it applauds everything.
YOU ARE LIVING IN THE TIME OF SPIRITUAL DUPLICITY; FALSEHOOD IS GREAT AND DECEPTION EXCESSIVE. A PEOPLE WITHOUT ME IS A PEOPLE AT THE MERCY OF ITS DETRACTORS.
Man must enter into My Way in order to advance and strengthen his faith, because without a faith founded upon Me, you will achieve little (cf. Is. 55:8-9). You have to be strong in the spirit, creatures of obedience and immovable faith in order to overcome what evil has arranged – already! - in order to dominate all of Humanity. In order to attain this immovable faith, you must know Me so you may then recognize Me.
My children, at this time the powerful of the world exercise an absolute control over how you act daily, dependent as you are on technological advances.
THIS FORM OF CONTROL WILL INCREASE WITH THE IMPLANTATION OF THE MICROCHIP; YOU, CHILDREN, DO NOT ALLOW THEM TO PLACE THIS SEAL OF EVIL IN YOU.
Pray, My beloved People, pray and practise the words of prayer, being Love for your brothers and sisters, and being testimonies of My Love.
Pray for Nicaragua, blood runs over this nation of My Mother.
Pray for El Salvador, its ground shakes.
Pray for Jamaica, it suffers through Nature.
Pray, terrorism increases and Rome will suffer for it.
My people, do not falter...
IN THIS MONTH THAT IS BEGINNING, MY REQUEST FOR HUMANITY IS THE PRAYING OF THE HOLY ROSARY AT SIX IN THE AFTERNOON IN THE COUNTRY WHERE YOU ARE.
Humanity must unite at some time during the day to offer prayer to My Mother, the Gate of Heaven, Consoler of the Afflicted.
Humanity weeps in silence. The laments of those who suffer from torture reach My House; participate in that consolation for the suffering peoples by praying and offering for them.
Each day I will indicate an intention for which you will pray the Holy Rosary.
I BLESS YOU WITH THE BURNING FLAMES OF MY LOVE.
MY ANGEL OF PEACE LOOKS AT YOU WITH GREAT LOVE.
I REMAIN WITH YOU: DO NOT DECLINE IN FAITH.
I love you.
Your Jesus
HAIL MARY MOST PURE, CONCEIVED WITHOUT SIN
HAIL MARY MOST PURE, CONCEIVED WITHOUT SIN
HAIL MARY MOST PURE, CONCEIVED WITHOUT SIN