Monday, May 7, 2018
Message from the Blessed Virgin Mary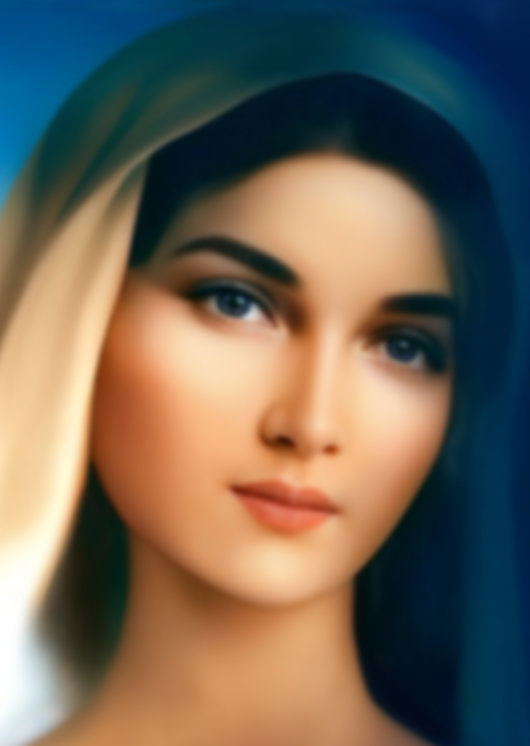 Beloved children of My Immaculate Heart:
WHEN YOU COME BEFORE ME, I SEE YOU AS IF IT WERE THE FIRST TIME...
I call you to continue on the Way of Faith.
Strengthen yourself in Sacred Scripture, be firm in what is of My Son and reject what is not of My Son.
THIS GENERATION LOVED BY ME NEEDS TO BE PURIFIED DOWN TO ITS FOUNDATIONS: for the great depravity in which it stays... for unbridled liberalism... for its unreality ... for its falsehood...
for immorality and lack of love for the precious Gift of life.
MY CHILDREN, IN THE CONTINUOUS PURSUIT OF THEIR BUSINESS WITHOUT LOOKING AROUND THEM, HAVE NOT MANAGED TO BE AWARE OF THE CORE OF WHAT HAS LED THEM AS HUMANITY TO THIS INSTANT OF SUCH DIFFICULTY AND CONFUSION.
Beloved children, you have lived in a rush while powerful minds have taken advantage of this generation's neglect in order to take hold of human work and action. Some of you know this, others cannot imagine it and others, knowing it, deny it. Humanity is led by a group of human beings that dictate world events step by step...
Little by little they have been grafting a novel way of living into Humanity, in the midst of a generation led to taste what is forbidden, transgressing every law, norm and value.
In My Apparitions throughout the world, I called you to see the course Humanity was taking, and you disobeyed Me.
And in My Appeals, I warned you about a power that, with definite goals, was leading man and bringing him to what he is at this instant in which it has come to dominate man in all aspects of life through economic power, through which it has subjugated Humanity's work and action as it pleases. The world order holds dominion over Humanity in all aspects, even those that you cannot imagine.
Facing My Announcements of the arrival of an antichrist and the power preparing his arrival, man, with a fixed idea, waited and is waiting to see the appearance of the antichrist in front of him. Without perceiving it, you have allowed this power to penetrate into Humanity in general, and by means of its tentacles: it will take possession of everything that man needs to continue on his way through life ... it will take possession of every innovation in order to make man a slave of misused technology... it will take possession of the mind of man through cinema, television and some written media... it will take possession of the mind of man, deforming education to the point of making it inadequate and immoral. Through fashion it has succeeded in inciting sexual deviance and through some modernist so-called religions...
MY BELOVED CHILDREN, YOU FIND YOURSELVES SUBJUGATED WITHOUT WANTING IT, SUBJECTED TO
THE POWER OF THE WORLD ORDER. WITHOUT WANTING IT, BUT YOU HAVE BECOME ACCUSTOMED TO IT THROUGH DAILY LIFE AND YOUR MIND. Thought sees what is wrong as an ideal to attain. Man's psyche has hardened towards the good and has gradually opened up to evil until it now sees evil, what is wrong, as something natural and correct. The world order has arisen, welcomed by the human race that at this instant finds itself under its oppression. You have come to like consciously what they have grafted into you, and some who do not love the Gift of life, rejoice at being followers of evil to the point of making pacts with the devil, giving him their souls.
The Love of God and the Fear of God have been blurred under the reign of evil that elevates all that is wrong, immoral, faults against the Law of God, abuses towards the innocent, the lack of modesty in the dress of women who exhibit their bodies without any restraint.
YOU HAVE BECOME CORRUPTED ... AND HOW DO YOU WANT CREATION TO VIEW YOU IN RELATION TO
IT?
NO, CHILDREN! CREATION OBEYS GOD, YET MAN GOES AGAINST THE DIVINE LAWS.
Such confusion in which men are living immersed had already been revealed by My Son and by Me. MEN HAVE NOT OBEYED AND THAT IS WHY AT THIS INSTANT MY SON CONTINUES CALLING HUMANITY IN ORDER TO SAVE SOULS, TO AWAKEN THOSE WHO ARE ASLEEP AND TO KNOCK ON THE DOOR OF MAN'S CONSCIENCE, WITH THE AIM THAT HUMANITY MIGHT PENETRATE WITHIN HIS DIVINE LOVE AND THAT NOT EVEN THE ELECT ARE LOST.
Beloved children of My Immaculate Heart, the pleasures of the world are momentary; MY SON OFFERS ETERNAL SALVATION.
My Son's People are persecuted by the claws of communism in some countries and suffer, suffer before the eyes of Humanity.
My Son's People have been led so that they do not awaken.
Whatever represents God gets in the way of evil, those who commit to the way of conversion are repugnant to it.
My Priests suffer and will suffer to the full. Churches are desecrated and the People of My Son are made to suffer by the hordes of satan.
Humanity will wake up after having being handed over and purified in the hands of the antichrist.
MY IMMACULATE HEART WILL TRIUMPH.
The People of My Son must know My Son, they must establish more than a friendship with My Son, they must enter into the Path of My Son and abandon themselves and fulfill the Divine Law, not transgress it.
BELOVED CHILDREN OF MY IMMACULATE HEART, AS A MOTHER I REMAIN ATTENTIVE TO YOU AND ASK YOU TO BE PERSEVERANT: in the true Faith ... in the value of the Eucharist ...
in fulfilling the Commandments, the Sacraments ... without forgetting the Beatitudes and the blessings that come for you from Our Sacred Hearts.
DO NOT ACCEPT MODERNISM; MY SON IS THE SAME YESTERDAY, TODAY AND FOREVER.
I LOVE YOU, I DO NOT FORSAKE YOU, I INTERCEDE FOR YOU AND WILL NOT ABANDON YOU.
DO NOT DENY MY SON, HOWEVER FIERCE THE INSTANT MAY BE.
THE MYSTICAL BODY OF MY SON MUST REMAIN FAITHFUL, STRONG, IMMOVABLE, IN ORDER TO BE WORTHY OF HIM WHO IS THE HEAD: MY SON.
So many Herods abounding on Earth!
So many Pilates who hand over My Son!
So many whitened sepulchers who wish to confuse My Son's People! So many who worship the god of metal!
Beloved children of My Immaculate Heart, be a wall of creatures of prayer who practice what they pray, infecting their brothers and sisters with the Love of My Son. Whoever stops at love that suits them will not reach what is True. Be humble, patient, wake up! I OFFER YOU MY ASSISTANCE SO THAT YOU TRANSFORM YOUR HEART OF STONE INTO A HEART OF FLESH. THE LOVE OF MY SON WITHIN YOU IS NECESSARY, IT IS NECESSARY FOR YOU TO BE IN UNITY.
My Son loves the simple and humble of heart.
I love the simple and humble of heart.
You are not alone, therefore I warn you.
I will not leave you alone, therefore I call you.
You are not without a Mother, therefore I sustain you so that you do not turn away from My Son.
THE OBEDIENCE OF MY SON'S PEOPLE IS FOR DIVINE GLORY AND THE SALVATION OF THE SOULS.
I GO THROUGHOUT THE WORLD IN SEARCH OF THOSE WHO, LIKE JOHN (*), WANT TO CONTINUE.
MY LOVE is for you, dear children...
MY BLESSING is for all My children...
MY PROTECTION is for all My children...
MY HEART REMAINS OPEN for all, I reject nobody...
I LOVE YOU, CHILDREN, I LOVE YOU.
Mother Mary
HAIL MARY MOST PURE, CONCEIVED WITHOUT SIN
HAIL MARY MOST PURE, CONCEIVED WITHOUT SIN
HAIL MARY MOST PURE, CONCEIVED WITHOUT SIN
(*) John the Evangelist.