Wednesday, May 16, 2018
Message from the Blessed Virgin Mary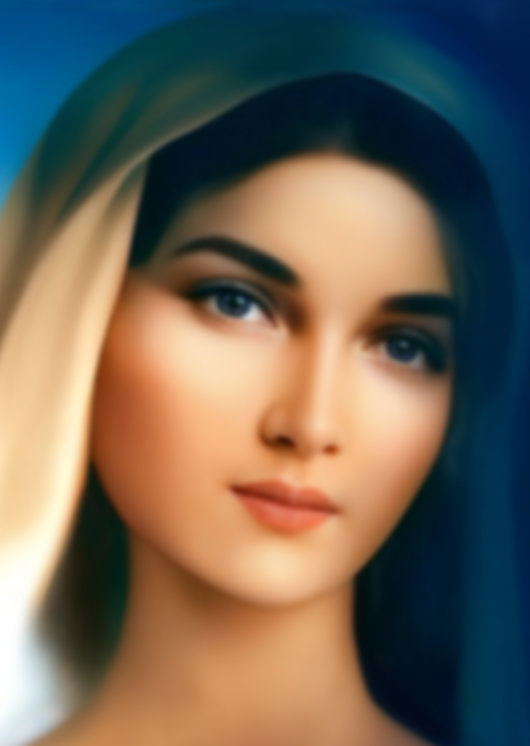 Beloved children of My Immaculate Heart:
I AM CONSTANTLY WATCHING YOU IN ORDER TO COME TO YOU WITH WHAT IS NECESSARY AND TO
BESEECH YOU NOT TO ALLOW EVIL TO DOMINATE YOU, LEADING YOU TO TAKE INCORRECT DECISIONS.
My Immaculate Heart beats for each one of you individually.
As Humanity you need to stay aware of the importance of this generation within the Plan of Salvation.
THIS INSTANT OF GREAT CONFUSION IS EXTREMELY DANGEROUS FOR MY CHILDREN. WHAT ARE PRESENTED TO YOU AS NORMS FOR LIFE ARE NOT ALL WITHIN GOD'S LAW, BUT FORM PART OF MAN'S REBELLION AGAINST GOD; THEY FORM PART OF THE STRENGTH OF FREEMASONRY WITHIN THE CHURCH OF MY SON.
What is good is not tolerated: it is rejected, belittled, removed and singled out due to the absence of faith within My
Son's People, who have not been instructed in depth to face these instants and to face the coming instants in which evil will deceive you, if you do not live with a faith that has grown through knowledge of Sacred Scripture and everything enclosed within It, duly practised in your lives.
Being a child of My Son does not only imply prayer or attending Mass or belonging to a group within the Church. Being a child of My Son surpasses what is human, it transcends human strength or expectations: it is a constant commitment, with an insistent effort towards being better as a child of God, as a human being and as part of Humanity. NONE OF YOU SHOULD FEEL COMFORTABLE WITHIN THE FINITE, BUT MUST ASPIRE TO ENTER INTO INTIMACY WITH MY SON IN ORDER TO BE IN MY SON'S LIKENESS.
I need:
Merciful, fraternal children, thirsty for the Truth...
Children who bring hope to those who have lost it...
Children who do not tire of being charitable, who do not lose hope or act and work at the convenience of the majority, even if the majority does not take part in loving My Son and making Him known in Spirit and Truth.
Beloved children of My Immaculate Heart:
I HAVE COME REPEATEDLY TO YOU, PREPARING YOU SO THAT YOU ARE AWARE THAT YOU WILL NOT
BE JUDGED BY WHAT YOU HAVE CONSIDERED JUSTICE, CHARITY, FAITH AND TRUTH, BUT BY WHAT THE DIVINE LAW ENTAILS.
Those who say: "I have been a good person, I have not killed anyone" ... How far they are from the TRUTH IN FULFILLING GOD'S LAW!
"Not everyone who says: Lord, Lord! will enter the kingdom of Heaven"(Mt 7,21-23). FAITHFULNESS TO GOD WILL
BE TESTED; THERE ARE VERY FEW WHO SUFFER FROM IGNORANCE, YOU MUST NOT TRUST IN PLEADING IGNORANCE WHEN YOU ARE CALLED BEFORE THE DIVINE JUDGE. God demands conversion of man - not temporary or superficial, but permanent conversion so that, on the inevitable day established by God, you are worthy to share the Father's House.
THE BAD DECISIONS OF THE WORLD'S GOVERNMENTS, INTENTIONS FOR MAKING WAR, KILLINGS, LAWS APPROVED AGAINST LIFE AND THE ACCEPTANCE OF WHAT IS UNACCEPTABLE WITHIN MY
SON'S CHURCH, HAVE HASTENED THE HANDS OF THE CLOCK.
Humanity finds itself facing the expansion of the tentacles of the infernal dragon and they do not glimpse it because of living with indifference, unfaithfulness, immorality, corruption, lies, falsehood, appearances, inhuman conduct, the imposition of false ideologies in order to enjoy the supposed freedom that only leads you to be followers of evil, serving it within Satan's field of action. THIS IS DEADLY FOR THE SOUL, YET MY CHILDREN RAPIDLY FORGET MY SON'S SACRIFICE IN ORDER TO ADHERE TO THE INNOVATIONS OF WORLDLY LEVITY.
Pray for yourselves, My children, in order that you may persevere and demonstrate true faith, true commitment.
Pray My children, pray for Nicaragua that suffers. With tears in My Eyes I have seen the Love of My Son manifested on Earth through My Priests, defending their parishioners with their lives, thus fulfilling their oath to defend My Son's Flock.
Pray, My children, the great Yellowstone volcano will surprise man.
Pray My children, pray: while Humanity celebrates what is worldly and temporary, pray for those who suffer every injustice, for those who lose their lives through the force of Nature.
Pray, anger that has taken hold of man, who acts like a creature that is not human. Upheaval is great throughout the Earth, uprisings are increasing at every instant, nations are more insecure and evil takes hold of Humanity, causing fear.
Beloved children of My Immaculate Heart:
PAIN WILL PASS, PERSECUTIONS WILL CEASE.
THE MOST HOLY TRINITY WILL NOT PASS, DIVINE LOVE WILL NOT PASS, THE KINGDOM OF GOD WILL NOT PASS,
MY SON WILL COME TO GATHER THE MATURE HARVEST AND WILL PRESENT IT TO HIS FATHER, AND CREATION WILL BE RETURNED TO ITS CREATOR.
DO NOT FEAR, MY CHILDREN, DO NOT FEAR, MY CHILDREN HAVE BEEN STRENGTHENED IN THE CROSS OF GLORY.
DO NOT FEAR, AS IN THE END MY IMMACULATE HEART WILL TRIUMPH.
YOU ARE MY SON'S PEOPLE, AND MY SON IS YOUR LORD AND YOUR GOD.
I bless you with My Love.
Mother Mary
HAIL MARY MOST PURE, CONCEIVED WITHOUT SIN
HAIL MARY MOST PURE, CONCEIVED WITHOUT SIN
HAIL MARY MOST PURE, CONCEIVED WITHOUT SIN