Monday, May 21, 2018
Message from the Blessed Virgin Mary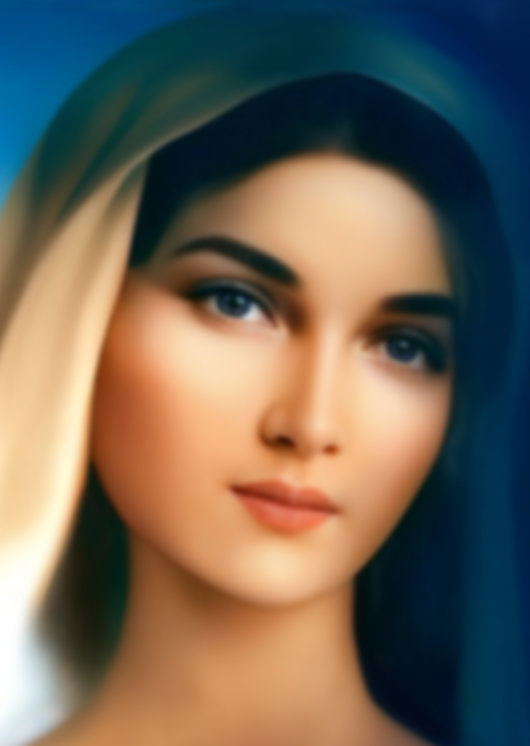 Beloved children of My Immaculate Heart:
MY PROTECTION IS ALWAYS OVER YOU.
MY PROTECTIVE HAND GUIDES YOU TO THE RIGHT PATH. THAT IS WHY I KEEP IT HELD OUT AT ALL INSTANTS, EXTENDED TO EVERYONE.
I am Mother and Intercessor of Humanity. I urge the conversion of My children at this instant.
Beloved children, I call you again to examine yourselves internally. This exercise is important for you to carry out daily, since this is a dangerous instant; the infernal enemy does not rest in his desire that My children get lost.
I see you distracted by human foolishness and by the incredulity in which you are living. Lack of faith is growing at every instant among the People of My Son, who are confused by the inconsistencies in the work and action of some of My Priests who do not give testimony of Divine Love. This has increased due to the lack of prayer in houses of formation.
My Priests must not only be distinguished from the rest of My Son's People inwardly, but must be distinguished externally, properly attired so as not to be confused with the laity. My children consecrated to the service of My Son through Priestly and religious Ordination must be distinguished from the rest of My children so that respect is always motivate of a different treatment towards My Son's People and a different treatment by My Son's People towards My Priests.
Beloved children of My Immaculate Heart, you must amend your path, and I call you to admonish yourselves. Admonish your brothers and sisters - with love -, because the wrong behavior, works and actions of this generation permit everything, yet not everything is permitted; that is why the Eternal Father left His Law for all times.
Beloved children, you live without realizing how close you are to the great events you will face; the peace being signed is not authentic, much to My regret. The man of power wants to dominate the world, therefore the eagle that watches from above and wishes to dominate absolutely everything, will fall, because whoever thinks they can dominate everything does not dominate anything. Furthermore, the bear can catch the eagle when it comes down from its pedestal. Do not forget that those who have signed alliances will break the said alliances and friends will become enemies.
Humanity is changeable: that is why Faith is wavering and man reveals that lack of spiritual firmness that leads to a lack of firmness in the constant exercise of his life.
Beloved children of My Immaculate Heart:
The misused human ego has been the cause of discord in the history of Humanity and this is the case at this instant. Therefore, My children must examine themselves every day and entrust the human ego to My Immaculate Heart so that you do not give in, so that you correct yourselves in complete freedom. Not everyone who believes that he does what is right complies with the Divine Law. Therefore, it is necessary that you confess your sin; the duty of each one of My children is to transform the human self into the Divine "Thou" so that you are true.
Beloved children of My Immaculate Heart, you live in the world, within madness and spiritual war where the Gospel is not respected, it is one more thing to read, and that is why it is not put into practice, being the Divine Word.
Nature has been struck by the hand of man and thus Nature will not bear fruit for man to survive on Earth, and therefore penury will greatly increase.
SHARE MY WORD, DO NOT KEEP FOR YOURSELVES, CHILDREN - EVEN IF YOUR BROTHERS DO NOT
BELIEVE WHAT YOU PREDICT - WHAT YOU HAVE COME TO TREASURE AND TO UNDERSTAND; DO NOT TIRE, DO NOT TIRE, BECAUSE MY SON THIRSTS FOR SOULS. (Cf. Jn 19,28)
Beloved children, technology will be affected, even if you do not think so; it will soon be affected and you will stop conveying through technology My Son's Word that you share through well-used technology, because the technology will not be able to be used by man.
My children, just as Humanity is in chaos, so the sun will change and will turn against man and everything that man has constructed in order to communicate; he will be unable to use it again for that purpose or for any other purpose.
At this instant all of you are living in your country, in your home, in your surroundings, and you are unable to see beyond your surroundings, because you do not exercise the gifts you possess, nor do you exercise human intelligence to think of those who at this instant are experiencing penury, oppression, the rebellion of the powerful, and wherever you are, you are living in oppression even though you do not feel this way, because all Humanity has been dominated by the group of the world's powerful who take decisions concerning the future of the history of Humanity.
The climate is drastic and it is worsening, each season will be different in the continents, in the nations; for this reason you will experience extreme climates to which you have not been accustomed.
Beloved children of My Immaculate Heart, man is committing serious faults; you act by breaking the true rules and instructions.
Pray, My children, pray for China.
Pray, My children, small countries are suffering the harshness, the rigor and the hostility of communism. The latter is rising stealthily.
Beloved children of My Immaculate Heart, the earth shakes forcefully where it had not previously shaken.
BELOVED CHILDREN OF MY IMMACULATE HEART, PRAY, BUT PRAY WITH THE HEART, and after praying with the heart, go to those suffering material and spiritual needs, because prayer without practice is an empty prayer.
GO, MY CHILDREN, GO TO MY SON, ADORE HIM IN THE EUCHARIST, ADORE HIM IN THE BLESSED
SACRAMENT AND RECALL HIM TO THOSE WHO DO NOT BELIEVE THAT THEY NEED TO LOOK UP TO
HEAVEN; REMIND THEM THAT GOD IS GOD (Cf. Is 45.5), THAT MY SON GAVE HIMSELF FOR THEM AND
ROSE AND IS TO BE FOUND BEFORE YOU IN THE BLESSED SACRAMENT AND THAT HE DWELLS IN YOU, IN HIS HOLY SPIRIT.
Beloved children of My Immaculate Heart, disciples of the last times, I am not telling you about the end of the world, I am telling you about this generation that must be purified due to a limitless rebellion directed towards My Son, everything that is of God, because this generation has surrendered to the dominion of satan. But you, My children, do not fear, I AM YOUR MOTHER AND I HAVE BEEN MANDATED BY MY SON TO GUIDE YOU, SO THAT YOU DRAW NEAR TO ME AND SO THAT WE RETURN THE EARTH TO THE CREATOR, JUST AS THE CREATOR ENTRUSTED IT TO MAN, IN THAT SAME STATE.
My children, do not forget that I had announced to you that My Son's People would be shaken by news that will confuse them more spiritually.
You, children, follow the truth of Sacred Scripture.
You, children, walk on the path of truth.
You, children, adhere to the Truth of the Gospel.
You, children, are the flock of My Son, and the Divine Shepherd speaks to you in each word of the Gospel so that you do not get lost.
Beloved children of My Immaculate Heart, with My Heart in My hand, that hand that I hold outstretched before each person, I call you not to be afraid, because you are not alone, you have this Mother who calls you and who loves you; do not judge those who do not love Me, because they are all My children and I love everyone.
Receive My Blessing in the name of the Father, the Son and the Holy Spirit. I love you, children, I love you.
Mother Mary
HAIL MARY MOST PURE, CONCEIVED WITHOUT SIN
HAIL MARY MOST PURE, CONCEIVED WITHOUT SIN
HAIL MARY MOST PURE, CONCEIVED WITHOUT SIN